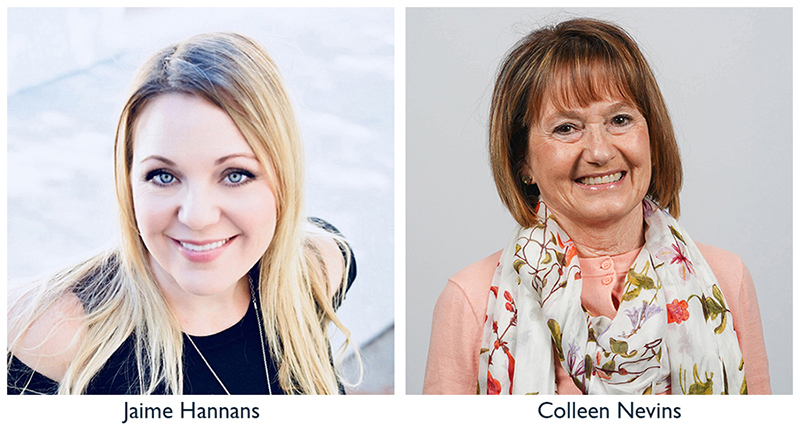 Sept. 27, 2019 — CSU Channel Islands (CSUCI) Associate Professor of Nursing Jaime Hannans, Ph.D., RN, CNE and Assistant Professor of Nursing Colleen Nevins, DNP, RN, CNE started the fall semester on a high note.
Hannans has been named the 2019-2020 recipient of the American Association of Colleges of Nursing (AACN) Excellence and Innovation in Teaching Award.
"Dr. Hannans has been an exemplary leader and role model for colleagues and students with her innovative teaching strategies," read some of the AACN reviewers' notes. "Her philosophy in teaching is obviously based on lifelong learning and additionally sharing the knowledge she gains with others."
Both Hannans and Nevins both won the Gold Award at the CSU Tech Conference 2019 in San Diego in July. Three awards—Gold and two Silver awards—were presented that night.
Hannans and Nevins also were awarded a Lab Innovations with Technology (LIT) grant of just over $18,000 from the CSU Chancellor's office to further integrate their work with virtual technology into CSUCI's Nursing program.
Both Nursing faculty members say they were thrilled and surprised with the recognition, which was centered on their work with virtual reality technology for Nursing students. By donning virtual reality head gear, Nursing students are instantly immersed in what life looks like for a patient with macular degeneration, Alzheimer's disease or other ailments.
Hannans says the virtual reality technology is all about empathy.
"You can be the brightest nurse or health care provider and understand all the pathophysiology and do charts quickly, but if you can't give someone a hug or bring them a warm blanket, people are not going to feel well cared for," Hannans said. "It's about refilling their ice water, holding their hand, caring…the empathy part of being a nurse."
The programs allow students to don headgear that enables them to step into the shoes of a man with macular degeneration or a person with a terminal illness, for example.
"Each one is a seven-minute simulation," Nevins explained. "After the student dons the headset, they become immersed in the life of that patient. The first one we roll out is 'Alfred,' a 74-year-old African American man with macular degeneration and hearing loss. They get to see Alfred's interaction with his family on his birthday with a big black blotch in front of his vision."
Nevins and Hannans have been conducting a pilot program using virtual reality for about two years now, integrating the experience into the courses each were teaching. There was so much interest that the two were asked to give a presentation to other nurse educators six times last spring.
The LIT grant will enable them to formally integrate the virtual reality technology into all the clinical nursing courses at CSUCI. They will also integrate what's known as "mixed reality," which involves both the head gear and live actors with whom they can interact as they learn.
"We work with a live actor and an avatar and we don't tell the students they are working with a live person. They work with these very human avatars through Zoom technology on a big-screen TV," Hannans said. "The students then engage the human avatars in a conversation about, for example, what do Jack and Vivian—a sister and brother—want to do with their mom? Do they want to do a feeding tube or comfort measures, or hospice? These are difficult conversations."
The human actors behind the avatars are contracted through a special program at CSU Northridge.
Hannans and Nevins believe this type of technology is where the future of nurse education is headed, and technology, ironically will enable better human empathy.
"I think knowing in my own practice and seeing others around me we get very complacent," Nevins said. "We get very accustomed to what we see each day. One thing I've always tried to do is remember that everyone is an individual and we can't forget that. Being more empathetic really fosters that holistic experience to patient-centeredness."