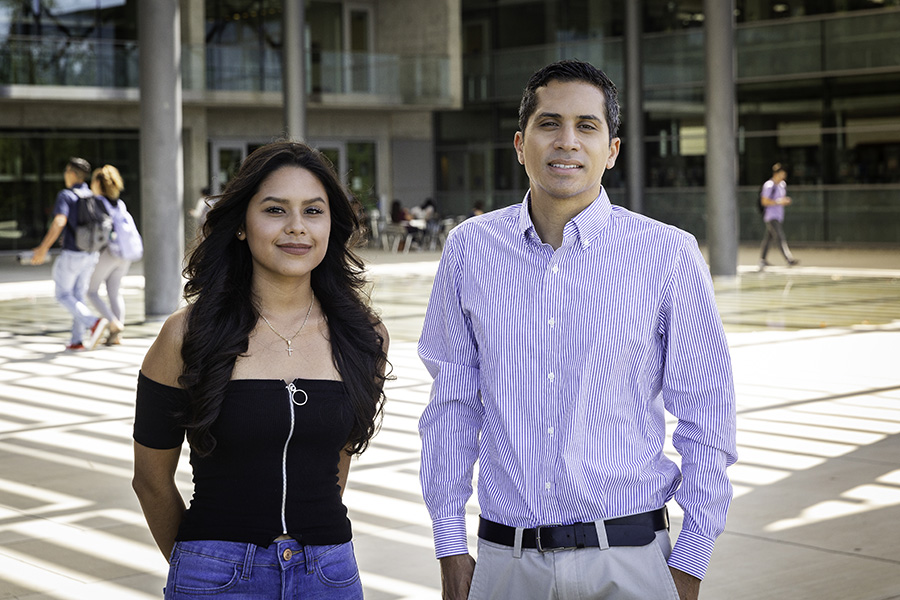 Oct. 1, 2019 — CSU Channel Islands (CSUCI) Assistant Professor of Political Science Matthew Mendez, Ph.D., was so impressed with Political Science major Izamar Narvaez's first research paper, he assumed she had done this sort of assignment before.
She had not. Her parents were immigrants from Mexico and neither had attended college, but Mendez saw an instinct and academic hunger in Narvaez that he wanted to build on.
"I learned she was someone who was intellectually curious and studious," he said.
He believed so much in Narvaez that he urged her to apply for the prestigious California State University (CSU) Sally Casanova Pre-Doctoral Scholarship for the 2019-2020 academic year.
This summer, Narvaez learned she was among 75 scholars chosen from the thousands of juniors, seniors and graduate students across the 23-campus CSU system. She and the other scholars received $3,000 which will go toward preparing her to pursue her doctorate.
"I was excited and at the same time nervous," Narvaez said. "When I get my degree, I want to study political behavior and race and ethnicity. I have always wanted to focus on the immigration community, especially the children of immigrants and how they can make a change in the political system."
Narvaez was born in Simi Valley, but her parents moved her and her older brother back to their native Yucatan, Mexico when she was young. Her father worked in a grocery store and her mother was a stay-at-home mother, but both Narvaez and her brother grew up knowing the value of education.
"I like to learn. Even if she didn't go to college, my mom used to take us to English classes," Narvaez said.
Narvaez and her brother returned to Simi Valley to live with their aunt and attend high school. Narvaez's brother is currently pursuing a doctorate in chemistry at UCLA. This summer, Narvaez, now 21, took part in a pre-doctoral program at the University of Southern California.
Narvaez and the other Sally Casanova scholars each have a CSU faculty member sponsoring him or her through the process of preparing for and identifying the university where the scholar will pursue his or her doctorate. Narvaez is already working with Mendez as she prepares to tour campuses, write essays and take the necessary exams to successfully navigate the application process.
Mendez believes in the mission behind the award, which is named for the late Sally Casanova, Ph.D., a member of the CSU Office of the Chancellor's staff during the 1960s. She launched the fellowship program in 1989.
The funds are designed to increase diversity within the pool of the university faculty by supporting the doctoral aspirations of students in the CSU. The scholarship is open to students who show academic promise while also experiencing economic or educational disadvantage. They must also be committed to a career in teaching and research in higher education.
"It's very important to me to help diversify Political Science and academia any way I can," Mendez said. "It's a gold mine for us. They are going to be the leaders. This population is so different than the older generations, we need to put them in the pipeline now."
*For more information on Sally Casanova Pre-Doctoral Scholarship, please contact Sara Alcala at sara.alcala@csuci.edu.