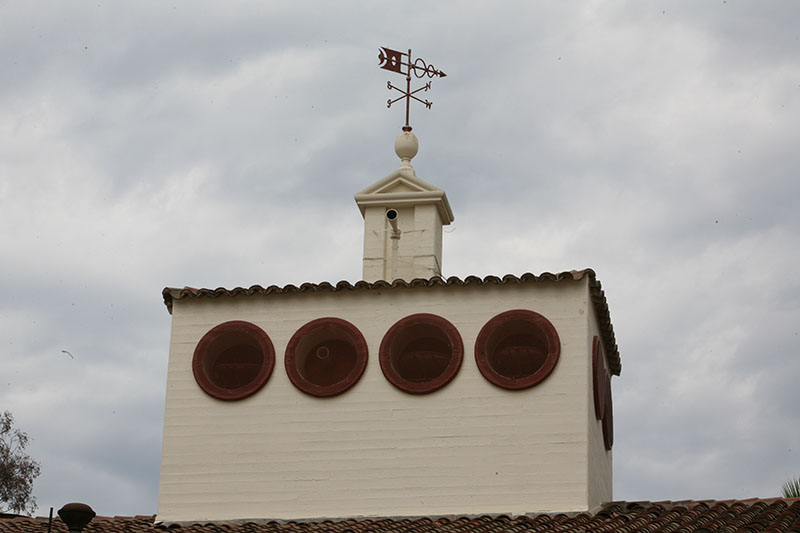 Nov. 18, 2019 — CSU Channel Islands' (CSUCI) efforts to prepare the campus for fire, flood or windstorms have earned the University a "StormReady" designation from the National Weather Service (NWS).
CSUCI is one of just three campuses in the CSU system to receive the designation. The other two are CSU Monterey Bay and CSU Stanislaus.
"In order to be designated a StormReady campus, you have to go through an application process," said CSUCI Emergency Manager Maggie Tougas. "We have to make sure our communication systems are working, that we have an updated emergency operations plan, that we have emergency procedures for fires, flooding, wind and power outages, working weather radios and a long list of other requirements to keep the campus safe."
About 98% of all federally-declared disasters are weather-related, leading to around 500 deaths per year and nearly $15 billion in damage. The StormReady program helps prepare America's communities with the communication and safety skills needed to save lives and property – before, during and after the event.
CSUCI is one of 2,987 campuses, communities, counties, Indian nations, military bases, government sites, commercial enterprises and other groups who go through the necessary checklist for the StormReady designation to make sure there are a number of elements in place to protect residents against extreme weather events.
"StormReady is a grassroots program the NWS developed in 1999," explained Warning Coordination Meteorologist Eric Boldt, NWS Los Angeles/Oxnard. "It was created originally for the Midwest's Tornado Alley where they have all the severe weather. This served as a way for us to collect methods for cities and universities around the nation to be prepared for weather."
Severe weather means different things for different parts of the country.
"For example, we can't seem to get out of our fire season," Boldt said. "That has become our severe weather. When we get into the winter, there will be a lot of flash flooding with a real heavy downpour of rain in a relatively short period of time."
Tougas explained that the fires near the campus in the past have placed us in a storm hazard zone, which means we're vulnerable to heavy flooding this winter because of hillsides stripped of foliage.
The rainy season, which generally begins the second or third week of November, fall somewhere in between a La Nina and El Nino season, according to Boldt. That means there won't be as much rain, but it takes just one downpour—like last year with the Montecito debris flow—and the area can be in severe peril.
"When we know there is a weather event on the way, we take various measures such as making sure debris channels are clear, that we have sand bags and an emergency communication system for the entire campus community," Tougas said. "We provide the campus community with emails, texts, calls, social media posts, special banners on the website, public announcements, as well as utilizing other communication tools."
Tougas credited CSUCI student assistant Joseph Tubbs with helping Tougas take the steps necessary to earn the StormReady designation. Tubbs also trained to become an official NWS "weather spotter," one of a network of individuals trained to provide reports of severe and hazardous weather to help meteorologists make decisions about life-saving warnings.