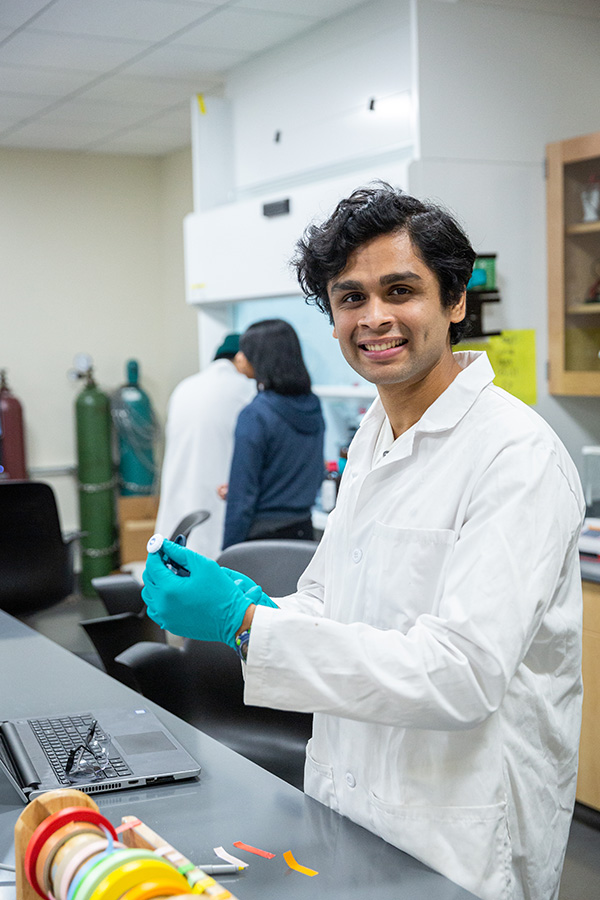 Sept 25, 2019 – CSU Channel Islands (CSUCI) Chemistry and Psychology double major Tanay Pattani has been awarded the prestigious CSU Trustee's Award for Outstanding Achievement.
Pattani and his family migrated to the United States from India when he was 13 years old. After the family arrived in the U.S. they struggled to make ends meet. Pattani knew what it was like to be hungry and go without.
After graduating high school Pattani's struggles intensified when he was struck by a debilitating stomach illness. His family was unable to afford medical care and his illness persisted for four years. He was often left bedridden and alone for long stretches of time in his family's 250-square-foot apartment while his parents worked and his older brother attended college.
He describes that time as a dark period in his life that affected not only his physical health, but his mental health as well, and formed who he is today.
"That whole period made me grow as a person and shaped my life's trajectory," Pattani said. "It helped me empathize more with people who are suffering. All my interests today were made possible by going through that time."
Being sick for so many years combined with his personal experience with food insecurity and poverty cultivated Pattani's interest in both medicine and psychology. He plans on pursuing a master's in public health after graduating from CSUCI this spring, and then going on to medical school. His ultimate goal is to help those suffering from malnutrition.
"There are people with not enough to eat everywhere, even here at CSUCI," Pattani said. "Nutrition has an impact on both mental and physical health. I know what it is like to not have enough to eat and I feel it is my duty to help others."
In addition to his double majors, Pattani who has a 3.95 cumulative grade point average, is also minoring in music. He explains that singing in the car makes his commute bearable each day from Santa Barbara to CSUCI.
In addition to taking up to 22 units at a time, Pattani spent last year volunteering with the Dolphin Food Pantry and working as a lifeguard in Santa Barbara. This semester he is working for the campus' Wellness Promotion and Education area where he will soon be giving presentations on mental health, physical fitness and nutrition.
The Trustee's Award for Outstanding Achievement is the CSU's highest recognition of student achievement. Each year, 23 students — one from each campus of the California State University system are chosen to receive the awards, which provide donor-funded scholarships for students who demonstrate superior academic performance, personal accomplishments, community service and financial need. Pattani represented CSUCI when he and the other scholars accepted their awards Sept. 24 at a public ceremony during the CSU Board of Trustees meeting in Long Beach.
Pattani's $6,000 award was funded by the William Randolph Hearst Foundation.
"Almost every interaction at CSUCI that I have had with my teachers, with campus resources and staff and my peers has been friendly, uplifting and comfortable," Pattani said. "Receiving this award means a lot to me, not only for representing this campus and what it stands for and how it has helped me, but also because it's the culmination of everything that I have been through with my health and the recovery afterwards."