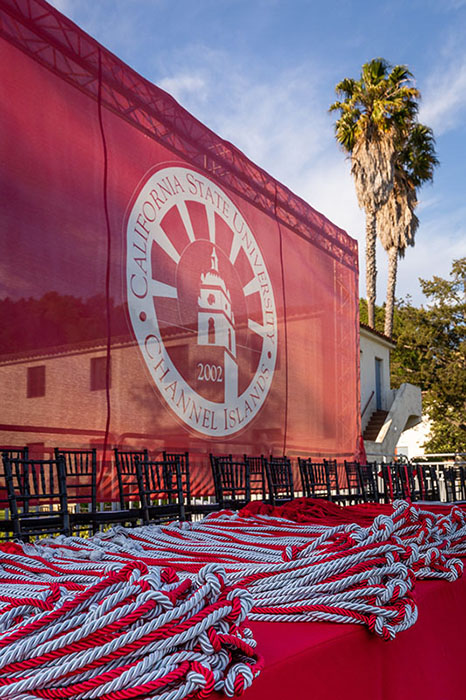 July 2, 2020 - When Class of 2020 students enrolled at CSU Channel Islands (CSUCI) as freshman, the Thomas Fire burned through two counties at the end of their first semester, followed by the Woolsey Fire, the Hill Fire and the Borderline shooting in 2018.
And when they went to graduate, a pandemic sent them home, sank the economy and turned their commencement victory lap into a virtual event. Now, they are trying to start their professional careers in a struggling economy.
Members of the CSUCI campus are well aware of the unprecedented challenges facing the Class of 2020 and have launched initiatives to rally behind the newest alumni including a special campaign and a virtual career fair.
"Any graduate who made it through all of those events gained some incredible resilience skills," said Director of Career Development and Alumni Engagement Amanda Carpenter, Ed.D. "Those skills are very marketable."
To provide 2020 grads with a boost, the CSUCI Foundation established an Adopt-A-Grad fund to help with the graduates' transition into the workforce. For every $150 raised, a 2020 graduate can be "adopted," which means they receive a packet including a six-month subscription to LinkedIn Learning; a one-year subscription to Microsoft Office 365; a five-year Alumni & Friends Association Membership; and a 2020 grad swag pack including a commemorative tassel, a cap and other gifts.
When the campaign reaches its $18,750 goal, 125 graduates can be "adopted."
The Class of 2020 "adoptees" will be selected from applicants who are applying for the program by writing essays about their circumstances and career aspirations. The recipients will be announced soon.
"As a first-generation graduate in my family, it is extremely difficult to network and find a career after college," wrote one applicant. "In this time, our hardships have been multiplied and have left myself and other classmates unemployed, experiencing extreme economic hardships while also being thrown into an unstable workforce in the U.S."
Another applicant wrote: "My long term career goals are to attend law school to study and become a lawyer specializing in civil or human rights law. Having access to LinkedIn Learning will allow me to become familiar with the tools and operating systems that employers are looking for."
"I have been actively searching for jobs for more than six months but since more than 40 million are unemployed my chances are low," wrote another 2020 grad. "I aspire to become a successful software engineer and one day build my own company."
Timothy Moran, Senior Project Manager at Irvine & Associates, who graduated from CSUCI in 2011, knows what it's like to graduate into a depressed job market.
"When I was in school, I had to get a job to continue financing my studies," Moran said. "I worked at Target, I worked in a bar…then I graduated in the middle of a recession. I remember how difficult it was and how lost I felt. This is basically that times 10."
Moran plans to participate in Adopt-A-Grad and has offered to mentor 2020 graduates in his field, which is Urban Planning and land use consulting. He graduated with a degree in Environmental Science & Resource Management, but says he's open to any CSUCI graduates interested in being mentored in this area.
"I want to share with these students and tell them that even when things seem hopeless, you can still seek out opportunities," he said.
Registration is open June 29 for employers wishing to sign up for an event designed to help launch the 2020 grads, a virtual career fair scheduled for Sept. 30, 2020.
Always a friend to CSUCI students and a valued corporate partner, Enterprise Holdings is among the companies participating in the fair. Enterprise ranked No. 1 in the nation on CollegeGrad.com's list of the Top Entry Level Employers for 2020 and has hired many CSUCI graduates.
"We love Cal State Channel Islands graduates," said Enterprise Holdings Talent Acquisition Manager Cathleen Segovia. "We are here to adapt to the student and will help them navigate the waters in terms of their career. If the college is doing a virtual career fair, we're right there. If there's a virtual resume-writing workshop, we're here to adapt and take care of whatever they need."
To donate to the Adopt-A-Grad campaign, visit: go.csuci.edu/adopt-2020.
If you are an employer recruiting for part-time, full-time, or internship positions, visit: https://www.csuci.edu/careerdevelopment/news/fair-registration.htm.