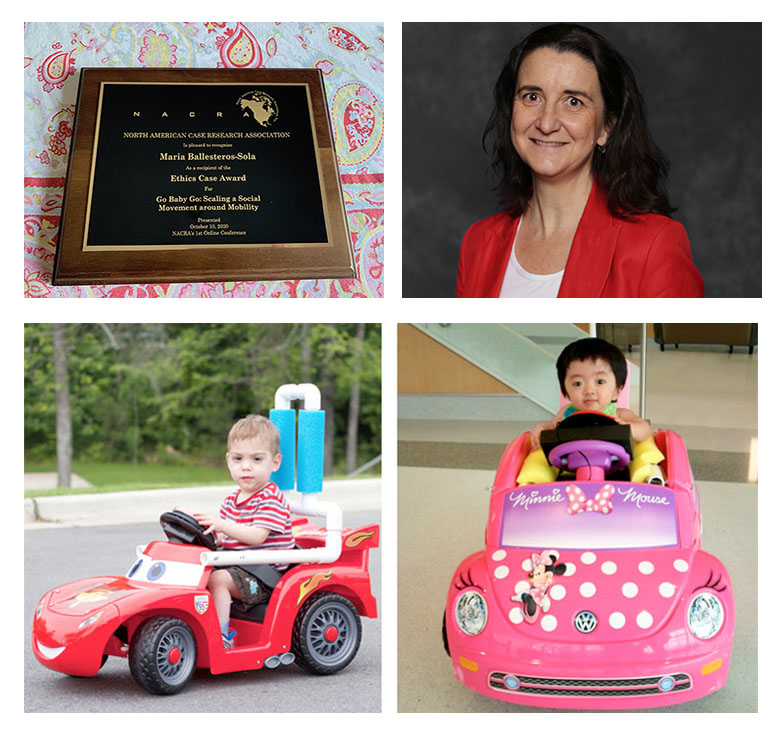 December 22, 2020—Anybody who would like a motorized toy car modified for kids with disabilities can learn to build one through a project started by a University of Delaware (UD) Professor of Physical Therapy Cole Galloway, PhD. His social enterprise is called "GoBabyGo!"
"As a researcher, I'm fascinated with this," said CSU Channel Islands (CSUCI) Assistant Professor of Management Maria Ballesteros-Sola, who holds a doctorate in business administration. "It's not a business, it's not a nonprofit. Go Baby Go's founder is growing a social movement with no internal structure and it's working."
A business case study about GoBabyGo! earned an "Ethics Case Award" recently from the North American Case Research Association (NACRA) for Ballesteros-Sola and co-author, UD Assistant Professor of Social Entrepreneurship Stephanie Raible, Ph.D.  Entitled "GoBabyGo!: Scaling a Social Movement around Mobility," the entry competed with more than 150 entries from across the world.
"I was very proud, but I was even happier for Cole because we were broadcasting his story and fight to the whole of NACRA and beyond," Ballesteros-Sola said. "We are helping to raise awareness about GoBabyGo's mission and impact!"
Ballesteros-Sola has always been a champion for businesses and other endeavors that manage to  do societal good while remaining financially sustainable. GoBabyGo! intrigued her because of Galloway's ability to grow and expand the reach of the project without a business plan or any sort of infrastructure.
Projects
Galloway, who teaches full-time at UD, founded GoBabyGo! as part of a research project. By holding workshops and sharing his "do-it-yourself" blueprint, he has now trained volunteers in more than 40 communities across the U.S. and now has satellite chapters all over the world including Spain, Poland, Israel, Canada, Brazil and New Zealand.
"He started to get calls from parents in tears saying 'I want one of these for my child,'" Ballesteros-Sola said. "He just used word-of-mouth. It was very organic, happened without a legal structure or a board of directors. It was a very intriguing approach to growth. All you had to do was contact him and he would send you the blueprints and guidelines to organize your own GBG workshop —anything."
Galloway created his first GoBabyGo! car after his research showed that a child's independent mobility helps develop cognitive, social, motor, language and other developmental skills. Being pushed in a stroller or carried did not carry the same benefits as a child having control over his or her own exploration. So Galloway bought toy motorized cars and modified them so children with various disabilities could drive them and enjoy the cognitive and motor skills that develop with movement.
The cars are relatively inexpensive to modify—between $100 and $200, depending on what's required.
Parents and other organizations heard about GoBabyGo! and wanted to build their own motorized cars, so Galloway developed a web site interested parties could visit in order to contact a volunteer or start a local program: http://www.udel.edu/gobabygo/contact-list.html
Ballesteros-Sola and Raible have submitted their award-winning paper to an academic journal and will present the story of this social enterprise at the United States Association for Small Business and Entrepreneurship (USABE) conference in January and to others interested in how to create their own social movement around mobility.
"This story is amazing," Ballesteros-Sola said. "Every time I talk to Cole, I cry. He sees mobility as a human right. He's an activist and an advocate. These kids don't have a voice, and he's decided 'We are going to be the voice for these kids. The flavor of what we do-- the rhythm of it is much more like a civil rights movement.'"