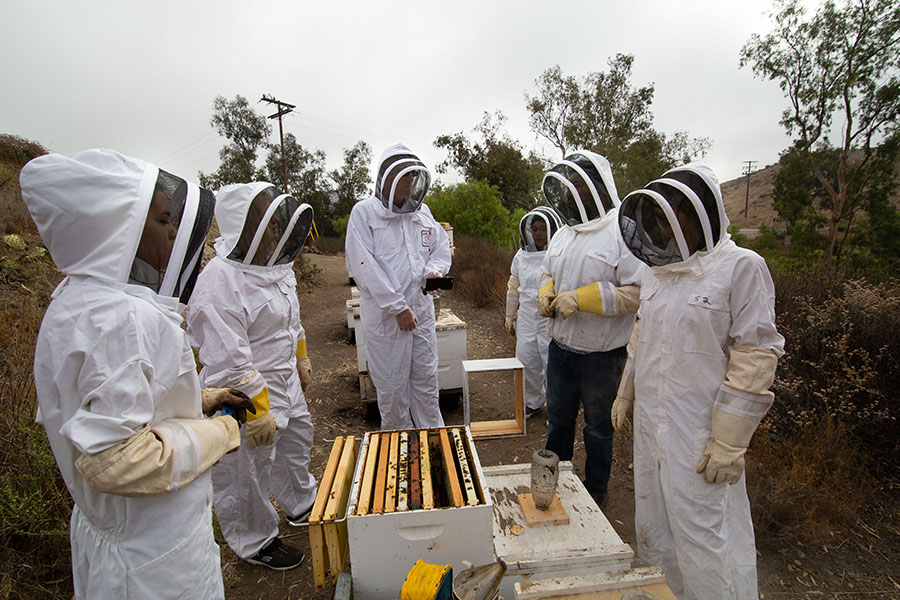 July 13, 2020 — While most of the campus operates in cyberspace, the roughly 24 colonies at CSU Channel Islands (CSUCI)'s bee yard are thriving, thanks in part to two 2019 graduates who suit up and show up to care for the bees.
CSUCI's pollinator-friendly campus, bee education, outreach and student involvement along with a number of other factors have earned CSUCI a Bee Campus USA designation for a second year in a row. CSUCI is one of 103 Bee Campus USAs across the nation.
"Bee Campus USA is an exciting designation because we were the first four-year university in California to earn that rating, and now we've been renewed," said Sustainability and Energy Manager Roxane Beigel-Coryell.
Designations for Bee Campus USA and Bee City USA come from the Xerces Society, which is an organization that works to conserve native pollinators including bees, butterflies, and moths. The society's hundreds of volunteers reward cities and campuses that take steps such as enhancing habitats for pollinators and reducing the use of pesticide reduction, among other steps.
"We try to limit the amount of pesticides we use," said Beigel-Coryell. "We do what we can before using chemical input such as mulching and doing hand-weeding."
Earning "Bee Campus" designation for the first time for the year 2018 required cooperation among faculty, administration, staff and students to provide education, public outreach, student involvement and pollinator-friendly practices on campus, which CSUCI has sustained now for two years and counting.
The buzz started when students in Chemistry Lecturer Safa Khan, Ph.D.'s sustainability classes proposed a number of pollinator projects, including a pollinator garden on the second floor courtyard of Sierra Hall, and an educational Earth Day campaign.
The movement gained momentum with Associate Professor of Biology and bee expert Ruben Alarcon's apiculture and bee biology classes, which offered hands-on training with the bee farm Alarcon procured for the campus.
"Lab students can take a class to learn bee-keeping and it's still popular," Alarcon said. "The students who took my class have become beekeepers on their own and join forces to maintain the colonies on campus."
Each Saturday, Alarcon meets with 2019 Biology graduates Kevin Bock, 32, of Thousand Oaks and Shirley Williams, 29, of Goleta, who don their white beekeeper suits and go about the business of managing the bees, which Bock describes as "a labor of love."
"This is pure volunteer work," Williams said. "We both work Monday through Friday and Saturday is our designated beekeeping day, which often spills over into Sunday. It's not necessary that we do this, but we love the campus, we care about the program and we care about Professor Alarcon."
Bock said he was drawn to beekeeping "in the nerdiest way possible," he said.
"I was playing Dungeons and Dragons and we wanted to get more into it, so I made my own honey mead wine," he said. "Then I realized honey is really expensive. I saw the beekeeping class was available so I took it and fell in love with it."
Williams' interest in bees dates further back to when she was a child and collected roly-poly bugs. As she grew up and attended CSUCI, she began to marvel at the ingenuity of the bee colonies.
"They thermos-regulate their colonies," she said. "When it's too hot, they fan their wings and ventilate it. And the structure of their cones are hexagons because that's the most efficient. They figured that out over thousands of years."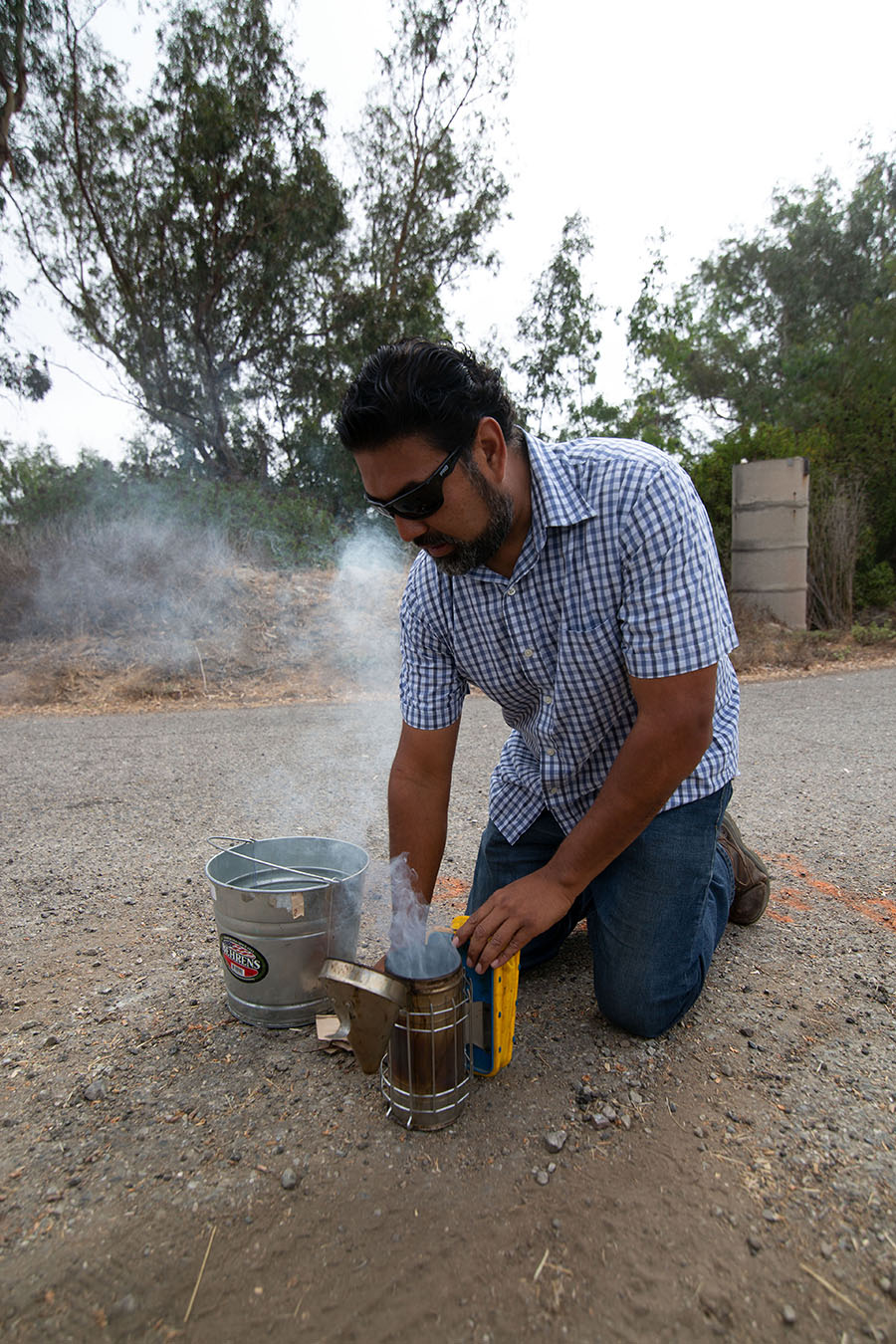 After spending time among the hives, sharing their fascination with bees, Bock and Williams' friendship bloomed into a romance, which is still going strong—pollinator puns and all.
"Kevin will be checking out some honey and say 'Will you look at this honey!' and I'll say 'Yes, Dear,'" Williams said.
Bock and Williams were members of the new Bee Club, which is dedicated to learning about and spreading information about pollinators and conservation through public outreach and conservation.
Former Bee Club secretary Evelyn Garcia, who plans to graduate in 2021 with a degree in Biology and Anthropology, joined the club to conquer a fear and wound up finding a cause she loved.
"I was afraid of insects and heard they were hosting a Bee Club. I thought it would be a good way to get over my fear of insects," said Garcia, who learned to love bees. "They are the reason we have food. They are one of the reasons we are still alive. They are like the backbone of the nature world. Bees made sure we stayed alive so I think it's our turn to help them."
To learn more about Bee Campus USA and the Xerces Society visit: www.xerces.org.