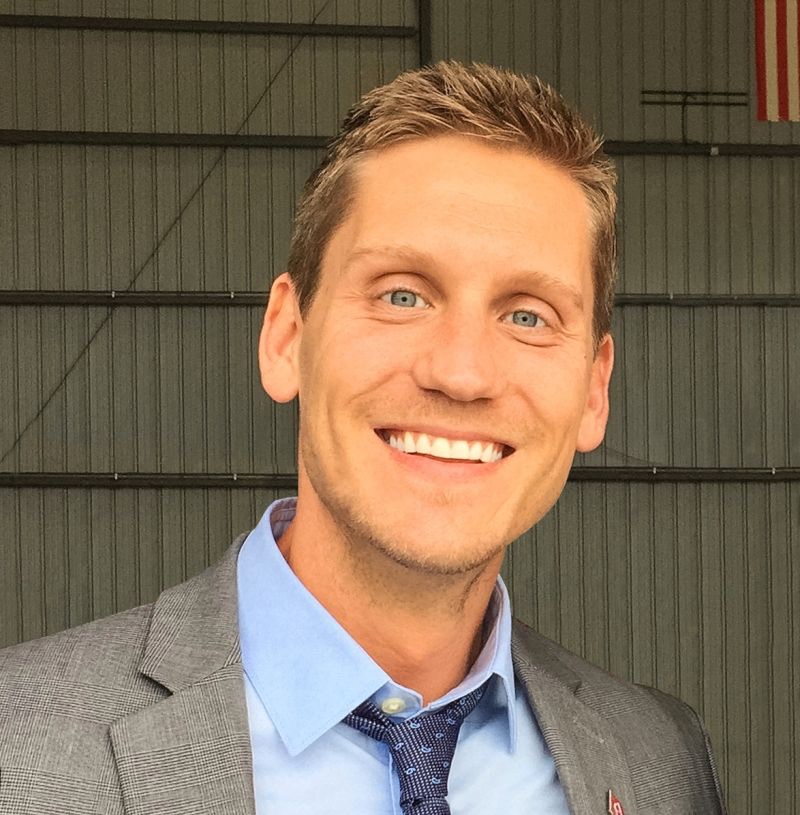 May 20, 2020 — The Cal State Student Association (CSSA) has awarded CSU Channel Islands (CSUCI) Associate Professor of Communication Jacob Jenkins, Ph.D., the 2020 California State University Faculty Innovation & Leadership Award.
The CSSA, which represents students from all 23 CSU campuses, each year selects a faculty member who contributes to student success through leadership and innovation.
CSUCI Student Government President Sara Ruiz nominated Jenkins because of his work with the OpenCI Initiative, which is an ongoing effort to cut textbook costs for students by offering an increasing number of learning materials online at no cost. Over the past academic year, CSUCI students saved over $1.6 million in textbook costs. During the four years since OpenCI has been operating, students have saved over $3.8 million.
"He (and Professor of Nursing Jaime Hannans, R.N., Ph.D.) came to the November CSSA Plenary Meeting to discuss that work and share what other campuses can do to participate in low-cost textbook and materials education," Ruiz said. "OpenCI allows and encourages a more accessible college education and I feel that deserves to be rewarded."
Jenkins said he is honored to have been chosen, but wanted to share the award with Hannans, who collaborated with Jenkins on the project and has continued to work side-by-side with Jenkins as they continue to expand on the OpenCI initiative.
"I have to point out that no one person can do any program like this alone," Jenkins said. "Nothing we've accomplished would have been possible without my fellow campus co-coordinator, Jaime Hannans, and without the leadership of Jill Leafstedt."
Jenkins, Hannans and Associate Vice Provost for Innovation and Faculty Development Jill Leafstedt, Ph.D., launched OpenCI, the CSU Affordable Learning Solutions effort at CSUCI, in 2016.
Faculty from 20 programs across CSUCI's campus redesigned their classes using no- or low-cost course materials. The first three programs to successfully use this initiative by offering a zero-textbook-cost pathway through their entire major were Communication, Early Childhood Studies, and Health Science. More recently, the OpenCI team has been working toward no- or low-cost textbook options in Business and Economics, as well as in the Special Education Credential track and the Registered Nurse to Bachelor of Science (RN to BSN) within the Nursing program.
During the four years the program has been operating, students have saved an estimated $3.8 million in textbook costs.
"Recognition by CSSA is exciting and important because it helps acknowledge the amazing work of all faculty at Channel Islands engaging in finding low cost and no cost course materials," Hannans said.
The pandemic and resulting move to a virtual campus places even more emphasis on programs like OpenCI, Jenkins said.
"It shows that open education resources will be even more relevant and important than ever before," Jenkins said. "Many students have lost their jobs, which makes it even more difficult for them to afford textbooks. Now that we are completely virtual, these materials can be accessed online at no cost. So, it's more important now than ever to create opportunities for increased access and affordability through the integration of technology in virtual settings."
So far, more than 400 courses have been redesigned as OpenCI courses.
Working toward using no cost or low cost course materials in the RN to BSN may be a motivating factor for working RNs to return to school to complete their BSN after completing associate degree programs.
"They can complete their BSN degree in 14-22 months through CSUCI's Track II program," Hannans said. "Nursing faculty have committed to redesigning courses by finding no cost course materials options for the Track II Nursing program, with these courses launching this summer."
To learn more about OpenCI, visit: https://www.csuci.edu/tli/openci/.