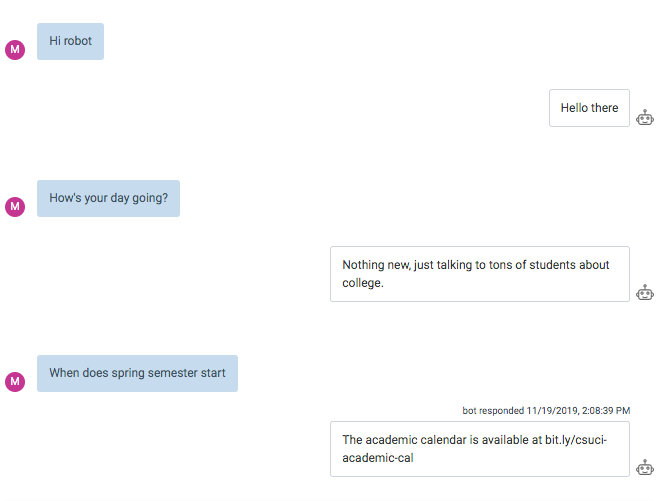 Feb. 10, 2020 — Deadlines can be tricky, and so can the maze of paperwork necessary to navigate the university experience.
CSU Channel Islands (CSUCI) Information Technology major Justine Giorgi of Camarillo learned just how tricky when she transferred to CSUCI this fall after spending her freshman year at Azuza Pacific University and her sophomore year at Moorpark College.
Giorgi had a few friends at CSUCI to help her, but for questions they couldn't answer, Giorgi pulled out her phone and called on Ekhobot, a new campus service available 24/7 to help guide the way for new students. 
Named for CSUCI's mascot, Ekho the dolphin, Ekhobot is a chatbot rolled out to freshmen and new transfer students last fall. Ekhobot can answer common questions new students have, and, for the more complicated questions, connect them with someone who can find the answer.
"The chatbot is based on text messaging," explained Associate Vice Provost for Innovation and Faculty Development Jill Leafstedt, Ph.D. "Students can send a text message to the bot and it will provide an answer. Using artificial intelligence, it has learned information about our campus and can provide answers to a lot of questions freshmen and transfer students have."
Leafstedt and Associate Vice Provost for Student Success & Community Engagement Amanda Quintero, Ph.D., led the effort to bring Ekhobot to campus, making CSUCI one of five universities in the CSU system to develop a campus-specific chatbot. These chatbots are designed to help set a smooth trajectory for new students so they can thrive academically and graduate on time.
Giorgi has been using Ekhobot ever since the app rolled out, and she is continually surprised at how helpful Ekhobot has been.
"My parents had asked me when CSUCI's winter break was, and on the spot I wasn't 100% sure, so I decided to try messaging Ekhobot to ask," Giorgi said. "It was immediately able to send me a link to the academic calendar where winter break information was."
Ekhobot has a personality, too, she said, which has made her laugh more than once. Like the time she greeted Ekhobot and Ekhobot answered with a link to a clip of the character Joey from NBC's "Friends" giving his iconic line: "How YOU doin'?"
Quintero said Ekhobot will also help with "nudge" campaigns, which are designed to remind students of important dates or deadlines.
"The students get a lot of information at orientation, so it's hard to retain all of it," Quintero said. "But if we break up this information during the year and deliver it around important deadlines, or to let them know that resources exist, it will be a lot less overwhelming."
Plus, the information is being delivered in a way the students use every day.
"With this generation of students, the technology has shifted so much, it's not the same," Quintero said. "Ten years ago we were sitting in front of desktops searching websites. These students are on their cell phones and their iPads. They're on their mobile devices. They are of the 'Ask Siri' generation."
Leafstedt, who led the effort to bring Ekhobot to CSUCI, said the chatbot will continue to develop based on student questions, and information being fed into the bot.
"Ekhobot is forming a personality that is evolving over time," Leafstedt said. "We created a knowledge base of what we thought was the most important information and put it into CSUCI lingo. If somebody asks a question Ekhobot can't answer, it gets escalated to the campus' Solution Center."
So far, Ekhobot has been a hit. Since it launched last fall Ekhobot has reached more than 2,031 students with 13,240 individual messages sent from Ekhobot and 1,518 messages sent from student workers in the Solution Center. Both Quintero and Leafstedt agree that this sort of technology innovation will figure prominently in the future of student success.