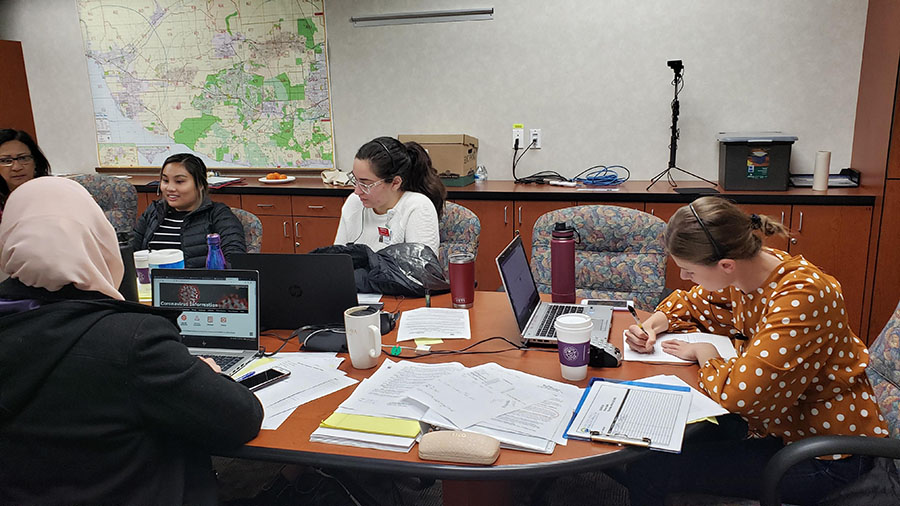 April 2, 2020 — CSU Channel Islands (CSUCI) Nursing senior Lilian Kozma remembers walking into the call center at Ventura County Public Health (VCPH) on March 16, as more and more citizens were beginning to react to the severity of the COVID-19 pandemic.
"Those phones, I kid you not, would not stop ringing," Kozma said. "There were public health nurses there, but they didn't have time to show us what to do, so I just jumped in there and answered calls."
Kozma and other CSUCI senior Nursing student volunteers, like Class of 2020 Nursing student Gabriel Mosse, said the "soft skill" training at CSUCI helped prepare them for this unprecedented moment.
"At the beginning it felt very overwhelming," Mosse said. "As I took phone calls, I realized, yes, I was prepared. The nice thing about being seniors if we've seen a variety of different types of medicine and different types of people. In this case, it wasn't so much about medicine, but about interacting with different people, just like we did in clinicals (supervised interactions with patients in local healthcare facilities)."
Assistant Professor of Nursing Charlene Niemi, Ph.D., R.N., said she was alerted that VCPH was in need of nursing student volunteers the weekend of March 14-15, so she asked if any of her seniors would like to help, also offering to count the volunteer work as clinical hours.
"We wanted to be able to get hours, but the thought of being able to help with the public health department in this pandemic—that is perfect firsthand experience," Mosse said. "Instead of doing hands-on clinical, we were doing hands-on nursing. We were taking calls from the public and health care facilities."
Niemi's specialty is public health, so she was gratified to see the students get experience during an actual public health emergency. Among the "soft skills" necessary for nurses, she said, was how to exercise critical thinking during an emergency.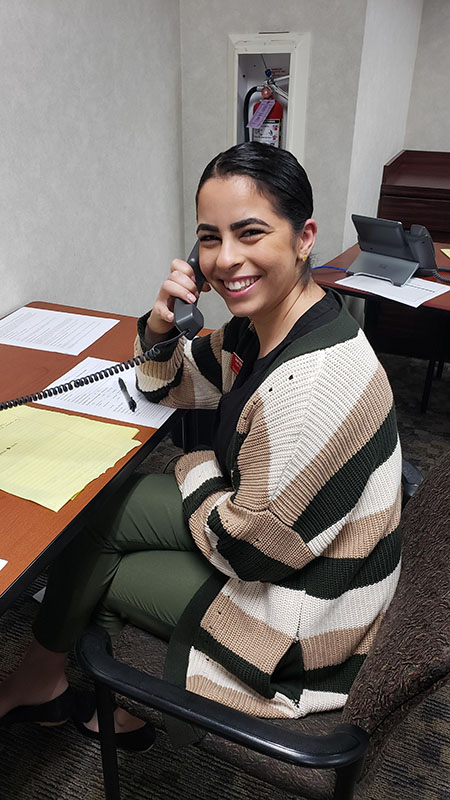 "It brought together everything I lecture about into one moment," Niemi said. "They needed to multitask. They needed to deal with a very worried and scared public. They were able to calm nerves. They were able to go on the Centers for Disease Control (CDC) web site and keep themselves updated with changes. They knew what to say to business owners calling to ask what it meant to businesses if they had to close down."
Kozma said the experience she gained was valuable, and multi-dimensional.
"We are at this point in time where we are dealing with a pandemic," she said. "It's something you don't learn in class, even with our public health rotation. We usually go off case studies and everything is hypothetical. But now there's a disaster going on and I was learning how to be an actual nurse with these people. Calming them down when everything is telling them to freak out. I really felt like I was getting to use my nursing judgment."
VCPH Director of Public Health Nursing Megan Steffy said VCPH has been working with CSUCI ever since the Nursing program began, and can always count on getting high quality nursing students as volunteers or as new hires.
"They were quick learners with good critical thinking skills," said Steffy. There are some things you can't teach, like empathic listening, and these students did really well. I can always count on CSUCI."