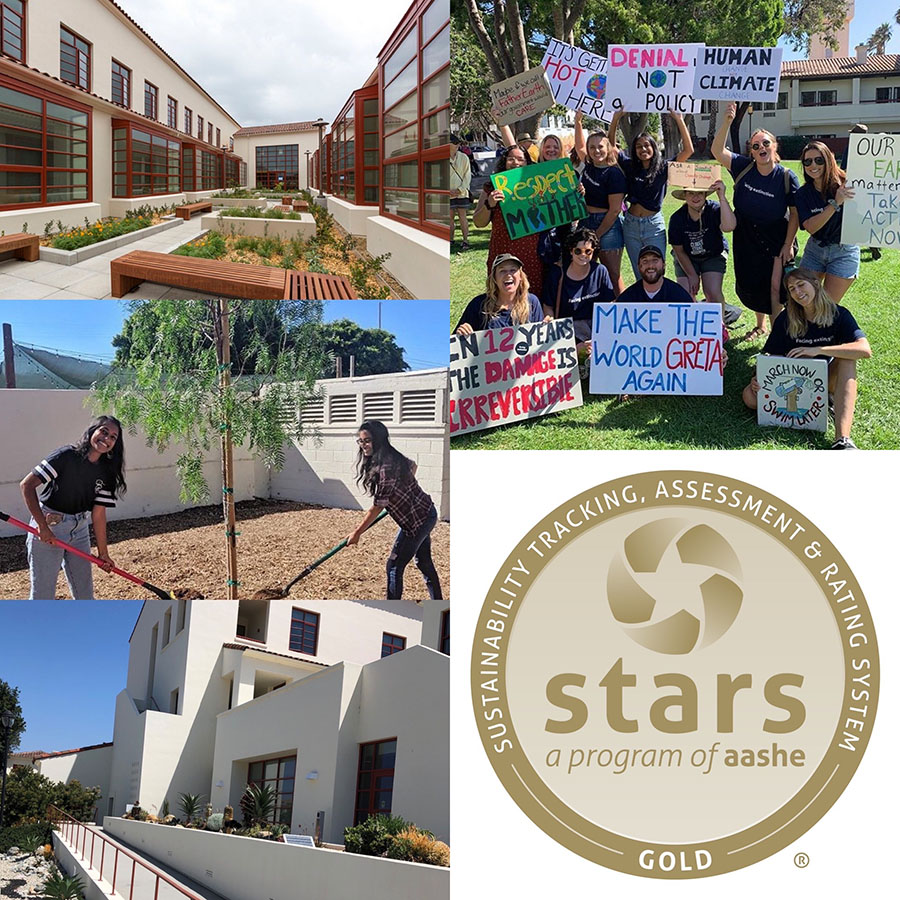 June 24, 2020 — An organization that recognizes excellence in sustainability practices has given CSU Channel Islands (CSUCI) one of its highest ratings.
The Association for the Advancement of Sustainability in Higher Education (AASHE) commended CSUCI for earning a gold rating in AASHE's Sustainability Tracking, Assessment & Rating System (STARS).
"STARS was developed by the campus sustainability community to provide high standards for recognizing campus sustainability efforts," said AASHE Executive Director Meghan Fay Zahniser. "CSUCI has demonstrated a substantial commitment to sustainability by achieving a STARS gold rating and is to be congratulated for their efforts."
A gold rating is the second-highest in the five-level STARS rating system, which, from lowest to highest is: reporter, bronze, silver, gold and platinum. CSUCI is one of only three CSUs with a gold rating, and CSUCI is the first to be recognized as gold by the newer, more stringent standards.
AASHE's STARS program has more than 900 participants in 40 countries and is open to any institution of higher learning in the world. In order to achieve a rating, participants report achievements in five overall areas: 1) academics 2) engagement, 3) operations, 4) planning and administration, and 5) innovation and leadership.
"It doesn't just look at our environmental impacts or how much water or energy we're using, but it looks at our social spaces, our curriculum, diversity and employee compensation—the percentage of employees earning a living wage," said CSUCI Sustainability and Energy Manager Roxane Beigel-Coryell
Among the University's accomplishments is the reduction of greenhouse gas emissions by 66% when compared with the 2008-2009 baseline. The University accomplished this through efficiency and conservation strategies such as lighting retrofits, heating, ventilation and air conditioning systems and equipment upgrades.
"While the University does have plans for a large solar photovoltaic project in the coming years that will supply approximately 67% of the University's electricity needs, the greenhouse gas reductions to date have been achieved solely through energy management, efficiency measures and engagement initiatives," the report said.
CSUCI's water usage has been reduced 24% per person and 26% in terms of the non-potable water used for irrigation, thanks to native and drought-tolerant planting around campus. Campus personnel also manages CSU Channel Islands' University Park, a 367-acre park, in a natural and wild state that protects the open space and grounds for recreation. All campus gardens are managed organically.
"We've drastically reduced our use of any pesticides or herbicides on campus," Beigel-Coryell said. "That means our first priority is mechanical management such as pulling weeds and encouraging certain insects that keep pests in check."
Campus support for groups of students not well represented in higher education is also a point of distinction with a variety of financial resources, peer mentorship and organizations such as the Multicultural Dream Center, the African American Outreach and Transitions Academy, and the Center for Multicultural Engagement.
The University also offers training for faculty and staff to become undocumented student allies, so they can better understand the challenges of and provide support for undocumented students.
CSUCI is a proud Hispanic-Serving Institution (HSI) and in 2019 received the Seal of Excelencia, a prestigious certification granted by the Washington, D.C.-based organization, Excelencia in Education. The Seal recognizes an institution's very high level of commitment and effort to serve Latinx students successfully.
Another campus strength is its role as a living laboratory, in which 33% of faculty members are conducting research into sustainability practices, representing 70% of CSUCI's disciplines.
Student and faculty research at CSUCI includes air quality, grounds management, microplastic pollution, agriculture, indigenous culture and more.
CSUCI is continuously seeking new ways to improve its sustainability and scored high marks in a number of areas.
Beigel-Coryell believes participating in the STARS program is important for the University as it is CSUCI's responsibility to care for the land and the people who come here to teach and learn.
"We have a responsibility as an institution to have as little impact as we possibly can and to be good stewards of our resources," Beigel-Coryell said. "Our utilization of water, our waste generation, our people and how we treat them. We must have programs to support equity for everyone, educating students for the future, and making sure we are investing in our mission. We have a really important role to be leaders in researching ways to combat climate change and to ensure a bright future for all of us."