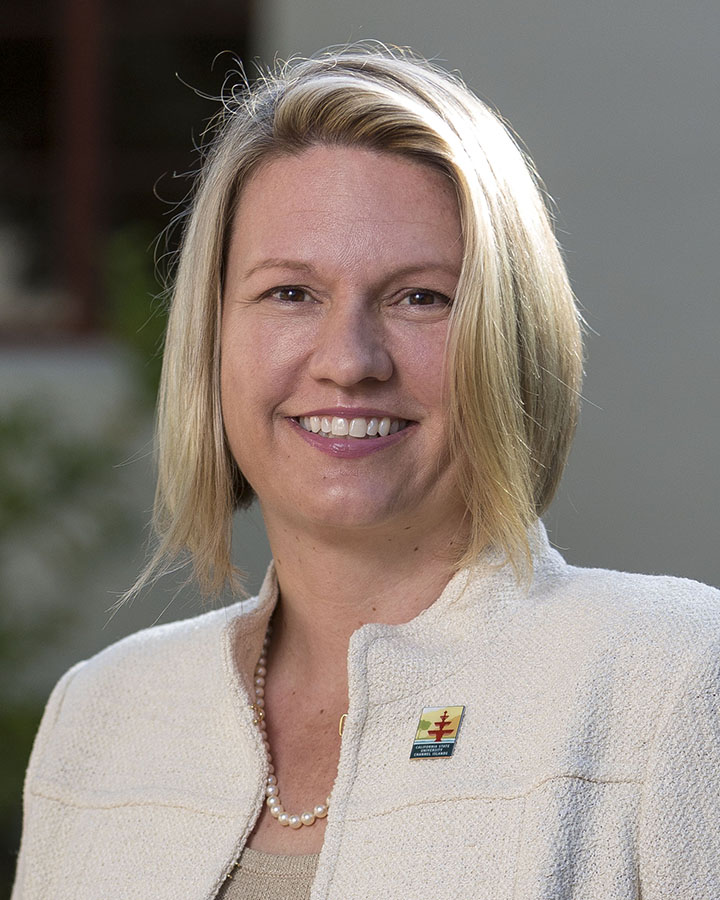 Feb. 26, 2020 — Construction is already underway at CSU Channel Islands (CSUCI) and several more major projects are planned as the campus looks toward its largest capital improvement projects to date.
President Erika D. Beck, Ph.D., will discuss the multi-million dollar additions and improvements to the campus along with many other significant campus developments during her "State of the University" address at the 2020 CSU Channel Islands Connection Luncheon. CSUCI and the Camarillo Chamber of Commerce co-sponsor the event, which is scheduled for March 5 from 11 a.m. to 1:30 p.m. at Spanish Hills Country Club in Camarillo.
"Every year I look forward to this opportunity to share all that's going on at Cal State Channel Islands, but this year is exceptional for a number of reasons," Beck said. "The state is investing in this community through our campus with several capital improvement projects including a new Early Childhood Education Center, hundreds of new homes in the University Glen area, and new modern structures while maintaining the Spanish mission-style architecture that distinguishes our campus."
Other capital improvements include Gateway Hall, a $71 million project which will result in 120,000 square feet of student services, offices and classrooms along the entrance to the campus. Feasibility studies are underway to replace Sage and Yuba Hall with a campus hub that will span 250,000 square feet of student apartments, an expanded health clinic, offices, classrooms and labs.
There's also good news on the academic front. Along with numerous faculty and student awards, the University has earned national recognition for how well CSUCI graduates do after earning their diplomas.
"At the core of this University's mission is to provide access to an affordable, high quality education that sets a trajectory toward success and upward mobility for our students and their families," Beck said. "We take great pride in the fact that we ranked 5th in the nation on CollegeNET's Social Mobility Index and the 9th Most Transformative University in the nation by MONEY magazine. This national recognition is based on how well our students fare socioeconomically once they graduate from CSUCI and enter their chosen careers."
In 2019, CSUCI was recognized with the Seal of Excelencia for empowering Latinx students to thrive during their university experience and graduate on time. CSUCI was one of only nine in the nation and the only campus in California to receive this coveted distinction.
Community partnerships have enabled the planning and infrastructure of the Early Childhood Education center, which will serve as a teaching and learning center, as well as a child care center aimed at serving CSUCI student parents and farmworkers. The first phase of the project will be able to accommodate about 100 children with plans for the center to serve as a model for the entire state.
CSUCI will begin offering master's degrees in nursing beginning in fall of 2020 and research opportunities for Latinx and female students pursuing science, technology, engineering and math (STEM) degrees will increase, thanks to a $2.5 million grant from the National Science Foundation.
CSUCI is now home to a new Living-Learning Community focusing on the African Diaspora—which describes a population living away from their country of origin. A Living-Learning Community is a group of students who live in one area and take several classes together to enable them to research their area of study both in and out of the classroom.
The University's newest four-legged resident, Lonnie, is also scheduled to make a cameo appearance at the luncheon. Just like Doc, CSUCI's first service dog, Lonnie's job is to delight the students, staff and faculty.
Beck will describe numerous other achievements and developments at Ventura County's only four-year public university such as an expansion of the campus Basic Needs program, a solar energy installment, and a performing arts theater.
All of the physical and academic progress is to keep pace with enrollment, which is currently about 7,000 students and is expected to increase to 15,000 in the coming years. Beck will share more of the University vision for the future along with an invitation for all to be continue to be a part of it.
Tickets to the Connection Luncheon are $45 for members of the Camarillo Chamber of Commerce and $55 for non-members. CSUCI students can be hosted at the event for $35.
Visit the Camarillo Chamber website for more.