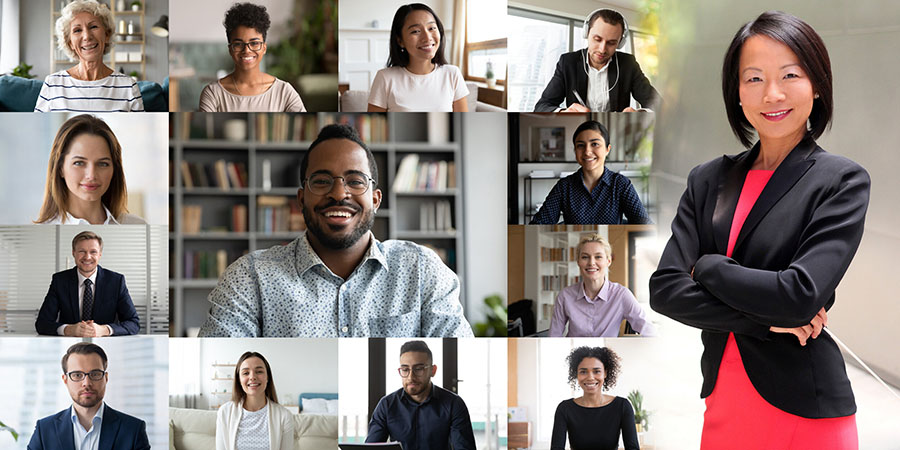 Nov. 24, 2020 — CSU Channel Islands (CSUCI)'s first-ever virtual winter concert will celebrate women composers, whose work goes largely unrecognized by larger American orchestras. 
"I'm promoting women composers because I've always used music specifically to speak to social justice issues such as underrepresented racial or LGBTQ groups," said CSUCI Chorus Artistic Director KuanFen Liu, who holds a doctorate in musical arts.  
Beginning on Friday Dec. 11 at 7 p.m., guests can visit the Channel Islands Choral Association at www.cicachoir.org and listen to "Celebrate Women Composers in Choral Music." The winter concert will be available online through Dec. 20.  
Because of the COVID-19 restrictions requiring the campus and therefore choir rehearsals to be virtual, Liu spent the summer setting up a virtual rehearsal platform where the roughly 60 members of the choir could come together via Zoom, then split into separate Zoom rooms to rehearse their separate vocal parts: soprano, alto, tenor and bass.  
After each rehearsal, Liu had choir members come together again as a group on Zoom and share their insights, struggles or just stories of living with the circumstances created by the pandemic. 
"We could respond to questions that weren't related to anything more than our experience as humans going through a pandemic," said Performing Arts and Communication double major Rachael Crooks. "People had the opportunity to talk about things they missed, people they want to be able to hug, how their favorite thing to do since the start of the pandemic was baking or doing puzzles, or even just to vent."  
Crooks knew this year would be different but was pleasantly surprised. 
"As a student I can say that participating in a virtual choir with Dr. Liu and her amazing team was surprisingly seamless," Crooks said. "I have worked with musicians remotely in the past and it can be incredibly difficult and frustrating when even the smallest difference in pitch or tempo can ruin an entire recording." 
The choir's Virtual Chorus Room (VCR) was set up by Arts Laureate, an elite recording team that sets up virtual performances for groups such as the Los Angeles Master Chorale, the Chicago Symphony Orchestra and NPR's Jazz Set at the Kennedy Center.  
"Just to be able to facilitate this virtual choir rehearsal, we recorded over 100 vocal tracks of these pieces so choir members could have the material so they can practice," Liu said.  
Only about three percent of the music performed by large American orchestras is written by women composers, which means listeners are missing out, Liu believes.  
Among the pieces that truly inspires Liu is "Through the Dark" by contemporary composer/conductor Andrea Ramsey, who has composed music to words written by Helen Keller: 
"Through the dark, I sense a holy passion.  
Music that beats with the pulses of God." 
"We are in dark times right now," Liu said. "So one of the questions I asked during the community circle was 'What have you found to be a holy passion during these times?' We are saddened not to be able to perform and see friends, but we can still live our passion in a different way. The virtual choir tries to provide that." 
To listen to "Celebrate Women Composers in Choral Music," tickets are $15 and available Dec. 11 to 20. Proceeds benefit the virtual choral programs of CSU Channel Islands and Pleasant Valley School District. 
For more details and to reserve tickets, visit www.cicachoir.org.