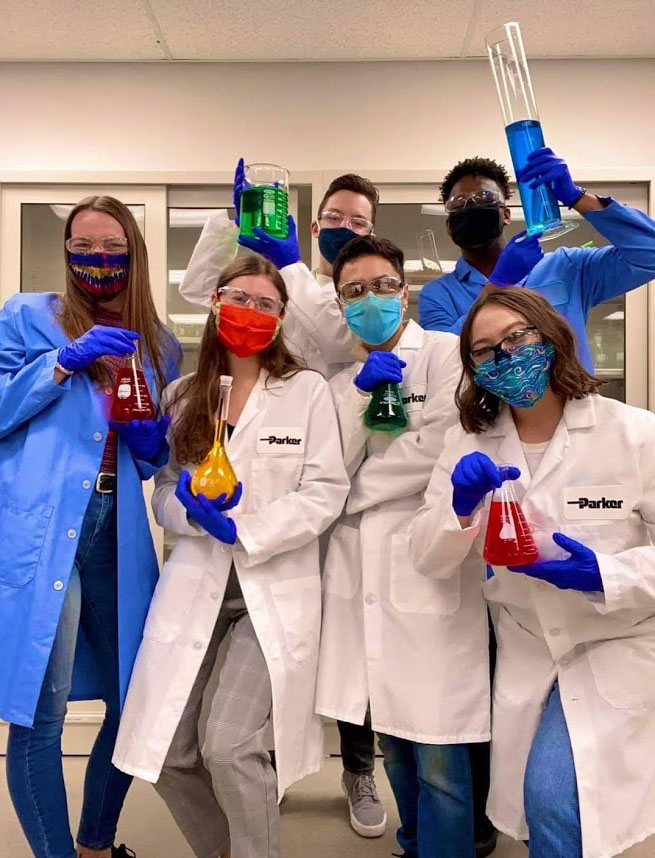 May 13, 2021 — A $144,975 grant from the Parker Hannifin Corporation will enable the expansion of their CSU Channel Islands (CSUCI) internship program, which has students involved in a number of projects that will develop their skills in scientific analysis. 
"All have had the opportunity to work closely with our Lab Team to learn a variety of skills in microbiology, analytical chemistry, microscopy, molecular biology, electrochemistry, and many more applications that will most surely serve them in their careers as future scientists," said Parker Hannifin Engineering Laboratory Supervisor Charlene Gibbert. 
Parker's internship program with CSUCI began in January of 2020 as a pilot with two student interns. According to Gibbert, the program was "a huge success," so it has grown now to include nine student interns. 
"Prior to the internship program, Parker's lab was staffed by three: a chemist, microbiologist and lab technician. With the help of our student interns, we are now able to expand our daily workload and meet project deadlines and expectations. Our interns come to work with great attitudes and have a drive to jump in and help on any project or task for which they are needed." 
Associate Professor of Chemistry Ahmed Awad, Ph.D. was awarded the initial grant for the project, which is called "Redox-active Materials Synthesis and pH Measurements." 
"This project focus is on the development and synthesis of polymeric (molecules or other units connected to one another) materials required to engineer advanced laboratory instruments, such as a pH sensor that can measure acidity changes during an oxidation-reduction (Redox) reaction," Awad said. "These measurements involve cutting-edge technologies that require the highest degree of accuracy and precision." 
The Parker Hannifin lab team uses this chemical process to test products the company markets to the bioscience, pharmaceutical and food and beverage industries, Gibbert explained.  
"Several of our interns have been integral in validating (identifying the strengths and weaknesses) of a new product before marketing the product to consumers," Gibbert said. "For instance, several of our interns have been integral in validating a large scale dilution system that is currently being used to support the production of the COVID vaccine at Moderna, Pfizer, and Johnson & Johnson." 
Awad says he is very careful when choosing students for the internships. 
"I choose serious and responsible students," he said. "Those who, in addition to their academic work, are involved in other activities outside the classroom such as undergraduate research and are members of campus organizations and clubs." 
Students must show commitment to the work, respect for others, and should be excited about the opportunity to excel in the internship program, he said. 
Biochemistry major Delaney Kaufman is one of the students Awad chose. Ever since she was a little girl mixing colored liquids in plastic flasks on the living room floor, she has loved science. The first in her generation to attend college, Kaufman plans to pursue a Ph.D. in medicinal chemistry. Kaufman has been an intern with Parker Hannifin since July of 2020, describing her work there as "an amazing experience." 
"It's honestly been great, especially with COVID keeping us from being in a school lab setting," Kaufman said. "It's been great to use some of the techniques we've been taught in class, and being in a different lab setting than in school has increased my confidence. I'm super thankful for it all."