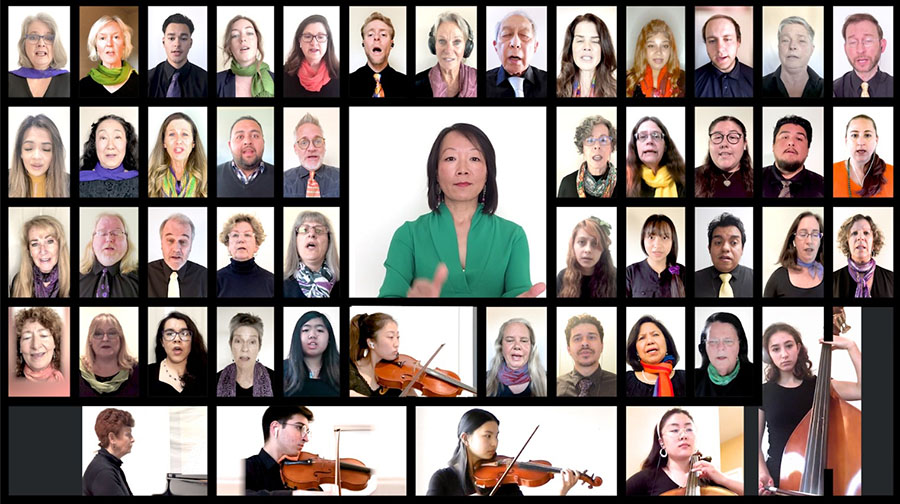 June 1, 2021 — Some say it was an inscription on the wall of a cellar in Cologne, Germany, where a number of Jews hid themselves for the entire duration of World War II.
Other accounts say it was scratched on a wall next to the body of a prisoner who had escaped the Warsaw ghetto. Its origins are unclear, but the message was powerful enough to inspire the song, "I Believe."
I believe in the sun even when it is not shining; 
I believe in love even when feeling it not; 
I believe in God even when he is silent.
A choral arrangement of "I Believe" by composer Mark Miller will be among the selections in the CSU Channel Islands (CSUCI) virtual Spring 2021 Choral Program celebrating Black composers like Miller, entitled "Into the Light."
Beginning June 4 through June 20, the public can stream the virtual concert by visiting:
https://cicachoir.org/intothelightspring21. Cost to stream the concert is a $15 donation to the Channel Island Choral Association (CICA).
"In the Fall we celebrated women composers, and this spring we are continuing the idea of bringing forward underrepresented groups of composers, in this case, Black composers," said KuanFen Liu, who holds a doctorate in Musical Arts and is the director of CICA. "The Black composers in choral or orchestral music were overlooked by many concert venues or organizations because they were so accustomed to presenting only the white European composers."
The chorus—which is about 50 singers strong—is comprised of CSUCI students, staff and faculty; members of the community and singers from the Pleasant Valley School District.
Among the composers whose work will be showcased will be Undine Smith Moore, a renowned Black composer who is often referred to as the "Dean of Black Women Composers;" Dallas native Victor C. Johnson, who has produced almost 350 choral works, vocal solo books and keyboard collections; and vocalist and 10-time Grammy Award winner Bobby McFerrin.
"Bobby McFerrin actually did a lot of performances with Yo Yo Ma," Liu said. "He's classically trained, but uses a lot of different vocal techniques. He is such a strong performer in so many genres."
Also highlighted will be the prolific Ysaÿe Barnwell, a Washington D.C.-based music educator who has been a commissioned as a composer on numerous choral, film, video, dance and theatrical projects.
"I wanted to avoid the stereotype that people can have about Black composers—they immediately think of gospel—and the reality is that these Black composers have written music in many different genres and styles," Liu said. "I wanted to get diversity. I wanted to get women and men, composers who are living and those who have passed but were such important parts of the world of black composers."
CSUCI Assistant Professor of English Raquel Baker, Ph.D., will also be part of the presentation.
"It will be a two-way conversation with Dr. Baker with our singers and students about how we can use music, and what we can do on a daily basis, to create a more just world," Liu said.
After purchasing tickets at https://cicachoir.org/intothelightspring21a link to the video will be included in the ticket purchase confirmation email.