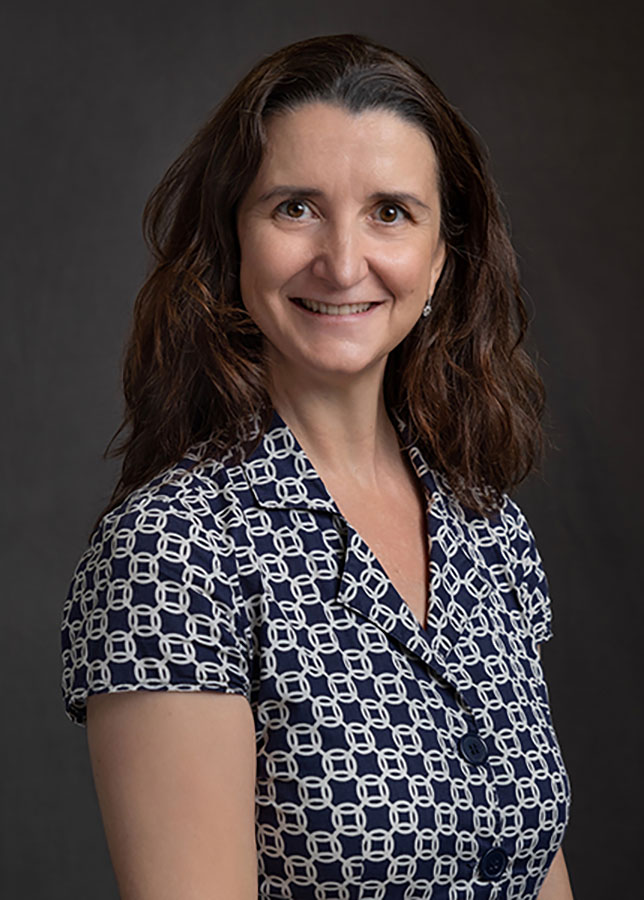 Nov. 12, 2021 -- CSU Channel Islands Assistant Professor of Management Maria Ballesteros-Sola, DBA, was named Educator of the Year by the Western Ventura County Business Alliance at the City of Camarillo 54th Annual Top 10 Community Awards.
"Dr. Ballesteros-Sola uses innovative teaching methods, publishes her research extensively, and is deeply committed to supporting her students and the local business community," said Susan Andrzejewski, Ph.D., Dean of the Martin V. Smith School of Business & Economics at CSUCI. "Her work with Benefit Corporations and B-Corps (companies that use business as a force for social good), is but one example of how her teaching extends far beyond the classroom to positively enhance both her students' lives, as well as the broader business and non-profit community."
Students, faculty, administrators, and community partners consistently recognize Ballesteros-Sola as an innovative, dedicated, and passionate educator. She has taught a variety of courses across the University's general education and core business curriculum and is known for infusing her classes with a mix of teaching tools and practices that make a deep impact on her students.
One recent example was a course that would have taken CSUCI students to Spain to work directly with social enterprise organizations headquartered in that country. Unfortunately, the course had to be completed virtually due to the pandemic, but Ballesteros-Sola hopes to make the trip with her students in the future. She has also developed course collaborations with a university in Tijuana, encouraged students to connect with local non-profit organizations and businesses, and involved students in research.
Loretta Davidson is one such student. Several years ago, she heard Ballesteros-Sola give a presentation about responsible business at a local library. She was so moved that, even though she was in her 60's, she decided to apply to CSUCI to earn a degree in Environmental Science & Resource Management with a minor in Social Business. The pair have worked together on projects for social enterprises such as Growing Works and have even published a peer-reviewed paper together.
"I was drawn to this school by Professor Ballesteros-Sola," said Davidson, who plans on graduating next summer and perhaps starting her own social business dedicated to restoring water bodies. "She is a conscientious, considerate and thoughtful instructor who is committed to teaching students her field and giving them a different outlook on business. She has a positive attitude and instills confidence in her students in order that they may be successful in their chosen fields."
"I feel the need to share this award with all the other educators in the county, from pre-k through higher education," Ballesteros-Sola said. "All educators have been put to the test with the stress of the pandemic, along with the students' parents. We've had to pivot to online learning and to helping our students not only with their education, but with dealing with the challenges brought on by the pandemic."
Outside of the classroom, Ballesteros-Sola routinely connects with the business community to help nascent entrepreneurs move toward becoming a certified B-Corp and shares her own experience and expertise in the field through panel discussions and community lectures at the Camarillo Public Library and CSUCI. She is also one of the founding members of B-Academics, which brings educators from across the globe together to advance the scholarly and educational dialogue around socially responsible business practices. Her work to understand how the current consumer marketplace is evolving in response to consumer and corporate demands for more socially conscious businesses has positively impacted her students and the local business community.
"At CSUCI I feel supported in taking risks in the classroom involving innovative teaching practices," Ballesteros-Sola said. "This award is a recognition of that nurturing environment that allows me the freedom to try new things I believe will have a deep impact on my students and help them see things in a new way."