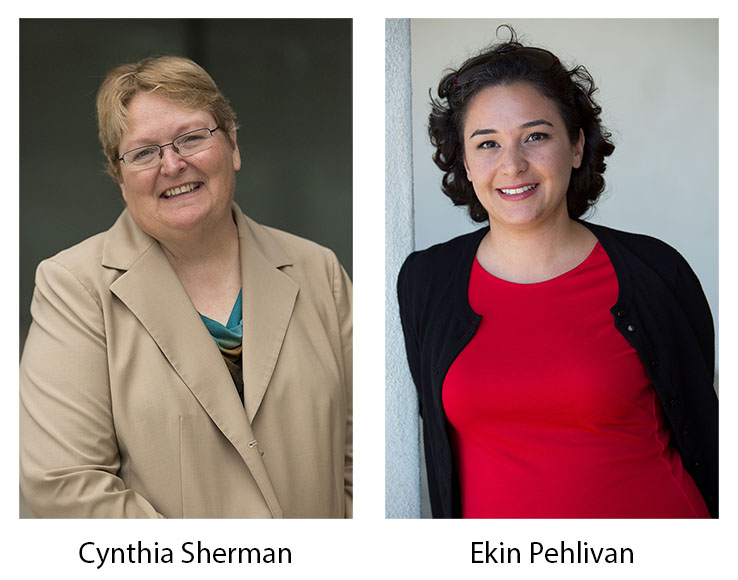 Aug. 26, 2021 – The Pacific Coast Business Times has awarded CSU Channel Islands (CSUCI) Associate Professor of Marketing Ekin Pehlivan and Cynthia Sherman, Director of the University's Entrepreneurship & Small Business Institute (ESBI) and Assistant Professor of Management, a 2021 Spirit of Small Business Advocate award.
The award was given in recognition of the pairs work in developing and implementing the Micro-Internship program. The program helped CSUCI students gain valuable job experience and local small businesses and nonprofits survive during the COVID-19 pandemic.
"We are honored to receive this award from the Pacific Coast Business Times that highlights the Micro-Internship Program. The program exhibits the potential for learning and great work from our students in support of small businesses. In this uncertain time, work that supports both student and business success provides an extraordinary opportunity for our community," said Sherman.
The Micro-Internship program came to fruition as a way to give students both a source of income and hands-on, real-world work experience during a time when many were losing their part-time jobs and in-person internships were out of the question.
Offered through the ESBI of the Martin V. Smith School of Business & Economics, micro-internships differ from traditional internships in that teams of students work together remotely on specific projects. Much like freelancers, the students work on projects for real companies, but instead of reporting to an onsite company manager, they are supervised by Pehlivan. 
The program was a boon to several local small businesses who needed marketing assistance such as creating an online presence for their operations during the pandemic.
Pehlivan and Sherman worked with Women's Economic Ventures to identify the businesses and non-profits who needed assistance, including social media strategy, branding, and website development. The projects were supported by small fees or grant funding. Students were paid for their work during a time that service and retail jobs were evaporating.
The program is continuing during the 2021-2022 academic year.
"It is a win/win for both the businesses and the students," Pehlivan said. "The students get hands-on, paid work experience they can highlight in their portfolios to help them land good paying jobs when they graduate. The businesses get marketing help they otherwise might not be able to afford."