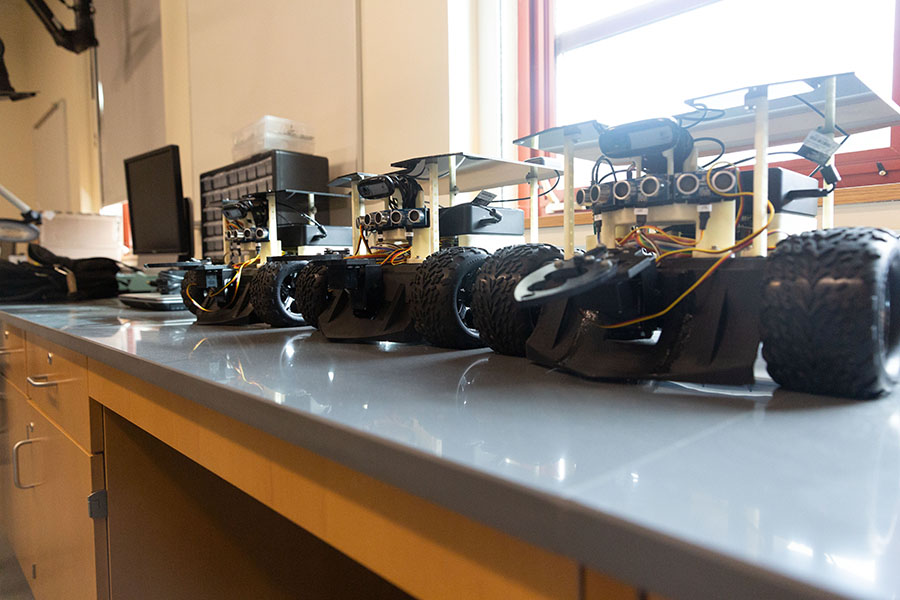 Oct. 6, 2021— CSU Channel Islands (CSUCI) is launching a new initiative aimed at promoting diversity and enhancing success for students wishing to pursue a science, technology, engineering, or math (STEM) degree, thanks to an almost $5 million grant from the U.S. Department of Education.
The competitive $4,999,990 grant, open to the nation's 569 Hispanic-Serving Institutions (HSI)s, funds Project AYUDAS (Articulating Your Undergraduate Degree & Academic Success in STEM) over a five-year period.
"This is CSUCI's third U.S. Department of Education STEM grant and continues to work to serve our Latina/o students well by providing the resources necessary for their success," said Professor of Mathematics Cynthia Wyels, Ph.D., who was part of the team that pursued the grant. "We were eligible to apply for this funding because we are an HSI, but what we can provide with these resources will benefit all of our STEM students."
Project AYUDAS is a multi-pronged effort that includes encouraging high school and community college students to pursue STEM majors when entering CSUCI; providing a smooth transition from community colleges with classes that are sensitive to the different cultural backgrounds and learning needs of each student; and supporting these students academically through peers and faculty members.
"Data shows there is a rapidly growing need for graduates with STEM degrees locally and throughout the state of California and the nation," said Interim President Richard Yao, Ph.D. "It has always been the University's mission to provide quality graduates prepared to meet the challenge of a STEM career. As an HSI, we are especially proud of the diversity and talent our students provide in their communities post-graduation. This grant will help us mobilize the kind of coursework, classroom, peer, and instructor support that our STEM students need to do and be their best."
One important aspect of Project AYUDAS will involve an outreach effort with particular emphasis on Latina/o students, or students who believe they lack the financial resources to pursue a STEM degree.
"We want to diversify the STEM pipeline," explained Interim Assistant Vice President, Student Success & Equity Initiatives Michelle Hasendonckx, Ed.D., who helped lead the grant team. "This grant will allow us to go into high schools and community colleges where we hope to inspire students to pursue a STEM degree. And whether a student comes directly to CSUCI or any other college as a first-year student or as a transfer student, we want them to have similar experiences throughout their entire college career as they pursue their STEM degree."
Once enrolled at CSUCI, several programs will be in place to help students navigate the foundational math and science courses—such as Calculus I—that serve as gateway courses to their chosen STEM major,
Wyels said Project AYUDAS will involve reassessing and modifying STEM classes—especially the first-year required courses—to better fit a 21st century student population, which is more diverse than in previous decades. The need for equity to meet the needs of a diverse student body has never been greater.
"We need to be sensitive to individual needs and not assume everyone learns the same way," Wyels said. "We need to recognize and design the college experience so everybody gets what they need. There is a lot we take for granted and not everybody is from an affluent suburban neighborhood. Not everybody needs the same thing to stay in school and succeed."
Some students may be shy and learn better one-on-one with another student, Wyels gave as an example. Others may be from a cultural background that favored learning collaboratively as a group, rather than as an individual. For others, English may not be their first language, or they may be working parents and need flexibility.
The physical classroom might be changed, too, to reflect how education has evolved.
"Most classrooms were designed to be lecture-focused, with the professor at the front of the room and with students seated and passively engaged," Hasendonckx said. "We might create small pods, for example, for a more cooperative learning environment."
Academic support for STEM students will be enhanced, too, Hasendonckx said, by adding a STEM component to the existing ASSET (Academic Student Success Excellence Team)
Scholars program. The ASSET Scholars program provides support such as one-on-one peer or faculty mentoring and student workshops.
Plans are underway to hire a project director for Project AYUDAS, and to develop STEM writing tutors as well as other measures to make sure each student gets the kind of well-rounded education that prepares them for a fulfilling career in science, technology, engineering or mathematics.