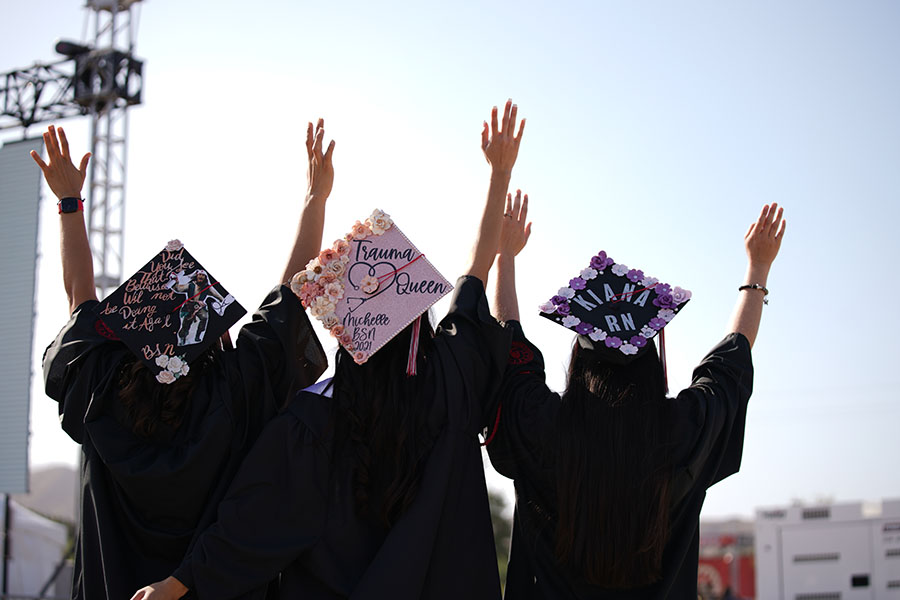 March 4, 2022 — CSU Channel Islands (CSUCI) graduates, friends and families will celebrate 2022 Commencement in-person.
Commencement will consist of four in-person ceremonies spread out over the weekend of May 21 and 22 to allow for social distancing. There will be a morning and an afternoon ceremony on both Saturday and Sunday, with different academic programs scheduled for specific times and dates.
President Richard Yao, Ph.D. said he is thrilled that his first commencement ceremony as the permanent president of CSUCI will be fully in-person.
"These students have worked hard for this moment, and we are delighted to be able to offer them, their friends, and families a full in-person experience," Yao said. "The past three years have been filled with challenges that these students met with resilience and determination, and we could not be prouder of them. This also gives our faculty, who have been equally resourceful, a chance to celebrate this day along with the graduates. I am honored to be the president of such a dynamic campus community."
Yao was named the permanent president of CSUCI in January after serving as interim president for just over a year. His first commencement ceremony as interim president was a hybrid drive-up/in-person ceremony for the Class of 2021. The 2020 commencement ceremony was entirely virtual.
There will be other COVID-19 protocols as well, such as a limit of eight guests for each graduate, and all guests will be required to show proof of vaccination or a negative COVID test administered within 48 hours prior to arriving on campus. Also, all 2,419 graduate and undergraduate students eligible to participate in the ceremony, as well as 142 eligible teaching credential students must pre-register themselves and their guests. Registration for CSUCI's Commencement 2022 is now open and eligible students should have received an email with instructions on how to register.
Before the pandemic, commencement took place at the Central Mall, but Director of University Events Rebecca Tung explained that this year, the ceremonies will be held at the South Quad because it's more spacious, which will better allow for physical distancing.
"Our biggest concern is of course, COVID, but we wanted to be able to give the students the festive, joyful celebration they've earned," Tung said. "We can only hold 250 to 300 students at a time the way the Central Mall is configured, the South Quad will make it easier for the students and guests to physically distance."
In order to participate in Commencement 2022, all students currently taking classes on campus  must be in compliance with the CSU Policy on vaccination and testing. CSUCI COVID-19 student webpage lists compliance details.  Each graduate will get two parking passes which they can pick up at Grad Fest in the Grand Salon on March 9 and 10, or after Grad Fest at the campus Police Department located in Placer Hall.
Please also check the Commencement webpage for updates.  Questions can be directed to the Commencement phone line at 805-437-3100 or via email at commencement@csuci.edu.
The University encourages persons with disabilities to participate in its programs, events and activities. If you anticipate needing any type of accommodation, or have questions about the physical access provided, please contact the respective area below as soon as possible, but no later than seven (7) business days prior to the event/activity: 
CSUCI Students
Disability Accommodations & Support Services: accommodations@csuci.edu
CSUCI Employees
Human Resources: angela.portillo@csuci.edu
Members of the Public
Title IX & Inclusion: titleix@csuci.edu