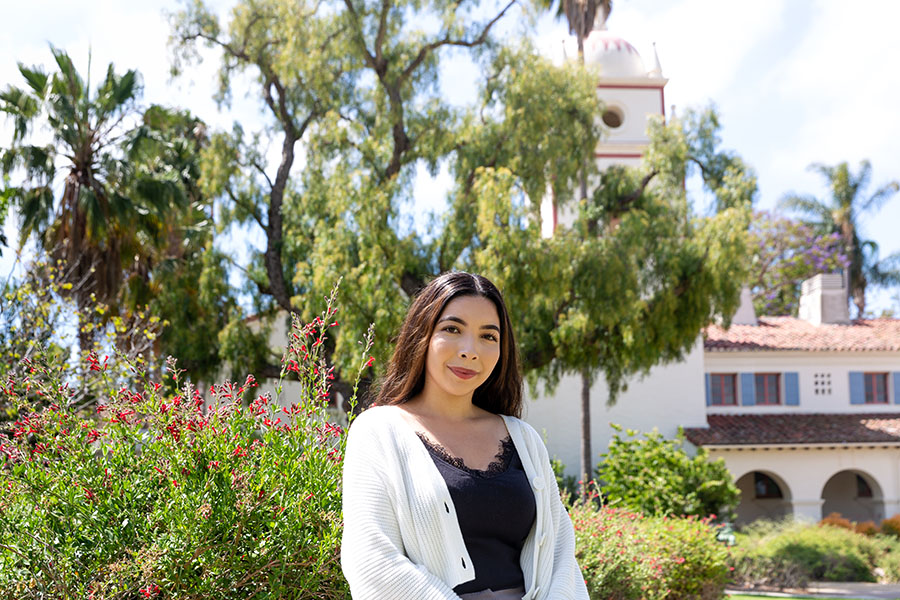 Sept. 12, 2022 — CSU Channel Islands (CSUCI) Health Science major Daisy Morado Navarrete is taking a full load -16 units- this semester, maintaining a 3.92 grade point average (GPA) and spending four hours a week at St. John's Regional Medical Center helping to translate for Spanish-speaking patients.
Her talent, determination, academic excellence and generosity of spirit are among the reasons she has received the 2022 CSU Trustees' Award for Outstanding Achievement. Navarette is among the 23 students—one from each CSU campus—chosen by the CSU Board of Trustees as a 2022-2023 scholar.
The CSU Trustees' Award is the university's highest recognition of students who demonstrate superior academic performance. Each donor-funded scholarship bears the name of a donor; Navarette is the recipient of the TELACU scholarship.
All the scholars will be honored on Tuesday, Sept. 13 as part of the CSU Board of Trustees meeting.
"This candidate has an enthusiasm for education; she looks beyond herself to consider and contribute to the personal growth and development of future generations of students," wrote President Richard Yao, Ph.D., in his letter of recommendation. "Ms. Navarrete genuinely understands what can be accomplished with determination, inspiration, and support from those around you. Furthermore, Ms. Navarrete has impacted her fellow students and professors and has inspired and enriched our campus community and culture."
"Our nominee's determination can only be matched by her passion, intellect, and desire to achieve," Yao added.
When she got the news, it almost seemed too good to be true, but welcome news as finances have been tight for her family since her parents divorced when she was 12. Her father was hit by a car while riding his bicycle and became disabled, so the entire family's income was reduced.
"My mom had to work multiple jobs and we live paycheck to paycheck," she said. 
Navarette, 20, grew up in Oxnard as one of three siblings. She attended kindergarten through 12th grade in the Rio School District, graduating from high school at Rio Mesa, a part of the Class of 2020.
"There was no prom, none of the fun stuff," she said.
As the incoming Class of 2024 in Fall of 2020, she didn't actually set foot on campus until Spring of 2021 as the COVID-19 pandemic sent the entire campus into virtual mode.
"It was difficult. We felt like we were secluded because there was no campus community," she said. "But I found a way to make friends by joining clubs, even though they were on Zoom."
Navarrete is still active in many campus clubs including the League of United Latin American Citizens Collegiate Council (which co-hosted a COVID-19 vaccine clinic on campus).
Her translation work at St. John's is part of an unpaid internship program, but she enjoys it so much that when the internship ended recently, she extended it three months.
"I found I liked being helpful and I was just not ready to let that go yet," Navarrete said. "It's like a different aspect of academics that makes it real."
When she graduates in Spring of 2024, she plans to o pursue a master's degree in occupational therapy to help children with developmental needs in underserved communities.
"I want to work in pediatrics and inspire the next generation to overcome adversities," she said.
The 23 scholarships awarded this year will total more than $180,000 in scholarship funds.
"These 23 remarkable scholars wonderfully exemplify the ideals of the California State University," said CSU Chancellor Jolene Koester. "Their inspirational stories are connected by a common thread of intelligence, perseverance, resilience and the transformative power of higher education. Our communities, state and nation—indeed, our world—will long reap the benefits of their academic, professional and personal achievement."
To see all of the 23 CSU Scholars visit: https://www.calstate.edu/csu-trustee-awards.