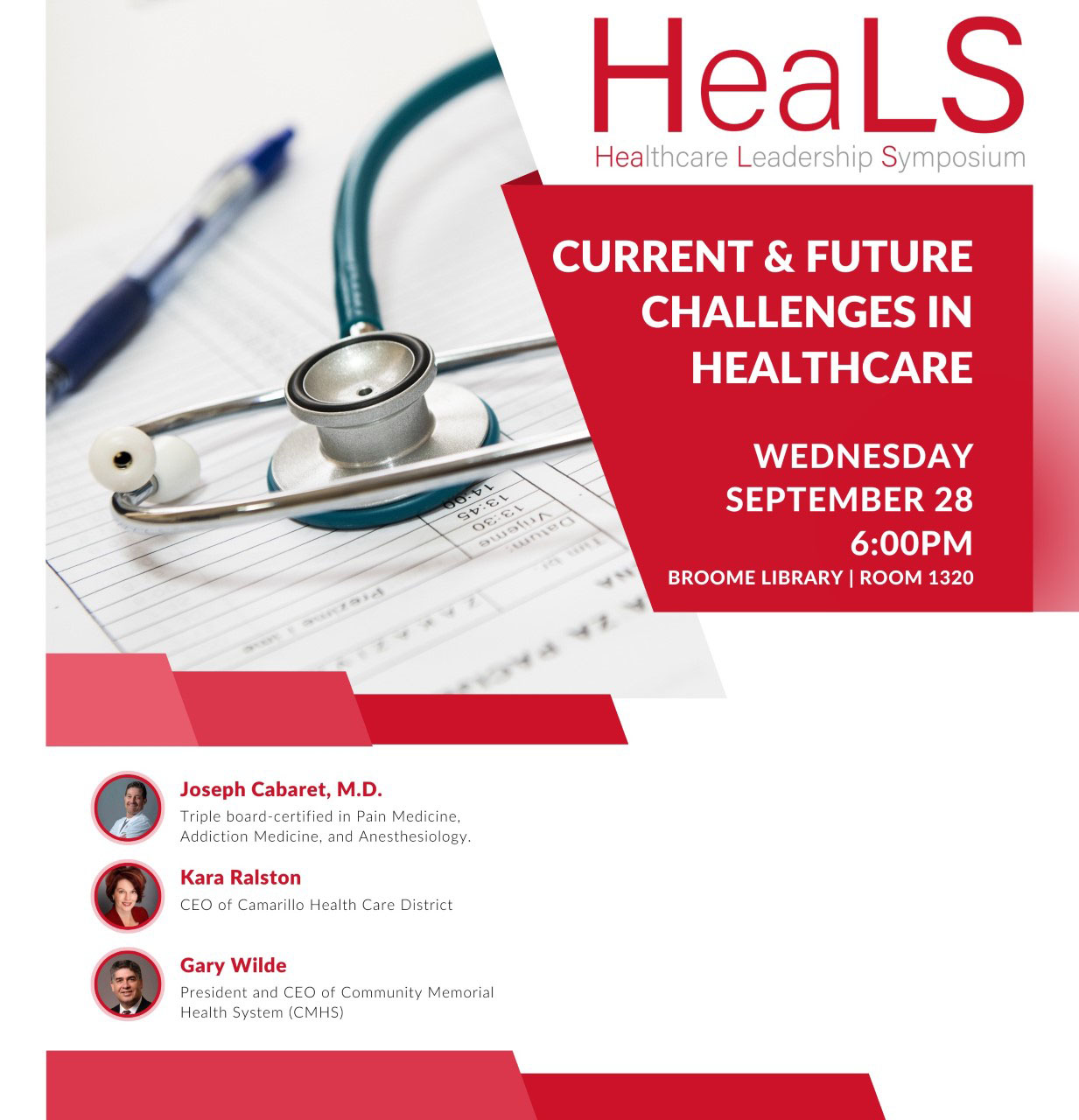 Sept. 22, 2022 — To help health science and nursing students gain understanding of the healthcare system from the perspective of local leaders, CSU Channel Islands (CSUCI) is launching a symposium series featuring local health care experts who will share their knowledge and experiences.
The first CSUCI HeaLS: Healthcare Leadership Symposium Series event, "Current and Future Challenges in Healthcare," will be held at CSUCI's main campus on Wednesday, Sept. 28, at 6 p.m. in the John Spoor Broome Library, Room 1320. The event is open to the public and features four panelists who each bring a unique perspective from the role they serve in healthcare.
Joseph Cabaret, M.D. of Genesis Pain Specialists, whose practice is in Camarillo, is board-certified in anesthesiology and both pain and addiction medicine. He serves as Director of the California Society of Interventional Pain Specialists, is a co-author of the Essentials of Regenerative Medicine textbook, and a medical-legal consultant.
Emma Grossman of St. John's Regional Medical Center and St. John's Hospital Camarillo became the Chief Financial Officer for the St. John's hospitals in 2020, and she manages resources, staffing, and financial reporting. Last month she was named Young Professional of the Year by the West Ventura County Business Alliance.
Kara Ralston joined the Camarillo Health Care District in 1998, which provides education and guidance about chronic health conditions and healthy living and has served as CEO since 2015. She is on the Association of California Healthcare Districts Board of Directors.
Gary Wilde became president and CEO of Community Memorial Health System in 2004 and is a fellow of the American College of Healthcare Executives and past chair of the California Hospital Association and the Hospital Association of Southern California.
The panel will discuss telemedicine, mental health, costs and the barriers to reducing them, the opioid epidemic, worker shortages, and professional collaboration.
The series will continue on Nov. 9 with "The Role of Nonprofits in Healthcare." During the Spring semester, events will focus on the aging population and the future of telemedicine.
Attendees do not need to register, but they will be required to check in upon arrival as part of CSUCI's COVID-19 protocol.