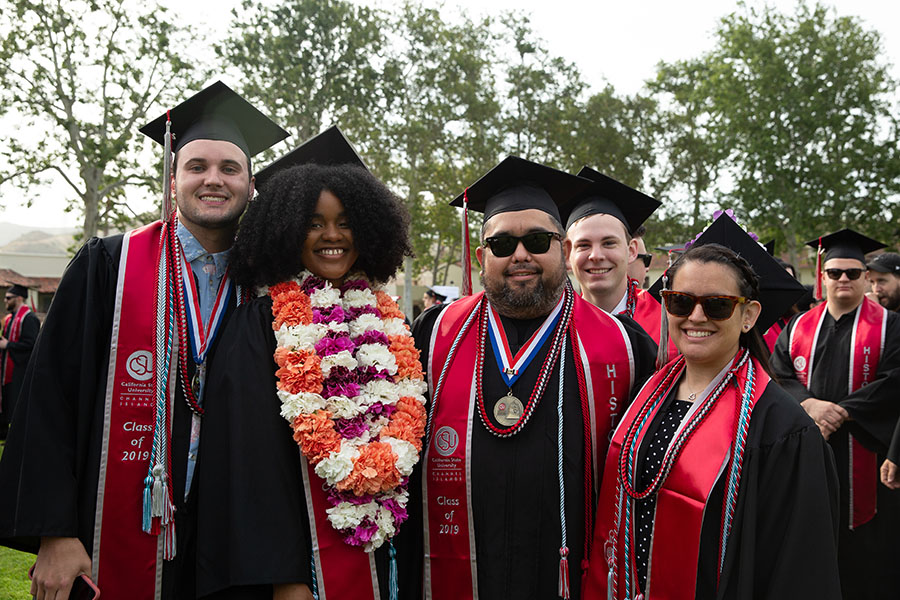 May 5, 2022 — Two champions of higher education will each be awarded an Honorary Doctorate of Humane Letters during the CSU Channel Islands (CSUCI) 2022 Commencement ceremonies.
President Richard Yao, Ph.D. will present honorary degrees to The Trade Desk Chief Executive Officer Jeffrey T. Green and Educational Credit Management Corporation (ECMC) Foundation President Peter J. Taylor during the May 21 and 22 ceremonies. This year's Commencement will consist of four in-person ceremonies taking place at 9 a.m. and 3 p.m. Saturday and Sunday.
Green will receive his degree and speak during the Saturday morning ceremony with his remarks recorded and replayed at the 3 p.m. ceremony. Taylor's presentation will be during the Sunday morning ceremony with his remarks recorded and replayed during the Sunday afternoon ceremony.
Both recipients have dedicated significant time, resources and expertise toward helping CSUCI students enjoy a transformative college experience, earn a degree, and go on to rewarding careers in the field of their choice.
When nominating Green for an honorary doctorate for consideration by the CSU Board of Trustees, Yao described him as a true business visionary with an impressive record of leadership and philanthropy — an excellent example for CSUCI students.
"His visionary work in advancing the field of advertising technology and his generous and data-driven philanthropic work make him a true exemplar of the CSU Channel Islands spirit and it is an honor to submit his name for consideration," Yao wrote.
Through his impressive career in corporate leadership and philanthropy, Green has dedicated his life to serving his community, as well as serving as the Founding Chief Executive Officer and Chairman of The Trade Desk. Founded in 2009 in Ventura, The Trade Desk is an innovative media-buying platform designed to personalize content for users. Aside from his generous monetary support for the University through scholarships and programmatic support of student success for CSUCI's first-generation college student population, Green has provided CSUCI students with internships and careers with The Trade Desk.
When nominating Taylor, Yao emphasized Taylor's dedication to supporting students regardless of their status or socioeconomic background, praising his commitment to higher education access for all through his leadership of the ECMC Foundation. Taylor has worked hard to reduce the stigma that surrounds technical or career education for students and supported CSUCI with significant grants for the University's summer bridge program and for programs to assist transfer students with the transition to a four-year university.
"Mr. Taylor exemplifies the CSU Channel Islands spirit in his dedication to providing inclusive, equitable, and accessible higher education opportunities for all students," Yao wrote in his nomination letter.
Taylor  previously served as a CSU Trustee and as the Executive Vice President and Chief Financial Officer for the University of California system. He currently serves as the President of the Educational Credit Management Corporation (ECMC) Foundation. ECMC's mission is to inspire and to facilitate improvements that affect educational outcomes, especially among underserved populations, through evidence-based innovations.
Taylor has supported CSUCI and the Martin V. Smith School of Business & Economics through a significant grant from the ECMC Foundation to increase transfer student success by exploring the impact of academic and financial interventions during a summer bridge course. More recently, CSUCI received another grant from ECMC to explore the creation of a dual admissions pilot program with our local community colleges. 
The four Commencement ceremonies will take place in the South Quad and will be live-streamed. All graduating students will be allowed eight guests and two parking passes. All students who have registered will receive a grad pass which they will need to show in order to participate and all guests must present a ticket.
There are approximately 2,380 graduate and undergraduate students eligible to participate in the ceremony, as well as about 146 eligible teaching credential students.
For more information, visit the Commencement webpage for updates.  Questions regarding Commencement can be directed to 805-437-3100 or commencement@csuci.edu.
The University encourages persons with disabilities to participate in its programs, events and activities. If you anticipate needing any type of accommodation, or have questions about the physical access provided, please contact the respective area below as soon as possible, but no later than seven (7) business days prior to the event/activity: 
CSUCI Students
Disability Accommodations & Support Services: accommodations@csuci.edu
CSUCI Employees
Human Resources: angela.portillo@csuci.edu
Members of the Public 
Title IX & Inclusion: titleix@csuci.edu