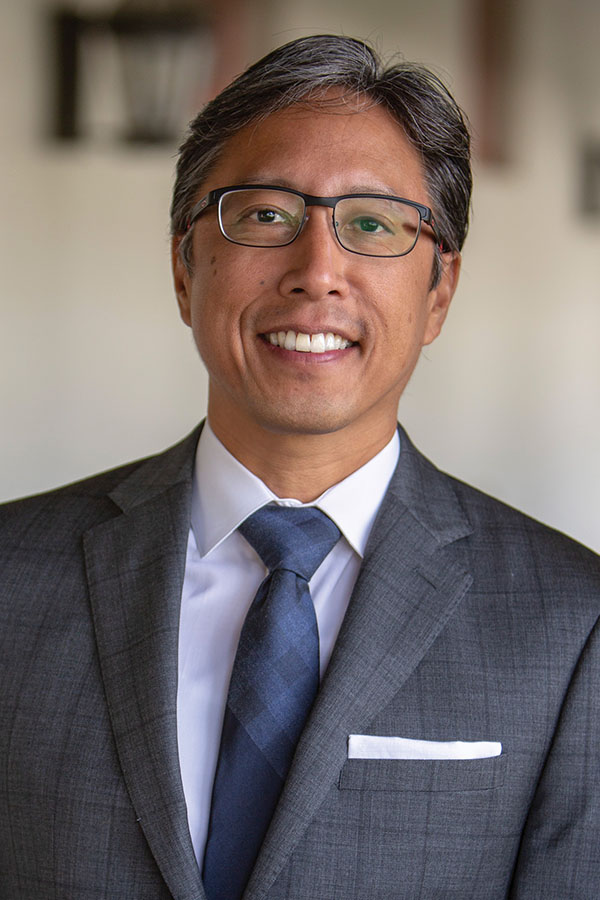 Sept. 13, 2022 - CSU Channel Islands (CSUCI) President Richard Yao, Ph.D. will be formally recognized as the fourth president of the University during an investiture ceremony scheduled for 10:30 a.m., Friday Sept. 23, at the John Spoor Broome Library Plaza.
The investiture ceremony is traditionally held within the president's first year, giving the campus and the larger community the opportunity to celebrate a new era as the formal title and authority of the CSU are conferred on the new president. This investiture ceremony occurs at the beginning of another era: it is being held the same year CSUCI celebrates its 20th anniversary and embarks on its third decade as Ventura County's first and only four-year public University.
Provost Mitch Avila, Ph.D., describes Yao as the right leader at the right time for CSUCI.
"We rarely see a leader with these qualities: visionary, data-informed, and hard-working," Avila said. "His inspirational leadership for CSUCI is grounded in an unwavering and genuine commitment to our students and the region, built on the promise of higher education as a social escalator for our students. President Yao understands that "servingness" is at the heart of our institutional mission as a Hispanic-Serving Institution (HSI) and works hard to make certain our University meets the needs of each and every one of our students. On a personal note, I am continually impressed by Rich's energy, drive, and focus — it's hard to keep up! Good things ahead!"
Yao has been serving at the helm of the University since he was appointed on an interim basis on Jan. 11, 2021 and named as the permanent president on Jan. 26, 2022. He identifies as Chinese Filipino American and is the first person of color to serve as President of CSUCI.
Yao joined CSUCI in 2018 as Vice President for Student Affairs after serving as founding Dean of Students and Chief Student Affairs Officer at Nevada State College. As a licensed clinical psychologist, Yao was a senior lecturer in psychology for eight years before transitioning into student affairs.
As CSUCI begins its third decade, Yao's emphasis is communicated in the campus's 20th Anniversary theme: "Honoring the Past – Building the Future."
The colorful ceremony will also incorporate this theme. It will include a traditional academic procession featuring guests who hold a master's degree or higher from any institution of higher learning. Those in the academic procession will wear their alma mater's cap, gown and any other academic regalia.
Associate Professor of Performing Arts/Music, KuanFen Liu, DMA, will conduct a performance featuring members of the CSUCI University Chorus, and the CSUCI Performing Arts/Dance program will perform a dance choreographed to reflect the theme "past, present and future."
"Part of the dance presentation will be a surprise," said choreographer and Associate Professor of Performing Arts/Dance, Heather Castillo, who explained how the very movement of dancers can be reflective of generations past.
"When we dance, no matter what style or form of movement, our movement calls up the movement of our ancestors—the ones that we know and the ones we don't," Castillo said. "We bring their voices into the present, thereby also ensuring their future."
For those who wish to join the celebration virtually, the Investiture ceremony will be available via livestream at www.csuci.edu/president/investiture/.
The University encourages persons with disabilities to participate in its programs, events and activities. If you anticipate needing any type of accommodation, or have questions about the physical access provided, please contact the respective area below as soon as possible, but no later than seven (7) business days prior to the event/activity: 
CSUCI Students
Disability Accommodations & Support Services: accommodations@csuci.edu
CSUCI Employees
Human Resources: angela.portillo@csuci.edu
Members of the Public
Title IX & Inclusion: titleix@csuci.edu