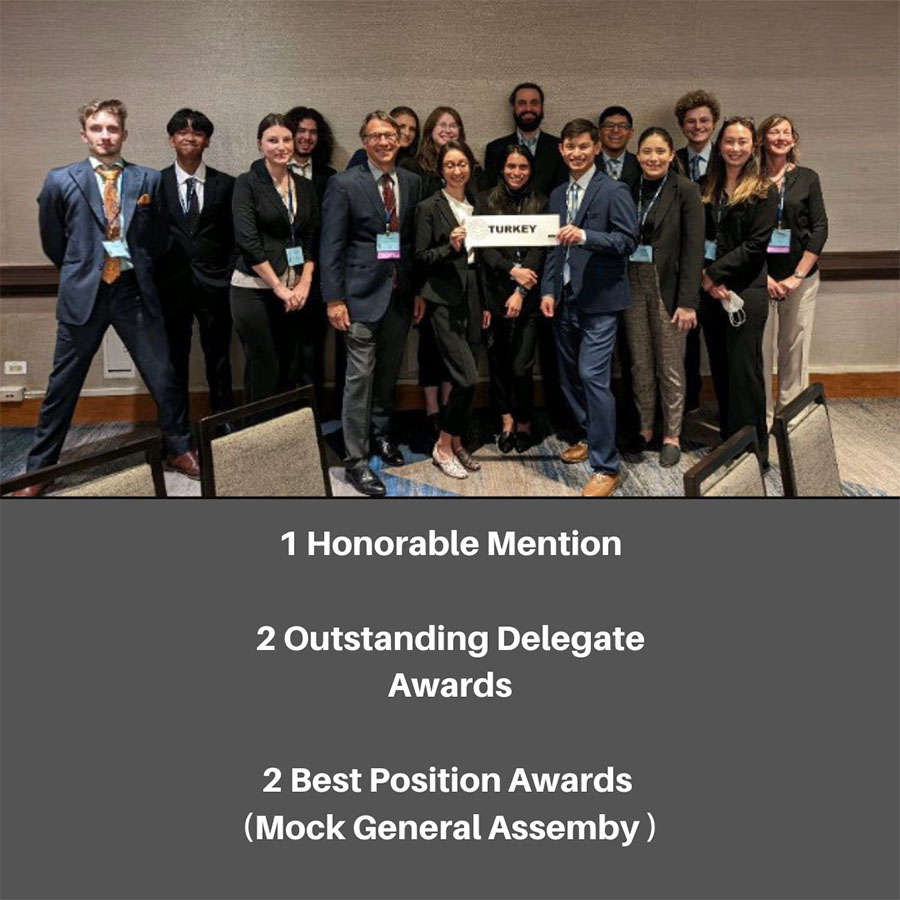 May 23, 2022—A team of students from CSU Channel Islands (CSUCI) attended the National Model United Nations (NMUN) conference in New York for the first time, and even though they had little time to prepare, the entire team walked away with an Honorable Mention and four students took home individual awards.
"I cannot lie, I was nervous going to New York to a new conference where we'd never been before, and our preparation was rushed," said Political Science Lecturer Chris Scholl, Ph.D., the team's faculty mentor. "They really rose to the occasion. It was impressive!"
The 14 students on the CSUCI Model UN team were competing among 96 schools and over 1,300 students from around the world when they traveled to New York this spring semester.
"It was right in the heart of New York City, not too far from the United Nations itself," Scholl said.
Scholl had originally planned to take this year's Model UN team to a regional competition in San Francisco, but he had promised the students in-person experience, so when the regional conference switched to virtual, Scholl flew them to New York City to attend the national event.
Model UN teams usually get a year to prepare and the CSUCI team had only two months—but they brought their "A" game to the national competition.
Model UN is a competition in which students from colleges and universities around the world gather and simulate the kind of sessions the United Nations has, with each delegation representing a different country. The CSUCI delegation chose to represent Turkey.
"It's a whole 'nother world," said Model UN participant Alyson Lucas, a Class of 2022 Global Studies major. "You train with your team for months in preparation, studying foreign policy, global politics and country profiles. Then you are handed world dilemmas and asked to solve them."
Besides the Honorable Mention for the entire team, Political Science majors Griffin Schraeder and Dulcemaria Lopez both won awards for "Outstanding Delegate," after their performance on the mock International Atomic Energy Agency (IAEA).   Global Studies major Auden Montville Wood and Class of 2022 Global Studies major Michael Schmitz won a Best Position Award for their work in the mock General Assembly.
In each committee of the General Assembly, delegates had to tackle various issues from the point of view of the country they were representing.
"I was on the Commission on Narcotic Drugs and we talked about the rising drug trade throughout the world," said Political Science and History major Roman Herrera. "We spent the four days talking about things like human rights and drug trafficking."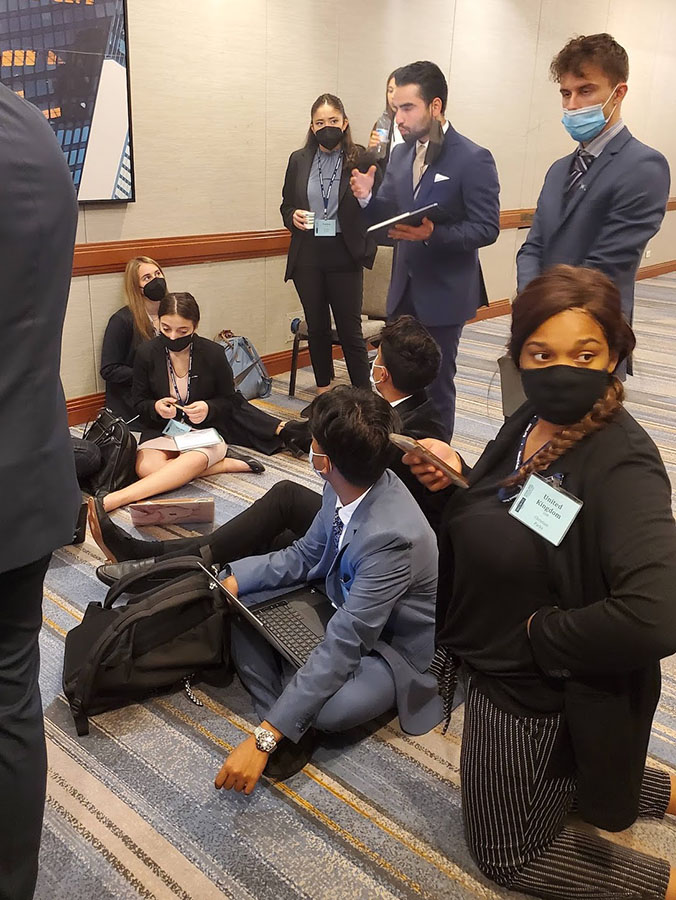 Political Science and Chicana/o Studies major Jasmine Moreno represented Turkey's interests on the mock International Migration Committee. Moreno said she was energized by debating other students based on the research they had all done, and exercising diplomacy and compromise, just like the real United Nations delegates do.
"You go into a room there are about 100 people in there representing different countries," Moreno said. "For three or four days, you write a paper with the other countries and you try to come up with a resolution. I really love having conversations on an intellectual level with my peers."
A highlight for the students was a visit to the Turkish embassy where they were served Turkish coffee and got a chance to speak with actual diplomats.
"It was really fascinating" Scholl said. "They talked about how they view their role in the international community. They see themselves as an intermediary between the African world, the Muslim world, Europe and the Western world."
Through her experiences at the Model U.N. and study abroad in Peru and Mexico, Lucas decided to join the Peace Corps. In August, she leaves to spend two years in Madagascar teaching English to young girls and exploring a passion of hers—Chinese medicine.
"I think Model UN should be a requirement for students," Lucas said. "It's an unmatched experience. You are surrounded by other people who care."
To learn more about CSUCI's Model UN program: https://globalstudies.csuci.edu/get-involved/model-un.htm.