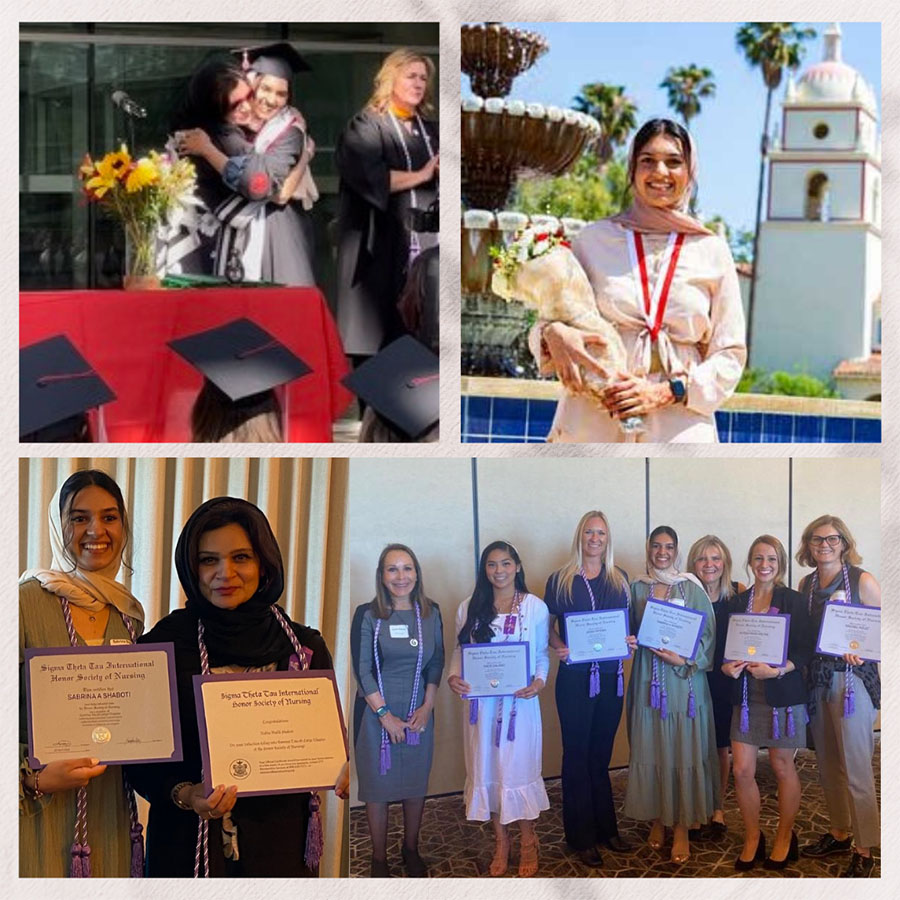 June 3, 2022— After CSU Channel Islands (CSUCI) 2022 Nursing graduate Sabrina Shaboti takes and passes her state board exams this summer, she plans to become a professional nurse practitioner, just like her mother, Nadia Malik Shaboti.
Before Nadia and the rest of the Shaboti family watched Sabrina graduate on May 22, both mother and daughter made history by getting inducted together into the Gamma Tau at Large Chapter of the Sigma Theta Tau International (STTI) Nursing Honor Society in April. It was the first time in the 40-year history of the honor society that a mother-daughter duo were inducted together. 
"I felt embarrassed," Nadia admitted. "I felt it was taking the shine off Sabrina."
"I was honored," Sabrina countered. "My mom is my biggest inspiration and my biggest role model."
Sabrina, 21, and Nadia Saboti of Agoura Hills were inducted together into the prestigious honor society at a ceremony held at the Odyssey Restaurant & Events in Granada Hills. Sabrina joined five other members of the 2022 CSUCI Nursing class who were honored along with Nursing graduates from UCLA and CSU Northridge. Nadia graduated with her Master of Science in Nursing (MSN) from Walden University.
The nurses joined the second largest nursing organization in the world with 135,000 members in over 100 countries. The invitation to join is for students in the top one third of their graduating class.
Neither Nadia nor Sabrina started out with plans to go into nursing. Nadia had a bachelor's degree in biology from Rutgers University in New Jersey, then went on to get a master of science in medical information systems and went into information technology. But something was missing for her.
When Sabrina's little brother received a Type I diabetes diagnosis at the age of three, Nadia and Sabrina were exposed to various aspects of healthcare, and Nadia realized she wanted to work with patients, so she went back to school to become a nurse and graduated with her associate degree in nursing from Moorpark College before attending Walden University for her MSN.
When Sabrina was trying to figure out what her career would be, her mother encouraged Sabrina to explore the field of healthcare.
"I started volunteering at a local hospital and it really appealed to me," Sabrina said. "I thought, if I do go into healthcare, it will be pediatrics. I felt like I could resonate with these kids and healthcare is so important because they're so young."
One of Sabrina's most pivotal experiences was in 2017, right before she enrolled at CSUCI. She accompanied Nadia to Guatemala with Humanity First to help with women's health care.
"It was surreal, especially coming from a First World country," Sabrina said. "I now understand health care inequality. It was just so shocking. Some of these women were up at 3 a.m. to begin walking five hours just to get a physical."
Sabrina helped take patients' vital signs, and when the women were inside the makeshift clinic being screened for various health problems, Sabrina was outside, playing with their kids. She knew then and there she wanted to be a Pediatric Nurse Practitioner.
When she enrolled in CSUCI's Nursing program, Sabrina was elated to win a four-year Presidential Scholarship.
When it became time to graduate this year and she was invited into Sigma Theta Tau International, she urged the woman who inspired her to be share the spotlight.
"I came home and said you, come on, you got to get inducted with me," Sabrina said.
A total of 17 CSUCI Nursing students were inducted into the honor society that night with six who were able to attend the event.  They were: Vanessa Andrade, Kacie Galang, Rachel Holst, Allyssa Holtke and Jenny Peters. Inductees who could not attend were: Bachelor of Science in Nursing (BSN) students Alice Nguyen, Kazuhiro Fujita, Christine Larsen, Summer Soto, Ellena Thomas, Marie Thompson and MSN students Jasmine Melton, Holly Smith, Ulyana Biloskursa, Nancy Glynn, and Adriana Gutierrez.