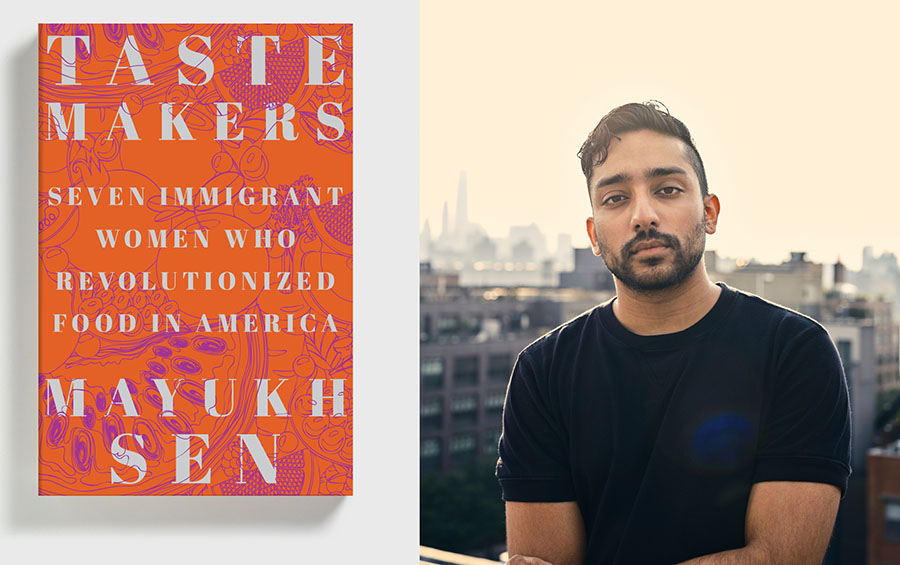 November 10, 2022 —Desperation drove Mexican immigrant Elena Zelayeta and her husband to begin selling homemade Mexican and Spanish meals out of their San Francisco living room after they lost their car and their home during the Great Depression. 
Zelayeta went on to become a renowned Mexican American celebrity chef, and one of the women profiled in the 2021 book "Taste Makers: Seven Immigrant Women Who Revolutionized Food in America" by Mayukh Sen, an award-winning food journalist who teaches in Columbia University's Creative Writing program.  
"Taste Makers" is this year's selection for the Ventura County Library (VCL)'s "One County, One Book" reading program, which will culminate with a public event in the Grand Salon at CSU Channel Islands (CSUCI) beginning at 2 p.m. on Saturday, Nov. 12. 
Sen will be the keynote speaker at the event, with CSUCI Provost Mitch Avila, Ph.D., giving opening remarks, followed by Sen's presentation, a question and answer period, and a chance to get a signed copy of "Taste Makers." 
Sen will discuss how he researched the book, which reaches from back to pre-World War II to the present, taking readers around the world with profiles of chefs such as Zelayeta; mother of Italian cuisine in America Marcella Hazan; and Jamaican-born Norma Shirley, a champion of Jamaican dishes in America.  
"Taste Makers" was named Best Book of 2021 by NPR and one of the Wall Street Journal's favorite books of 2021. 
"I think the book was a brilliant choice," said Colleen Harris, Ph.D.— Head of Instruction, Engagement & Assessment for the John Spoor Broome Library. "No matter what differences people have, food is universal. This book is about all the different cuisines and is a wonderful way to build community, especially in Ventura where we have so many different cultural connections." 
For those interested in tasting some of the flavors mentioned in the book, a special Taste Makers themed VIP "Passport" Reception will take place at noon on Saturday in the Grand Salon.  
Tickets are $75 a piece to benefit the Ventura County Library Foundation and will feature a panel of Ventura County food specialists and influencers, moderated by Patrick Davidson from CAPS Media. 
Wine and small bites prepared by CSUCI's Executive Chef, Nic Manocchio, will come next, with such creations as: Mixteco Chivo Mole Negro, "Komali Nunna" carrot salad, traditional  
Ukrainian borscht and Julia Child's chocolate mousse. 
"There's a chapter on Julia Child—the interlude to the book—because you can't discuss women and American cuisine without talking about Julia Child," said Ventura County Library Director Nancy Schram. 
The book is selected each year by committee comprised of staff and volunteers from the VCL and including a representative from the CSUCI Library staff.  
"There are several factors they consider when selecting a book," Schram said. "They try to select a book with literary merit—an award-winning book of some sort—and readable and accessible. Not 600 words of complex academic writing, and if possible, it's available in paperback, large print, audio and maybe even other languages." 
According to Schram, the idea of a countywide reading project is to include the entire family, so age-appropriate companion books along the same themes are available for all age groups and listed on: visit www.vencolibrary.org/ocob. 
The CSUCI community benefits, too, as the event acquaints guests with the campus and campus members with the larger community, Harris said. Part of the beauty of the CSUCI campus is that it is surrounded by fields and trees, but it also is a few miles from the city, and requires a bit of a drive. 
"We are somewhat physically isolated and often, people don't get out here. But at our last in-person One County, One Book" event, community members were surprised by the beauty of the campus and referred to us as a hidden gem," Harris said. "My personal hope is that this will make us less hidden and give us a real chance to mingle with something that lifts everybody's spirit." 
To register for the VIP "Passport" event or to RSVP to the free main event (registration is required), visit: www.vclibraryfoundation.org.