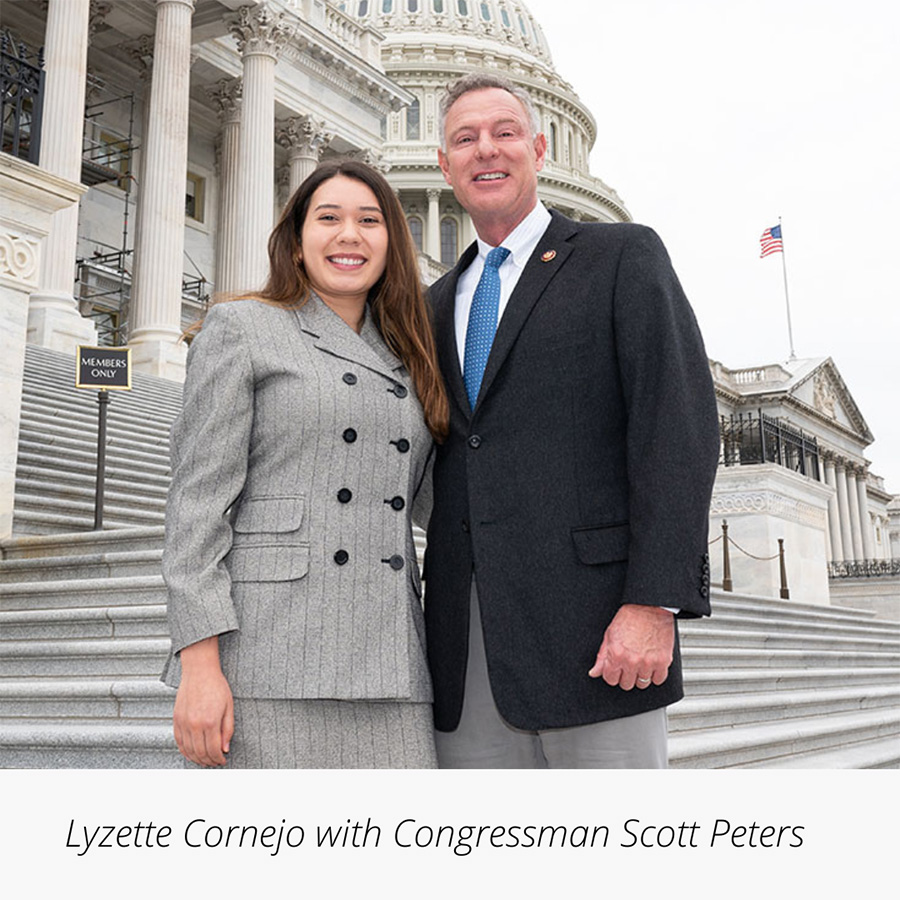 Dec. 14, 2022—When she arrived in Washington D.C. to spend the Fall semester as a Panetta Institute Congressional Intern, CSU Channel Islands (CSUCI) Chicana/o Studies major Lyzette Cornejo felt like she didn't quite belong.
"I had 'trespassing syndrome,'" she said. "It's like the imposter syndrome. You feel like you're trespassing into the spaces of power. I felt like a trespasser because I'm a woman of color."
But it wasn't long until Cornejo realized she was exactly where she needed to be, and that her voice indeed mattered.
"I helped in drafting a bill!" Cornejo said. "They weren't afraid of having an intern involved in the first draft of a bill. They wanted to put my opinion in this bill to make sure every voice was heard. I was so surprised when the senior legislative officer said: 'What do you think about this?' My opinion mattered."
Born and raised in Santa Paula, Cornejo is the first in her family to attend college, and the Panetta Scholarship she won has gone a long way toward her quest to light the way for other students like her.
"I want to let them know you can be a girl from small town like Santa Paula, a first -generation college student raised by immigrant parents, and you can strive for opportunities such as the Panetta Institute Congressional Internship," she said.
Cornejo always planned to go to college because she recognized early on that education was the best way to find a promising career and create the best social circumstances for herself.
"I tried my hardest to be a competitive student, I volunteered, I did sports and I still have this motivation and drive to go further with my higher education," she said.
After Cornejo entered CSUCI, she added a minor in Psychology and plans to add another in Political Science. She immersed herself in ethnic studies, literature and Spanish while maintaining a 3.6 grade point average. She also applied to study overseas because she knew it would give her a perspective like nothing else.
"I studied abroad in Granada, Spain where I took advantage of the challenge to immerse myself in a culture incredibly different from the American culture, which has allowed me to be grateful for American policies and has also allowed me to view politics through a different lens," Cornejo said.
One of Cornejo's mentors, ASSET Scholars Coordinator Tommee Mcmakin, encouraged Cornejo to apply to be a Panetta intern. Now in its 23rd year, the semester-long public service experience was created by former White House Chief of Staff Leon Panetta and his wife, Sylvia. The program enables 25 students from across the nation to travel to Washington D.C. and work for 11 weeks as interns in the United States House of Representatives to both Republican and Democratic members.
Mcmakin had gotten to know Cornejo through Cornejo's work as a peer mentor for ASSET Scholars, which is a program in which first-generation students guide other first-generation students through their first year of college.
"What truly sets Lyzette apart as a leader and has contributed to her success as a peer mentor is her drive to connect with students and show them 'I've been in your shoes, and we are capable of so much!'" McMakin said. "She is authentic and encouraging and students feel that when she mentors them."
Now that she has completed her Panetta internship, Cornejo is spending her final semester before graduation working in the city of Santa Paula with Americorps, a federal agency that places workers and volunteers in community service.
After she graduates in May, Cornejo plans to pursue her master's degree and perhaps a Ph.D., then find an opportunity in which she can work with others who may have "trespassing syndrome."
"I want to work for or run a program that focuses on first-generation college students like myself," she said. "So I can encourage them to study abroad, or work in Washington. My passion is higher education and now I found this new passion in government that I'm exploring now, too."