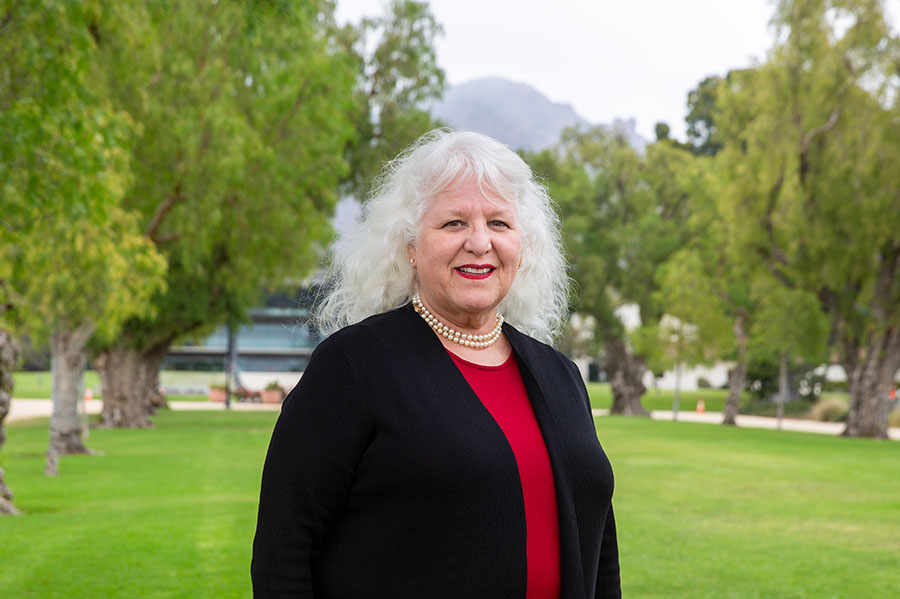 June 27, 2022 —As the daughter of an immigrant, CSU Channel Islands' (CSUCI) new Dean of the School of Education Elizabeth Orozco Reilly, Ph.D. brings the perspective of an international scholar who got her start in rural, urban and suburban classrooms teaching other children of immigrants. 
Orozco Reilly credits her father, whose parents immigrated from Italy, and her mother—an immigrant from Mexico—with her own commitment to putting an education within reach for all people, especially those who are the first in their families to attend college.  
"I saw what my mother experienced as an immigrant," Orozco Reilly said. "The humiliation of being a second language learner in an environment not welcoming of the 'other'. My commitment comes to me from both of my parents who believed that education creates possibilities and opens doors for us." 
Orozco Reilly, whose first day at CSUCI was June 1, comes to campus from the School of Education at Loyola Marymount University in Los Angeles, where she served as Chair and Professor of Educational Leadership and Administration.  
"Dean Reilly is exceptionally qualified for this position," said Provost Mitch Avila, Ph.D. "She is passionate about education, brings years of experience, and is committed to advancing the region by working collaboratively with our P-12 partners. I couldn't be more pleased than to have her join our decanal ranks and look forward to supporting her leadership in the School of Education."   
Orozco Reilly's early life was spent on a working horse ranch at the base of the Sierra Nevada mountains near Auburn with her parents, a brother and a sister. 
"I learned to drive a tractor when I was like, 12," Orozco Reilly said. "And I know how to catch bass for dinner. I had cowboy boots and dirt bikes—and of course there were rattlesnakes!" 
Orozco Reilly's paternal grandparents immigrated to California from Italy in the 1800s, because the land looked the most like their native Tuscany.  
"My father experienced a lot of the same discrimination, though not to the same degree as my mother, but it was always a teacher who saw them to the next stage," Orozco Reilly said. "They knew the only way out of poverty was education." 
Orozco Reilly's father worked his way through college after being accepted into UC Berkeley in the 1940s.  
Orozco Reilly attended the University of the Pacific (UOP) in Stockton where she earned a Bachelor of Arts (B.A.) in English and a Master of Arts (M.A.) in Teaching. She would go on to receive a doctoral degree in organization and leadership from the University of San Francisco and establish a joint doctoral program in Leadership for Educational Equity at her dad's alma mater, UC Berkeley. 
Orozco Reilly began her teaching in Linden, just outside of Stockton in the San Joaquin Valley and later taught at Hayward Unified School District in the Bay Area, where she was tapped for a leadership position. 
She developed a keen interest in supporting the children of immigrants throughout her career, but especially when teaching in the Hayward District, which had a large population of Vietnamese immigrants.  She was especially touched by students like the one who spent her lunch hour with Orozco Reilly, rather than eating with her friends, so she could perfect her English. 
Orozco Reilly saw that same thread of determination among women in leadership positions in countries where women have fewer rights, such as Afghanistan and Rwanda. Her most current work is with the women in Pakistan, and soon, the Philippines, but she has worked on five continents, in countries like Costa Rica, China and India.  
One report she wrote on the state of education for women in Afghanistan around 2008 centers on the female principal of Rabia Balkhi High School in Kabul, Hadisa Miokhail, watching her students and the newly built library amid the roses and pomegranates. 
"Her charges, clad in their school uniforms of black tunic, trousers, and white hijab, surround a visitor, clamoring for help to gain scholarships at foreign universities since so few 
openings exist for girls in Afghanistan," Orozco Reilly wrote "Hadisa Miokhail smiles at 
their enthusiasm and marvels at the slow and steady progress made at rebuilding this famous school for girls that only fourteen years ago lay in rubble following the Taliban's relentless assault not only on it, but on the practice of educating girls." 
Since troops left Afghanistan and the Taliban is again in charge, Orozco Reilly worries about the women she worked with—many who fled, and others whom she has yet to hear from. 
Having seen the profound difference an education can make across the globe, Orozco Reilly is committed to equity here at CSUCI—to make sure the differences in each student are accommodated for, and celebrated. 
"Our responsibility is to interrupt generational poverty," she said. "For us to work carefully and deeply in our communities and to create a place where families know they have choices." 
Orozco Reilly is currently setting up her office as a mini-museum, displaying artifacts she has collected and received from all over the world. 
"The idea of the museum is to inspire people to recognize there is a world much larger than ourselves," she said. "My work has engendered a lot of humility about the amazing things there are in our world and how we really share so much in common."