Nov. 17, 2022 — CSU Channel Islands' (CSUCI) Veterans Resource Center (VRC) received a 2022-23 Military Friendly® Schools Awards designation recently for the 12th year in a row, having earned the award every year since the center opened in 2011. 
This year, MilitaryFriendly.com began a tiered reward system with Gold, Silver and Bronze levels of distinction, awarding CSUCI a Silver designation, which means the University ranked in the top 20% of the 665 schools that earned awards. More than 1,800 schools across the nation competed in the survey. 
"We're very proud of our campus and how, as a whole, we really do support veterans," said Assistant Director of CSUCI's Veterans Affairs Programs, Jay Derrico. "We think very highly of them, and we want them to succeed." 
Since Derrico launched the VRC in 2011, he has developed numerous programs designed to help students with a military background from the admissions process through finding a good job after graduation.
At the beginning of the CSUCI admissions process, veterans have priority registration, a classification given by the state that allows vets to register before other students. About 94% of the veterans on campus are transfer students who can use the transfer credit policy.  
"Very few of them start as freshman and they don't just have transcripts from community colleges, they also have transcripts from the military," Derrico said. "We continue to work with vets to use some of that military experience as transfer credits." 
Once veterans start classes, there are Vet 2 Vet mentorships to help new students navigate their way through classes and campus life, and there are plenty of resources on campus such as clubs for veterans and a Veterans Resource Center located in the Bell Tower building. 
"It's a lounge for them, a study area, or any other need they have, we have a space for that," Derrico said. "We have regulars who come in at the same time every day between classes to hang out, talk or study, use the computer, get free coffee, and free printing."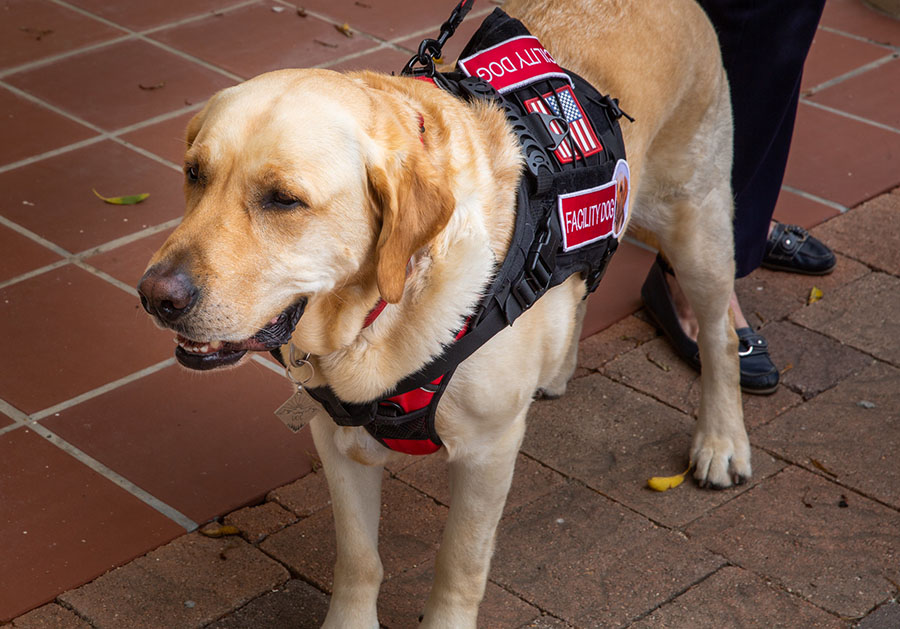 Perhaps the best part of the Veterans Resource Center is Doc, the yellow Labrador Retriever who is on duty to receive ear scratches, give a friendly lick, or find the best blocks of sunlight for naps on the carpet.
There is a $250,000 endowment that each year enables a student vet or a dependent to receive a scholarship—usually about seven scholarships a year—of about $1,500.
As veterans near graduation day, the VRC has arranged for vets to get paid for internships in their field of choice through a partnership with Career Development Services. These paid internships often lead to jobs.
The Veterans Affairs program also offers assistance with resume-writing, translating military service and military language into the language of the civilian workplace.
During CSUCI's commencement week, there is a Medallion Ceremony of which Derrico is especially proud of having introduced years ago.
"We have our ceremony just before Commencement," Derrico said. "They bring their friends and family, and the veterans and their dependents receive medallions that they can wear during Commencement. And of course, the families are just so proud." 
President Richard Yao, Ph.D., always attends, as well as government officials such as U.S. Congresswoman Julia Brownley and State Assemblymember Jacqui Irwin and the base commander from Naval Base Ventura County/Port Hueneme.
The listing of Military Friendly schools appeared in the October issue of GI Jobs and can be found at: www.gijobs.com/guide-to-2022-2023-military-friendly-schools.