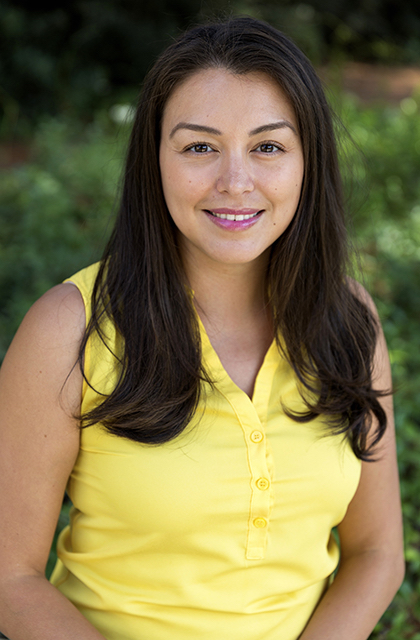 March 7, 2023 - California State University Channel Islands (CSUCI) Associate Professor of Mathematics Selenne Bañuelos recently received $274,750 in continued funding from the National Science Foundation (NSF) for her continued participation in the Institute for Pure and Applied Mathematics (IPAM).
"I would describe IPAM as Math-Nerd Heaven," Bañuelos laughed. "It's been really exciting. It's a great space where you have scientists and math researchers from all over the world working on all sorts of new and exciting projects."
The grant, which was administered through a subaward from the Regents of the University of California (UC), funds Bañuelos' continued role as an associate director at IPAM "which is a HUGE deal," according to Associate Professor of Mathematics Cynthia Flores, a friend and colleague.
IPAM is one of six National Science Foundation research think tanks across the nation, with Bañuelos – who was awarded the position in 2021 - working at the IPAM hosted by the University of California Los Angeles (UCLA).
"I help run semester-long programs where we have researchers in residence at IPAM," Bañuelos explained. "It involves pulling them away from universities and bringing them to a place where they can concentrate on their research."
The research includes mathematical formulas used for big data, cybersecurity, self-driving vehicles, and hundreds of other functions and systems we use every day. Bañuelos serves as a scientific director, organizing the programs so that the researchers can come together and work on some of the most complex problems and/or innovations of the 21st century.
She is also organizing events, workshops, and public lectures to increase the number of Hispanic students in the science technology engineering and math (STEM) fields such as the Latinx in Mathematical Sciences Conference held by IPAM last summer. There are also summer research programs for undergraduates—including CSUCI undergraduates—called Research in Industrial Projects for Students (RIPS), in which students pair a traditional research experience with an internship with an industry or governmental laboratory.
"These are four groups of students sponsored by an industry mentor and an academic. There is a lot of networking and community-building through these programs," Bañuelos said. "It's a great place for CSUCI students to showcase their achievements."
It's a chance to rub elbows and swap data with the world's best and brightest mathematical minds, exploring many areas where mathematics and another discipline converge, such as theoretical math and computer science, or math and social science—and of course machine learning and artificial intelligence (AI) leading to innovations topping the news such as ChatGPT.