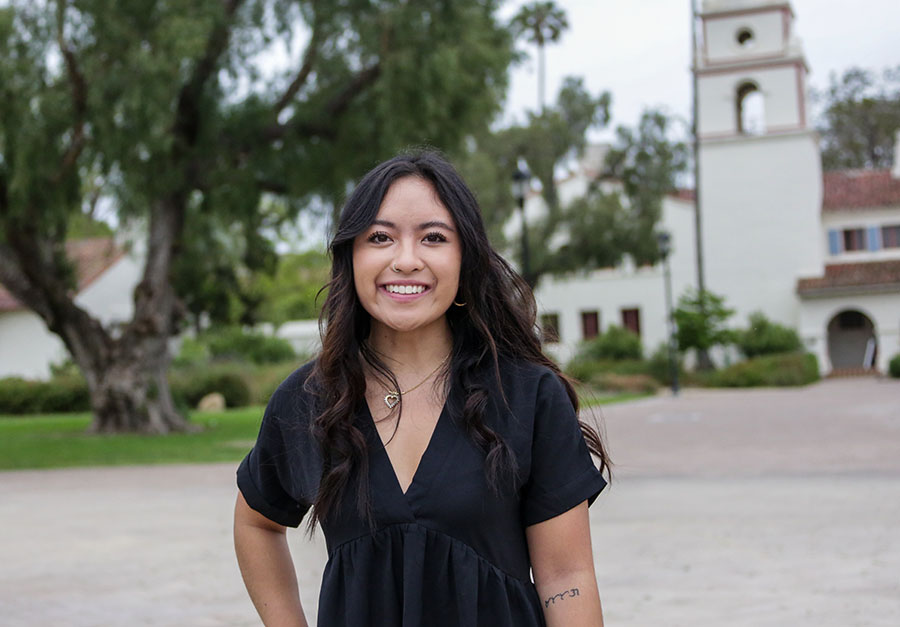 Sept. 11, 2023 - The pandemic scattered numerous obstacles onto Serena Palaroan's road to college, but the Nursing major managed to maintain a solid 4.0 grade point average after dropping out at one point, then coming back with more determination than ever.
And now, the third year Nursing student is one of 23 students selected as a 2023-2024 CSU Trustees' Scholar. The CSU Trustees' Award for Outstanding Achievement, which is the highest student distinction within the university, grants students scholarships based on academic achievements, financial need, excellence in community service and personal hardship. One student from each CSU campus is chosen.
Each scholarship awards a different amount; Palaroan's will be $7,000 as a Trustee Emerita Debra S. Farar Scholar. 
"I was so surprised and I'm so happy," Palaroan said. "This takes so much of the financial burden off of me. This gives me some relief so I can focus more on my studies and not having to study, go to work, study, go to work."
The day Palaroan graduated from South Lake Tahoe High School, she donned her blue cap and gown with the yellow tassel, then boarded a sky lift at the Sierra-at-Tahoe resort.
"I graduated in 2020, right in the middle of the pandemic," said Palaroan, 22. "They had everything at the top of the ski slope to keep us all safe and our parents could drive by at the bottom of the mountain. We each rode up in our own lift with our caps and gowns and diplomas and got our picture taken at the top."
Then, Palaroan became the first in her family to go to college by enrolling in UC Santa Barbara. But because of the pandemic, classes were online and she was struggling—especially with chemistry.
"I was even going to tutoring and I started freaking out because I've never failed a test or a class," Palaroan said. "My brain would go blank and I was crying, but I didn't talk to my parents about it because we don't show emotion in the Filipino culture."
But she finally broke down into tears and spoke to her parents about her dilemma. They were understanding and suggested she finish up at a community college back home. So, she moved back to South Lake Tahoe and continued studying at community college "but I thought there was more for me," she said.
She loved living in Santa Barbara and took some nursing prerequisites at Santa Barbara City College (SBCC) while working to support herself. After graduating from SBCC, she was thrilled to learn that CSUCI had a Nursing program at its satellite campus in Goleta.
There, she thrived, keeping up her traditional 4.0 GPA while working to support herself as a medical assistant and scribe.
"I am not surprised that Serena has been chosen for the scholarship. She is one of those 'ideal students' that every instructor loves to teach - motivated, conscientious, thoughtful, and inquisitive," said Nursing Lecturer Kathryn Yates. "She is also naturally compassionate - a trait that her patients sense right away.  She will be a wonderful addition to the nursing profession."
Palaroan will graduate in May of 2025 with plans to work with babies and pregnant mothers.
In his nomination letter, CSUCI President Richard Yao talked about the difference students like Palaroan make while in college and as they enter their careers.
"This candidate has an enthusiasm for education; she looks beyond herself to consider and contribute to the personal growth and development of future generations of students," Yao wrote. "Ms. Palaroan genuinely understands what can be accomplished with determination, inspiration, and support from those around you."
Palaroan plans to travel to Long Beach on Tuesday, Sept. 12, when all of the CSU Trustee Scholars will be recognized at the regular Trustees meeting, beginning at approximately 4 p.m. and held at the CSU Chancellor's Office, 401 Golden Shore, Long Beach, CA 90802.
"The life stories of these extraordinary students who have triumphed over personal hardships to stand among the university system's most distinguished scholars are a testament to the transformative power of public higher education," said CSU Interim Chancellor Jolene Koester. "Through donor support, the CSU is able to provide students who have faced educational barriers the opportunity to pursue a college degree and apply their life experiences and classroom knowledge to elevate their communities and our great state."