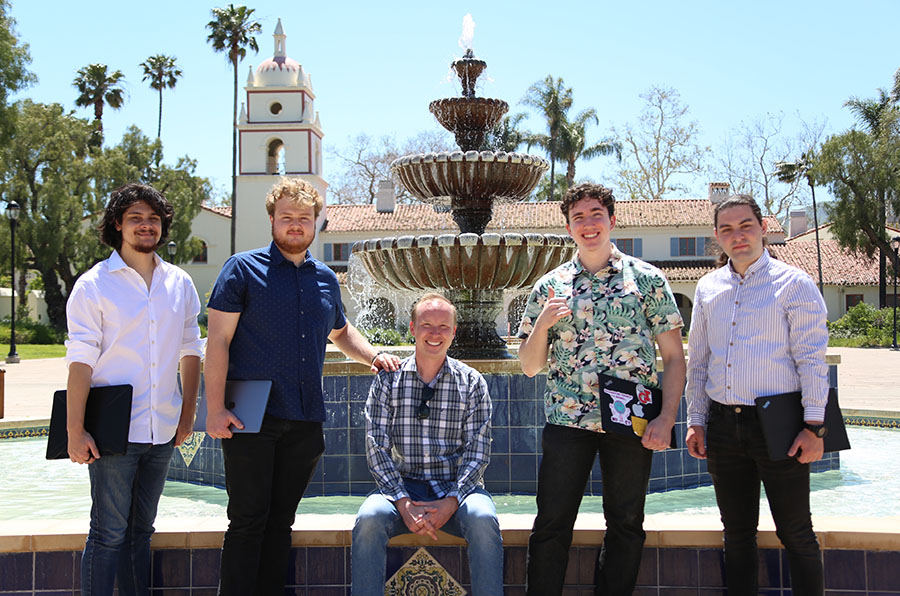 May 17, 2023 - They won! A team of CSU Channel Islands (CSUCI) Computer Science students won first place against 11 other colleges across the nation in a supercomputer competition involving some of the most prestigious laboratories in the U.S.
The team, called the High Performance Dolphins, competed with teams from other universities like Texas Tech, Cal Poly, Morehouse and UC Santa Cruz in the "2023 Winter Classic Invitational Student Cluster Competition."
The competition was a rare opportunity for CSUCI Computer Science students to learn how to work with High Performance Computers (HPC)s in national laboratories and other large-scale computing centers around the U.S. like NASA, Amazon Web Services (AWS), Oak Ridge National Laboratory, Hewlett Packard, and BioTeam.
In addition, one of the CSUCI students on the winning team - Harrison Power - won a $1,000 scholarship from Winter Classic sponsors.
"I was pretty stoked that I was on the top team, and I also won the scholarship, so it was a great experience," Power said.
The online college competition began in February and wrapped up in mid-April. Every two weeks, all 12 of the competing universities and colleges would work with a mentor from a different national lab, then rotate to another supercomputer facility for the next two weeks.
CSUCI had two teams competing: High Performance Dolphins and Results Not Guaranteed.
Although Team Results Not Guaranteed didn't place, faculty mentor and Assistant Professor of Computer Science Scott Feister said the experience itself will yield benefits for all of the contestants.
"I'm just very excited for everybody involved because everyone involved got this chance for professional networking and learning all sorts of new skills they can use in their careers," Feister said.
That said, Feister is "thrilled" one of the teams won first place. Power remembers the day the four team members learned they'd won. He was playing a game with teammate Lars Haavaldsen.
"We were too nervous to do any homework or anything, so we were just playing Minecraft together, just to relax a little bit," Power said. "We paused the game when they were announcing who won, and we were like 'we won! Woooo!' At the end of the night my voice was hoarse because I was screaming so much."
The other two members of the winning team, Berkhan Berkdemir and Bennett Rousseau, admitted the competition was a challenge, but fascinating. Rousseau is graduating this weekend with plans to go into robotics or aerospace engineering. Berkdemir graduates in 2024 with plans to pursue a PhD and eventually teach.
According to the organizer of the 2023 Winter Classic, computer scientist and industry analyst Dan Olds, what they learned in this competition will go a long way toward their career goals as high performance computing is involved in almost every major scientific and industrial innovation over the last 50 years.
"One of the things scientists do with supercomputers is climate modeling, an important topic in our world," Feister said. "Another thing supercomputers do is figure out diseases, which is quite relevant in 2023, having just gone through the COVID pandemic."
For more on the competition, visit: www.winterclassicinvitational.com.