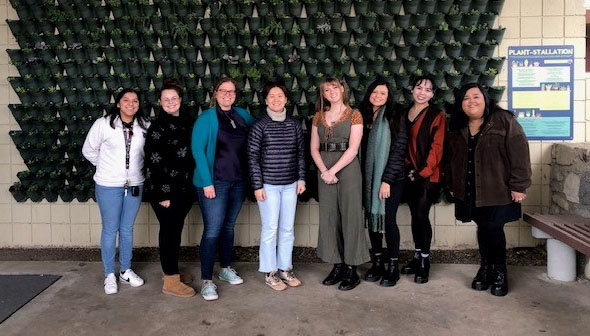 April 12, 2023 - A group of CSU Channel Islands (CSUCI) psychology students will appear before Oxnard City Council on Tuesday, April 18, to present their research on the potential public impact of razing the Oxnard Performing Arts Center (OPAC).
"OPAC was built in 1965 and recently the City of Oxnard proposed the removal of OPAC in favor of building more housing," said Associate Professor of Psychology HyeSun Lee, who mentored the students' community-based research project. "We see some historical value to the site, so we wanted to get opinions about the city's proposal to remove the site and provide recommendations for OPAC to increase their revenues."
Part of the students' survey was investigating ways for OPAC to draw enough revenue to sustain itself, asking respondents which aspect of OPAC could be improved to attract more renters and therefore, more revenue.
One of the team members, 2022 psychology graduate Kaylena Mann, is participating in the project as part of her post-baccalaureate studies. Mann said the research was done hand-in-hand with OPAC staff and administration.
"The first part of this was learning more about OPAC and what their needs are," Mann said. "We talked to the staff and found out what were the most important things to focus on. We spent a lot of time drafting survey questions."
Then, the team sent out survey questions to 532 rental clients who had booked OPAC in the past, according to research team member Anabiah Syed.
"We wanted to focus on how these rental clients thought OPAC could improve their spaces," Syed said. "We got a 12.6% response rate, which is actually pretty good. We also made sure the questions went out in English and Spanish."
The research team also investigated the effectiveness of OPAC's branding by asking how clients found out about OPAC's services and their satisfaction regarding that service.
"We also included an open-ended question asking if they had any suggestions on how to improve the services," said CSUCI student researcher Martina Ortouste. "We would ask them about the banquet room, the meeting rooms, the courtyard, for example."
The areas where renters could recommend improvement were items like chairs, the audio system and other technological features of the center, but there was plenty of positive feedback, too.
"They were satisfied when they compared it to other venues they had affordable pricing," said Carla Gonzalez, who graduates in May. "They like that it's a historical site, and we found that it is important to the city of Oxnard."
With the help from the Center for Community Engagement, Lee coordinated with OPAC to conduct the community-based research because she saw this as an ideal project for students from her upper level classes concentrating on psychological measurement and multivariate statistics.
"These students are highly interested in statistics and psychometrics," Lee said. "They were looking for an opportunity to apply their knowledge to a real project where at the same time they can bring positive changes to the city of Oxnard. As for the psychology side of it, this is a quantitative application of their skills that also brings positive change to the community."
Team member and 2022 psychology graduate Denise Santa Rosa said the hands-on experience with an important project was invaluable to her and the career she is planning.
"This is my first time doing a project like this and I loved it," Santa Rosa said. "I loved how passionate the OPAC staff was about keeping their doors open. It was a great research opportunity to work with members from our community."