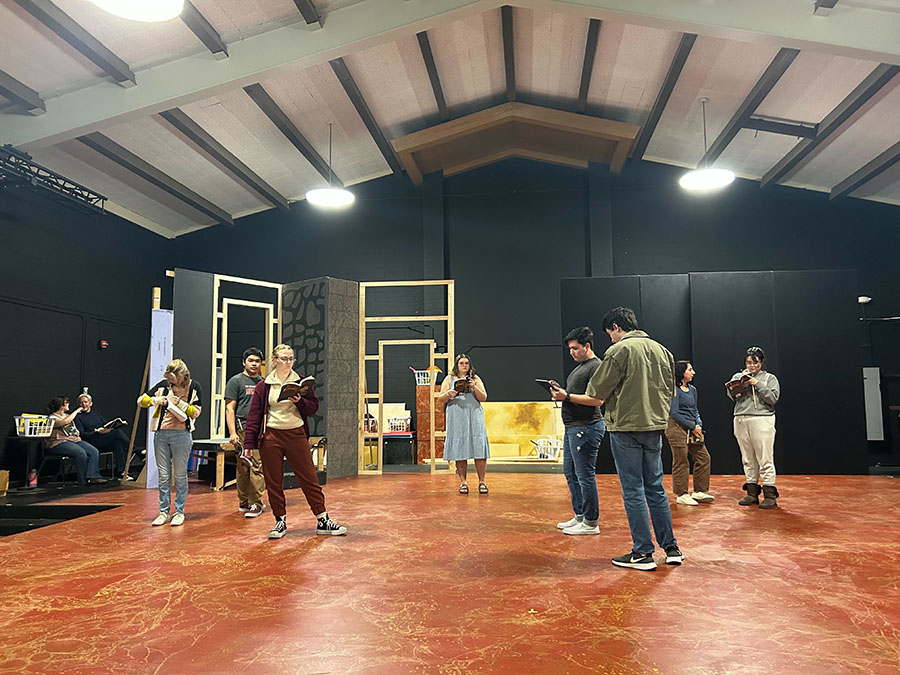 Feb. 21, 2023 - The parody "Puffs or Seven Increasingly Eventful Years at a Certain School of Magic and Magic" was chosen for the CSU Channel Islands (CSUCI) spring production because the Performing Arts program currently includes several students with a gift for making people laugh.
"We have some student actors with amazing comedy chops and wanted to give them a play where they would get a chance to shine," said Performing Arts Lecturer Laura Covault, who teaches theater. "This play is fast-paced and hilarious."
Performances start at 8 p.m. on March 9 and 10 and at 2 p.m. and 8 p.m. on March 11 in Malibu Hall Room 140.
While a certain boy wizard went to a certain wizard school and conquered evil, the Puffs just happened to be there, too, and this 2015 play written by New York playwright Matt Cox tells their story. The play takes a fresh look at a familiar adventure from the perspective of three potential heroes just trying to make it through a magic school that proves to be quite dangerous for children. Alongside them are the Puffs, a group of well-meaning, loyal outsiders.
"Anyone who is a fan of wizards, magic and comedy would love this play," Covault said.
The CSUCI students are making the play their own.
"Everyone is putting their own comedic spin on the characters they are playing, so it does feel different in that way," Covault said. "Also, usually the play is done with nine actors playing multiple roles. We have divided up the roles so we could include more students."
The production is completely student-led with Performing Arts major Griffin Giboney serving as director and acting. Performing Arts major Benjamin Muley and Communication major Makiko Compton play lead roles. Performing Arts major Ashley Lasek is overseeing costumes and makeup.
"Students completely run the show," Covault said. "We are so proud of the hard work our students are doing."
The play, which contains sexual references and cursing, is recommended for those in sixth grade and older.
Tickets are free for CSUCI students and $10 for CSUCI faculty. The cost is $5 for non-CSUCI students and $15 for other members of the public. Tickets can be purchased online at https://puffsci.bpt.me for a small service fee. Limited parking is available for $6. For more information, contact Laura Covault at laura.covault656@csuci.edu.