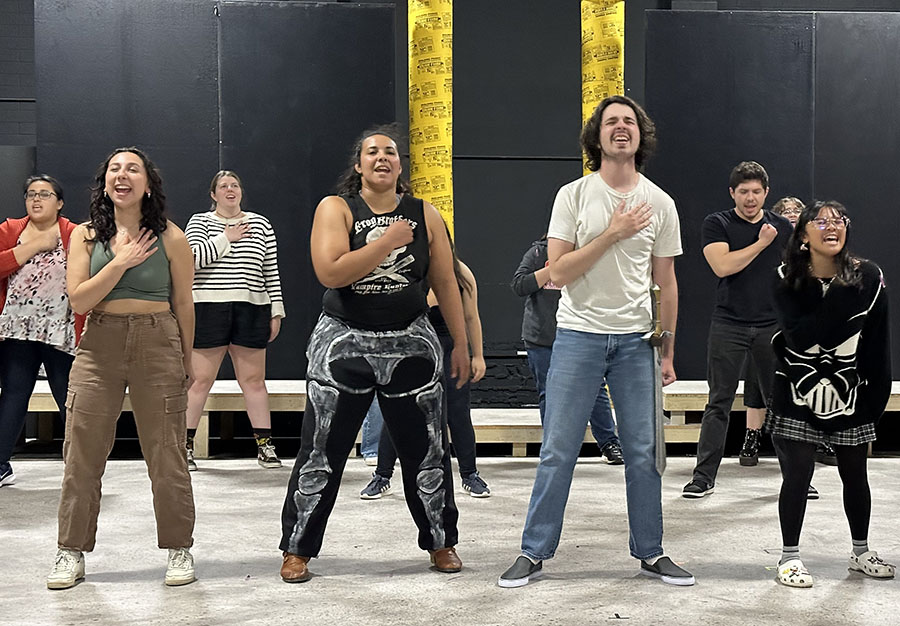 Nov. 6, 2023 - Percy Jackson is just 12 years old and faced with pursuing a villain across the United States to retrieve the original weapon of mass destruction - the lightning bolt of the Greek god Zeus.
The public is invited to join in on the adventures of the young hero in the CSU Channel Islands (CSUCI) Performing Arts program's musical production of "The Lightning Thief: The Percy Jackson Musical."
There will be eight performances of "The Lightning Thief" Nov. 9 through Nov. 18 at Malibu Hall on the CSUCI campus, plus an extra show on Nov. 17 just for high school students. The show is co-directed by Performing Arts/Theatre Lecturer Laura Covault and Performing Arts/Theatre 2023 alumnus Griffin Giboney with choreography by 2023 Dance Studies alumnus Maddy Hitchcock.
The show is based on a book by author Rick Riordan, who wrote the Olympians young adult book series. The series has sold over 180 million copies worldwide with the first book in the series, "The Lightning Thief" selling 1.8 million copies during the first five years. It later became a Broadway musical and a movie.
"We wanted to do something fun that had a pop score to it," Covault said. "My kids were obsessed with the books when they were young. It came out after the Harry Potter books. I feel as if the structure of Percy Jackson and Harry Potter books are similar in that the characters are all discovering what their powers are."
With an original, upbeat musical score, "The Lightning Thief" follows Percy through his harrowing journey to retrieve Zeus' lightning bolt while fighting off armies of mythological enemies. He also must come to terms with the fact that his dad is none other than Poseidon, Greek god of the sea, and he learns from an oracle that he might be betrayed by a friend.
Giboney was a young teenager when the Lightning Thief movie came out, so he's always been a fan of the story and the Greek gods so directing this show was "a blast," he said.
"It was my first time ever directing a musical. I've directed plays before, but a musical is like a whole other species," Giboney said. "It's on a bigger scale than a traditional play and you have so many things to juggle with music, dialogue and choreography."
Giboney and Covault cast two actors to alternate playing the part of Percy, as it's a very demanding role, and the two leads - A.J. Antonio and Ben Muley - were both equally ideal for the part.
"The role of Percy Jackson in this show is a monster," Giboney said. "He almost never leaves the stage, and he carries the show with his vocals. We had two students we felt could handle it and we couldn't decide which one, so we cast them both."
Auditioning for shows that require acting, singing and dancing is good practice for auditioning for shows professionally, the co-directors agreed.
"If you're going to do this as your career, auditions can be rigorous," Covault said. "You have to learn choreography really fast and make sure you can act while you're dancing."
Giboney, who is currently acting in a musical in Moorpark, agreed. Directors want actors to come to auditions fully trained and ready to be cast, and he thinks shows like this one does just that.
Shows will be held Nov. 9, 10, 16, and 17 at 8 p.m.; and Nov. 11 and 18 at 2 p.m. and 8 p.m.
Admission for the show is $25 for adults, $15 for faculty, staff, and local students, and free to CSUCI students (reservation still required).
Visit https://performingarts.csuci.edu/featured/lightningthief.htm to purchase tickets and RSVP.
The University encourages persons with disabilities to participate in its programs, events and activities. If you anticipate needing any type of accommodation, or have questions about the physical access provided, please contact the respective area below as soon as possible, but no later than seven (7) business days prior to the event/activity:
CSUCI Students
accommodations@csuci.edu
CSUCI Employees and Members of the Public
angela.portillo@csuci.edu