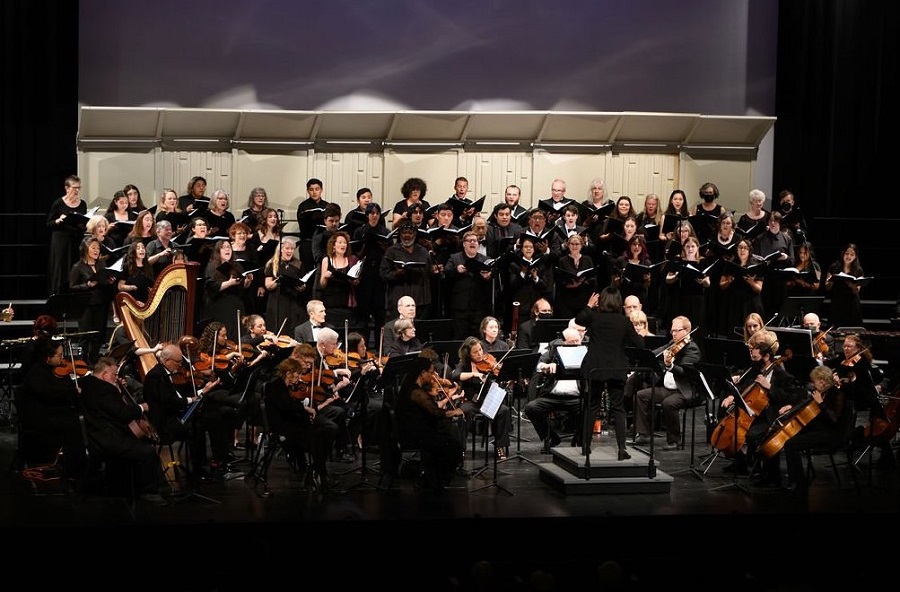 Nov. 16, 2023 - For the first time since the CSU Channel Islands (CSUCI) University Chorus was established in 2004, the winter concert will stage one of its two performances at the iconic Mission Santa Barbara.
"We're coming up on our 20th anniversary and we wanted to do something special," said Choir director and Associate Professor of Performing Arts KuanFen Liu. "It's an amazing place, built in 1820 and renovated a couple of times. The acoustics remind me of the old churches in South America and Europe."
The Mission Santa Barbara performance will be on Saturday, Dec. 2 and a second performance at the First United Methodist Church in Ventura will be held Sunday, December 3. Built in 1874, the stately church with its mosaic of stained glass also has acoustics fit for a choir.
The choir will perform British composer Benjamin Britten's "A Ceremony of Carols," excerpts from Wolfgang Amadeus Mozart's Coronation Mass and more.
"'A Ceremony of Carols' is not your typical Christmas carols," Liu said. "There is nothing about jingle bells. It's 11 movements that are an eclectic mix of anonymous medieval texts and later poems rather than familiar carols."
The piece includes a processional and a recessional, so the 70-strong choir will file onto and off of the stage. The 11 movements will be accompanied by a harp only, Liu said.
Britten, who was born in 1913, wrote the Ceremony of Carols in the thick of World War II while on a boat traveling from the U.S. to Britain. The threat of being torpedoed by a German U-Boat was always present.
Mozart wrote the Coronation Mass at what was also a less than ideal time in his life. He had returned to Salzburg after unsuccessfully trying to secure a job in Vienna and a relative got him a job at the Salzburg Cathedral.
"It was actually a very low point in his life, and to contrast that with the glorious mass he composed," Liu said. "It shows us how, at the lowest point of life, the highest point of creativity can co-exist."
The 70-strong choir consists of CSUCI students and members of the public of all ages from around the region. Liu said this is the largest number of members the choir has ever had.
Liu will also share details about plans for the spring concert, including a performance in Lisbon, Portugal this summer.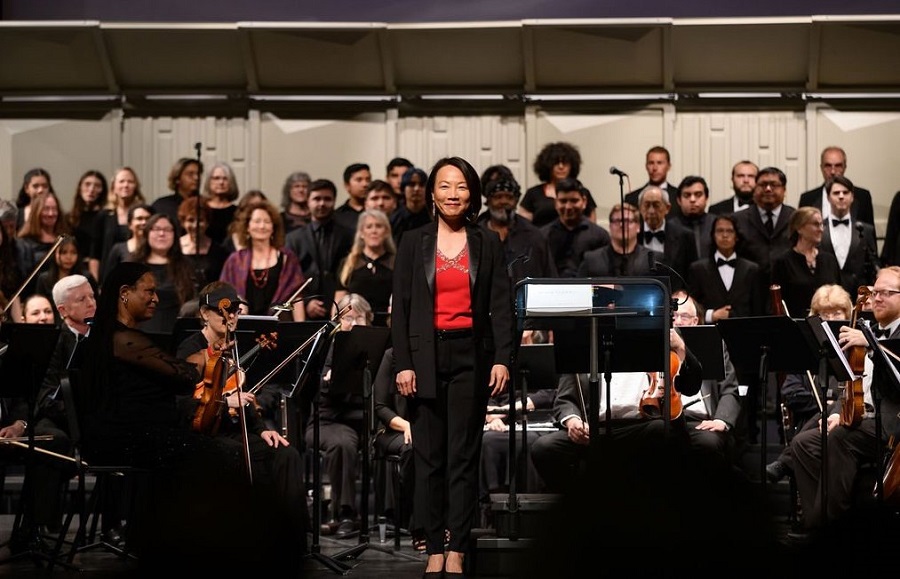 "This spring we will have the University Chorus plus three high school choirs including Rancho Campana, Santa Paula High School, Adolfo Camarillo High School and the entire Pleasant Valley School District Chorus," Liu said.
Among the pieces she plans for the choir to perform is the well-loved composition "Ode to Joy" by Ludwig van Beethoven.
"At the premiere of the When Beethoven wrote 'Ode to Joy,' I believe Beethoven purposely used four soloists from four different nations. He wanted to emphasize that universal brotherhood can triumph against war and desperation, and he wanted to express wishes for freedom and peace between all peoples," Liu said. "I think it shows that, despite our differences, we can all be one harmony."
Winter concert performances will be held on:
Saturday, Dec. 2 at 7 p.m. at the Mission Santa Barbara, 2201 Laguna Street, Santa Barbara
Sunday, Dec. 3 at 3 p.m. at Ventura First Methodist Church, 1338 East Santa Clara St., Ventura
Voluntary donations are welcome at each performance.