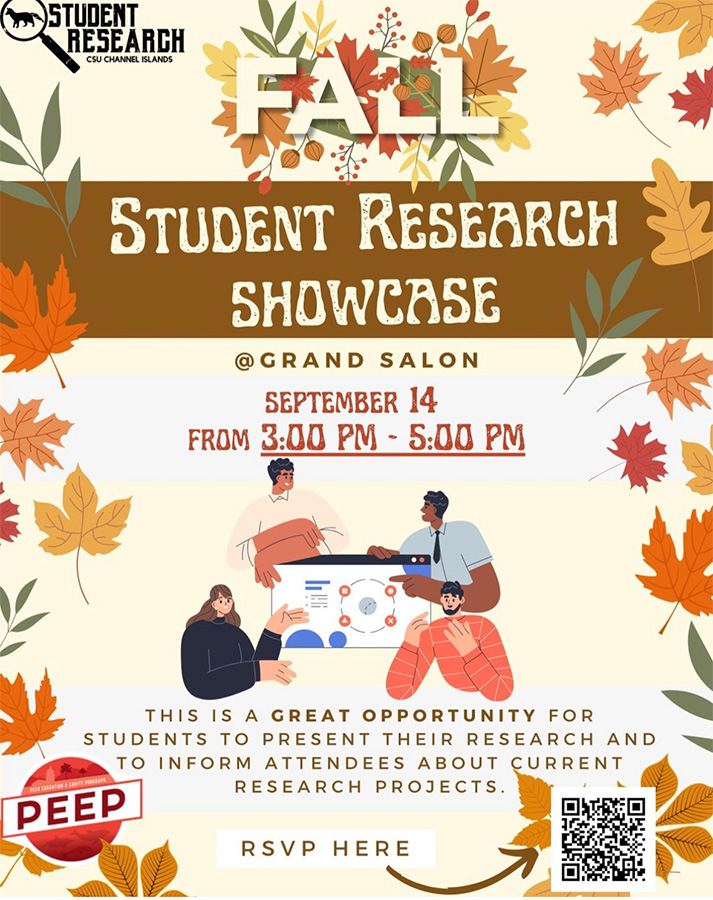 Sept. 13, 2023 - CI Student Research will be hosting the 2023 Fall Student Research Showcase on Thursday, Sept. 14 from 3 to 5 p.m. in the Grand Salon.
This event provides students an on-campus forum to present faculty-mentored research they conducted during the summer. The research could have been mentored by a member of the CSUCI faculty, or it could have been conducted under the mentorship of a professional at another college or University.

In addition to the student presenters, this event encourages non-presenting students, faculty, and other members of the CSUCI community to attend and learn more about our students' research and creative activities!
Please RSVP if you plan to attend.
For more information contact Luis Sanchez at luis.sanchez@csuci.edu.
The University encourages people with disabilities to participate in its programs, events and activities. If you anticipate needing any type of accommodation or have questions about the physical access provided, please contact the respective area noted below as soon as possible, but no later than seven (7) business days prior to the event/activity:
CSUCI Students
accommodations@csuci.edu
CSUCI Employees and Members of the Public
angela.portillo@csuci.edu