Camarillo, Calif., Nov. 23, 2015 – The Association for the Advancement of Sustainability in Higher Education (AASHE) recently recognized CSU Channel Islands (CI) for its waste reduction efforts.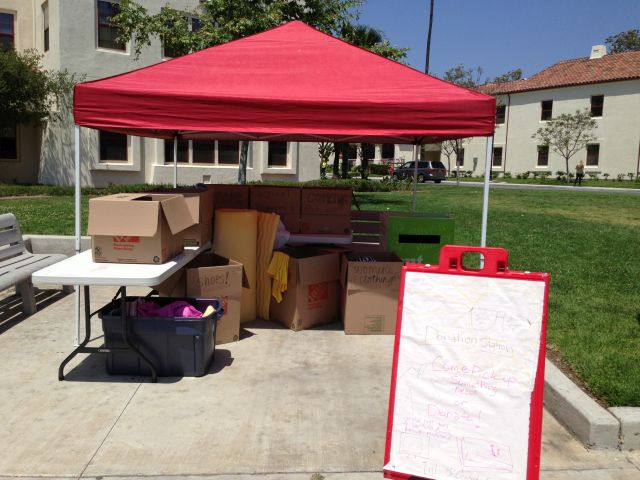 CI was singled out in the waste reduction subcategory based on the results of the 2015 Sustainable Campus Index, which highlights top-performing colleges and universities in 17 different areas, including waste reduction. 
The universities are measured based on STARS or the Sustainability Tracking, Assessment & Rating System. 
The report noted that CI has reduced waste by 10 percent between 2009 and 2013 through several initiatives, including direct student involvement. 
"The University eliminated all trays from dining centers and began offering discounts to customers who used reusable mugs for beverage purchases," the AASHE report reads. "During move-out week, housing staff assist students in a four-step process that includes a student swap meet, donation, recycling and disposal as a last resort." 
Janel Suliga, Associate Director of Administration & Operations for Housing & Residential Education, said she and her staff came up with the four-step process as a "win-win" solution for students who couldn't take items with them at the end of the academic year when they moved out of residence halls. 
"We set up a donation station where people could trade stuff they don't want," she said. "We've had printers still in their box. We've had lamps, and dishes and mini-fridges." 
So the four steps are: trading, donating, recycling or discarding—which is the last choice. 
"A lot of cardboard comes out of the residence halls when students first move in because they're bringing in brand new microwaves and televisions," said Director of Facility Services Raudel Bañuelos. 
Move-out time also results in a lot of items and material that could wind up in the landfill, so the student housing staff provides 40-yard-long dumpsters that are clearly marked, and donation stations at the student check-out area the week prior to graduation. 
Donations go to charitable organizations such as the Ventura County Rescue Mission, which has been a partner in this endeavor. 
"This year we're going to get bins where people can put liquid chemicals, like a half-empty bottle of shampoo— because a lot of them don't want to take it home or they have to fly home," Suliga said. "The international students really have limited space." 
CI has also been recognized for diligence when it comes to recycling in other areas, particularly during construction of Sierra Hall and Santa Rosa Village.
"There is language in the contracts with our tradespeople that they must recycle anything they can," Bañuelos said, "Especially with buildings we tear down." 
STARS Universities pursue credits and may earn points in order to achieve a STARS Bronze, Silver, Gold or Platinum rating.  CI has a Gold STAR rating, the second-highest rating AASHE can give. 
"The institutions featured in this year's publication are leading the way to a sustainable future," said AASHE's Executive Director, Meghan Fay Zahniser. "I hope the stories in this report will serve to inspire continued investment in sustainability among colleges and universities worldwide."
# # #
About California State University Channel Islands
CSU Channel Islands (CI) is the only four-year, public university in Ventura County and is known for its interdisciplinary, multicultural and international perspectives, and its emphasis on experiential and service learning. CI's strong academic programs focus on business, sciences, liberal studies, teaching credentials, and innovative master's degrees. Students benefit from individual attention, up-to-date technology, and classroom instruction augmented by outstanding faculty research. CI has been designated by the U.S. Department of Education as a Hispanic-Serving Institution and is committed to serving students of all backgrounds from the region and beyond. Connect with and learn more by visiting CI's Social Media.