Camarillo, Calif., May 21, 2015 -- According to Aldo Figueroa's social network, he has more than 600 friends.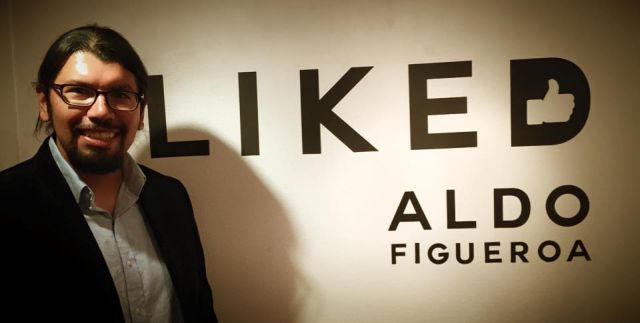 "But they're not necessarily friends," said the CSU Channel Islands (CI) Art Lecturer. "I'm up to date with what they're doing, but I'm missing what makes these relationships meaningful."
Figueroa explores this 21st Century phenomenon in his one-man exhibit entitled "Liked," which is on display through June 25 at the Palm Gallery at 92 Palm Drive in Camarillo. Gallery hours are Monday through Friday from 10 a.m. to 4 p.m. and closed on weekends.
It will be the last exhibition ever at the Palm Gallery as the space is being remodeled and absorbed into the dental office that owns the building, Camarillo Smiles.
CI Art Lecturer Christophe Bourely says he and the entire Art program are very grateful for the generosity of Dr. Michael Czubiak at Camarillo Smiles who acted as an art patron for the last eight years, allowing the CI art program to hold more than 50 shows at the gallery.
Because the space is being remodeled, Figueroa was allowed to use one of the walls as a canvas for a last-minute inspiration.
"I created a wall that looked like my Facebook wall," Figueroa said. "I had it set up so on the day of the (May 7) opening reception with photo digital markers so people could write on 'my wall.'"
The rest of the exhibit is a series of 16 portraits created in varying media ranging from watercolor to digital illustration to paper cutouts to spray paint.
"It's a terrific show that turns the concept of Facebook inside-out," Bourely said. "Large-scale portraits, scribbled memos and Polaroid pictures posted on an actual wall transform the virtual world into a real, lively and concrete experience."
In preparation for the exhibit, Figueroa contacted friends he had lost contact with, old school chums and other "friends" on Facebook whom he hadn't really seen or talked to in years if not decades.
"Some of these were family members whom I've lost connections with," Figueroa said. "I went to my old hometown of Santa Ana and met with old friends I knew from junior high."
Meeting with people face-to-face was powerful and enlightening, he said. A reminder what it means to like someone versus "liking" them.
"I don't want all my friends to be Facebook friends and my memories to be Facebook memories," he said.
# # #
About California State University Channel Islands
CSU Channel Islands (CI) is the only four-year, public university in Ventura County and is known for its interdisciplinary, multicultural and international perspectives, and its emphasis on experiential and service learning. CI's strong academic programs focus on business, sciences, liberal studies, teaching credentials, and innovative master's degrees. Students benefit from individual attention, up-to-date technology, and classroom instruction augmented by outstanding faculty research. CI has been designated by the U.S. Department of Education as a Hispanic-Serving Institution and is committed to serving students of all backgrounds from the region and beyond. Connect with and learn more by visiting CI's Social Media.