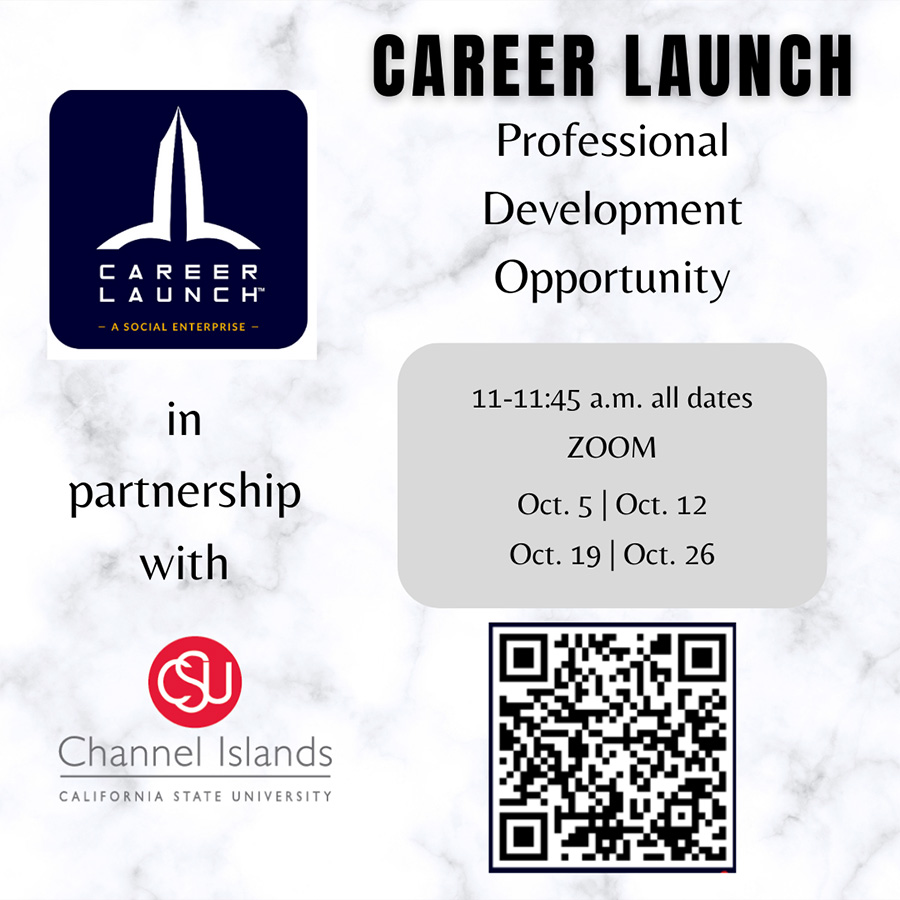 Sept. 13, 2023 - Career Launch is a free program that focuses on career development so students have the tools necessary for the "real world". Here is what you need to know:
What is Career Launch?
Career Launch is a social enterprise that has partnered with CSUCI to help students scale their ability to proactively create relationships with professionals and launch effective job/internship searching.
What would be my commitment if I signed up?
The program is 4 weeks - but don't let that stop you! It's only 45 minutes a week and all meetings are over zoom!
Dates and details
45-minute weekly meeting
Thursday meetings (Oct. 5, 12, 19, and 26) are over zoom from 11 a.m. - 11:45 a.m.
Weekly videos (at your own pace and convenience)
Engage in interactive workbook material (we will provide to you)
Why should I participate?
No cost to the student
Swag offered at the end of the program
Gain valuable skills to prepare you for professional networking and the job force
How do I sign up?
To sign up, please scan the QR code and text "#csuci_fall23" to the phone number.
For more information contact Jasmine Garcia at jasmine.garcia778@csuci.edu.
The University encourages people with disabilities to participate in its programs, events and activities. If you anticipate needing any type of accommodation or have questions about the physical access provided, please contact the respective area noted below as soon as possible, but no later than seven (7) business days prior to the event/activity:
CSUCI Students
accommodations@csuci.edu
CSUCI Employees and Members of the Public
angela.portillo@csuci.edu