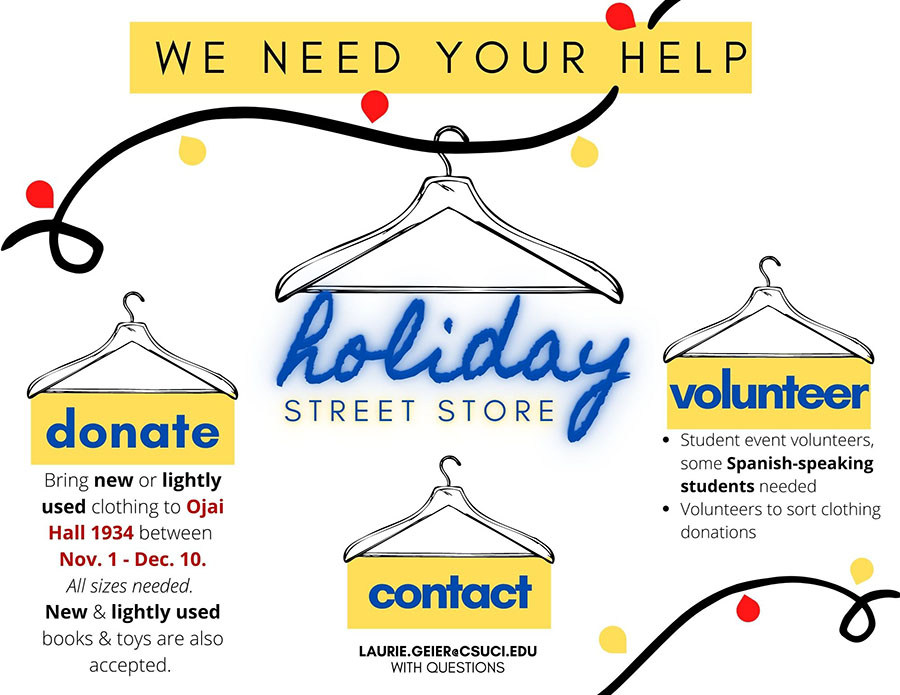 Nov. 2, 2021 - The Center for Community Engagement (CCE) will be hosting a Holiday Street Store with Westminster Free Clinic in December. This groundbreaking non-profit organization serves 300+ families every week with food distribution, clothing donations, and free medical care. During last year's holiday clinic, over 1000 children were provided with toys and other services.

From Nov. 1 – Dec. 10, the CCE is asking for new and lightly used clothing donations to be dropped off at Ojai Hall 1934 (The CCE office). All items will be dispersed to the community in a free store-like environment during the Holiday Street Store in December. 

Don't have anything to donate? We are also asking for volunteers to help sort clothing leading up to the event, or volunteer at our Street Store! Bilingual volunteers are highly encouraged to participate. Contact Laurie Geier if you're interested in volunteering. 
For more information contact Laurie Geier at laurie.geier@csuci.edu.