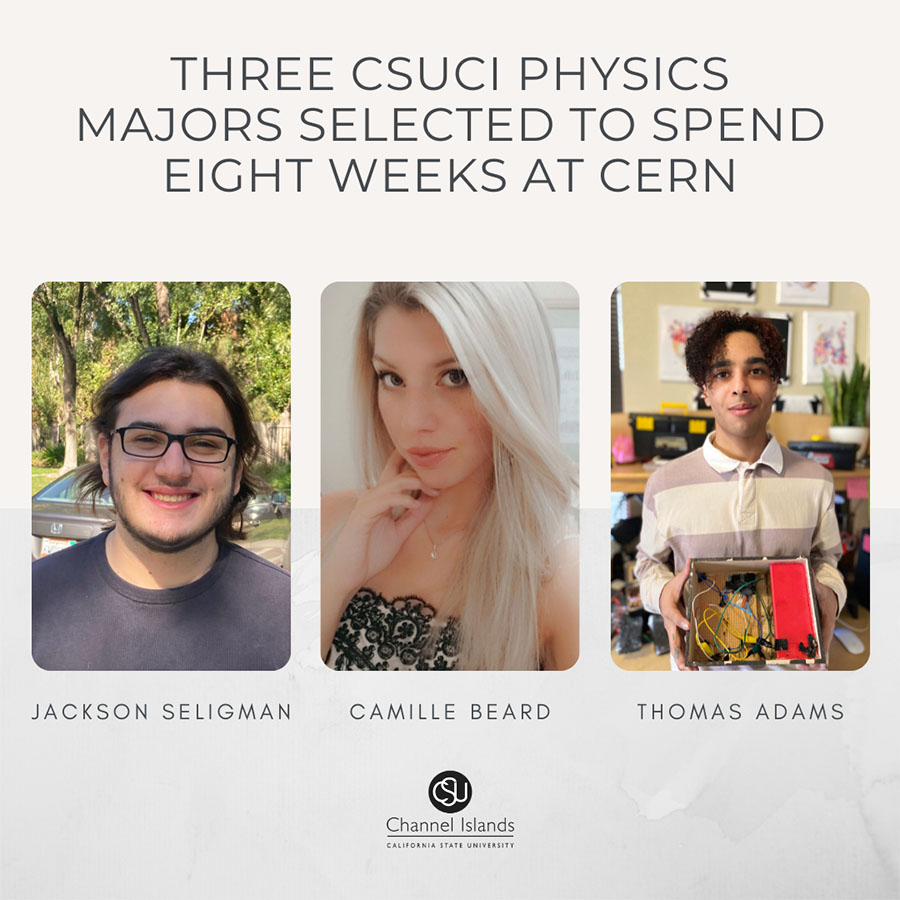 Jan. 13, 2022 - After a rigorous application process from students across 19 CSU campuses, three CSU Channel Islands Physics majors have been chosen to spend eight weeks working with world-renowned researchers at the European Organization for Nuclear Research (CERN) in Geneva, Switzerland.
CERN is the site of the Large Hadron Collider (LHC), the world's largest and highest-energy particle collider. In 2013, CERN researchers François Englert and Peter Higgs won the Nobel prize in physics for discovering the so-called "God particle," a subatomic particle that helps us understand the origins of the universe.
Third-year Physics majors Camille Beard, Thomas Adams and Jackson Seligman are set to travel to Switzerland this summer to learn from the world's top nuclear physicists and researchers from numerous other disciplines. If COVID travel restrictions prevent the students from physically traveling to the research center, they will do their eight weeks virtually.
"I came from a rough background and I didn't even think I would graduate high school," Adams said. "Now not only am I going to a university, I'm going to CERN!"
Seligman is excited about seeing the Large Hadron Collider (LHC), the most powerful particle accelerator in the world.
"It is super cool just going to Switzerland in general," Seligman said. "But being able to see the Hadron Collider is even better because I think it's about a mile underground."
Four other students from four other CSU campuses were also selected by CSU Fresno (CSUF) Professor of Physics Yongsheng Gao, Ph.D., who coordinates the CSU Nuclear and Particle Physics Consortium (NUPAC), which includes 19 campuses. Gao chooses students based on their performance in an online course they take as part of the application process.
If they travel to Switzerland, each CSUCI student will receive a $5,500 stipend that comes from a 3-year $249,863 grant from NSF's International Research Experience for Students (IRES) . If they do their eight weeks virtually, they will each get $4,000.
Beard, an aspiring astrophysicist, knew she wanted to study the stars since she first learned about the solar system in the third grade.
"A dream goal of mine for physics is to do research in astro-particle physics, and to be able to start my research journey at CERN is such a dream," she said. 
CSUCI Professor of Physics Geoff Dougherty, Ph.D., who is the team facilitator at CSUCI, said the only other university to ever have three students selected from its campus has been CSUF, so this is a first for CSUCI.
"I think it's an indication that our students are amongst the best of the CSU," Dougherty said. "I would say this is a once-in-a-lifetime experience. They will be able to prove they worked and flourished at a top international research institution, which will make them stand out in a crowd. It's going to open doors for these students for decades."