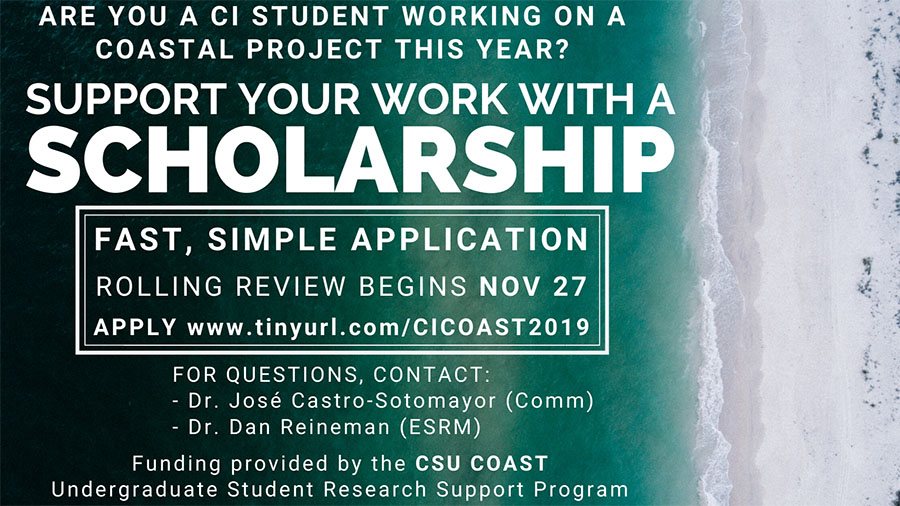 Nov. 14, 2019 – The CSU Council on Ocean Affairs, Science, and Technology is pleased to present the COAST Undergraduate Student Research Support Program.
CSUCI students who are working on a coastal project this year are encouraged to apply for the scholarship to support their work. The work can be science-based or artistic, independent or group-based. Students are eligible to apply if they meet the following requirements:
You are a full-time, enrolled CI student in good standing
You are graduating in spring 2020 or later
You are working with a CI faculty member, and
Your work's focus is "coastal," including the open and coastal ocean, coastal zones (bays, estuaries, beaches), or coastal watersheds (wherein there must be clear and direct linkages between your area of focus in the watershed and the connected coast or ocean).
Allowable expenses include: project supplies and materials, outside analyses, equipment, training, travel for research or presenting results, or student wages. Award amounts are determined by project merit and proposed budget; suggested budgets should range from $200 to $1,000.
Apply online at www.tinyurl.com/CICOAST2019. Please note you must be logged in to CI Docs (Google Drive) prior to accessing the application.
The deadline to apply is Nov. 27.
For more information contact Dr. José Castro-Sotomayor (COMM) at jose.castro-sotomayor@csuci.edu or Dr. Dan Reineman (ESRM) at dan.reineman@csuci.edu.