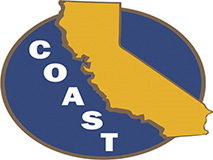 Feb. 3, 2020 -- COAST offers paid internships for continuing CSU undergraduate and graduate students to explore the ocean, learn about ocean policy, or help protect marine species. Work side-by-side with professional scientists and experts on current projects and gain valuable experience and technical skills. Internships are available throughout the state for summer 2020. Each internship offers a $6,000 stipend for a 10-week commitment.
There will be an informational webinar on Feb. 4 from noon to 1 p.m.
For more information about the webinar and to apply, go to http://bit.ly/COASTInterns2020.
Application deadline is March 2, 2020, 5 p.m.