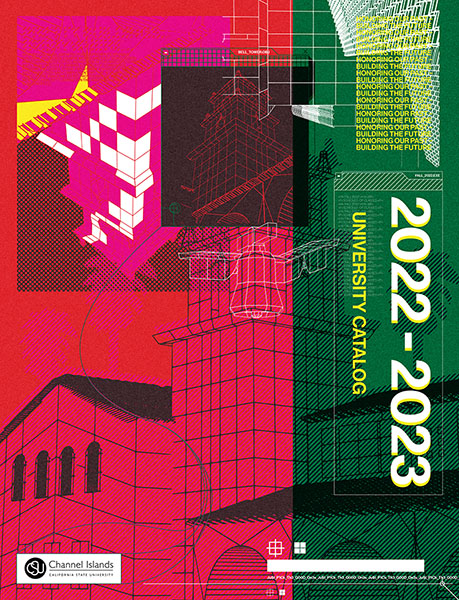 July 19, 2022 - Thomas Wilson didn't hesitate to answer the call when Professor of Art and Design, Luke Matjas, MFA, put the call out to designers about developing the cover art for CSUCI's 2022-23 University Catalog. The CSUCI alum ('22, Art) was ready to tackle a new project and hone the skills he developed in Matjas' courses to create something unique for CSUCI's latest edition of the annual catalog.
As a transfer student to the University, Wilson brought a unique perspective to the project and was able to create something outside the box for this year's cover art, a fitting take given the University's upcoming 20th anniversary. 
Wilson shares, "I kind of wanted to take it and flip it on its head a little bit, you know? Like, the building is now pink, and upside down, and transparent. I wanted to play with the shapes and the color of the campus, try to experiment and kind of break it out of a box."
Currently working as a graphic designer for Associated Students Incorporated (ASI) on campus, he hopes to continue working in art and design and hopes to be able to oversee and mentor other graphic designers in the future.