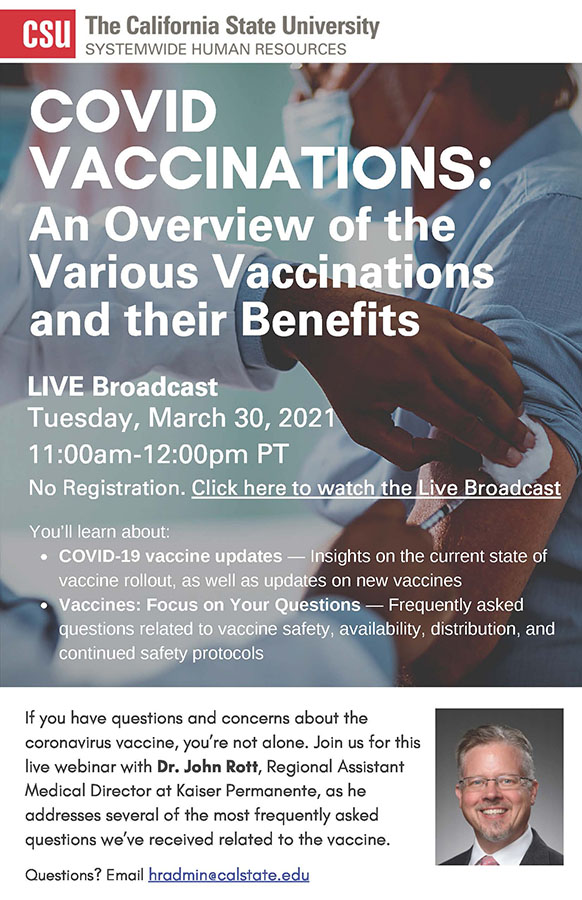 March 24, 2021 – With COVID-19 vaccine rollout now underway, there has never been a more important time to learn about the vaccinations and speak to common questions and concerns. The CSU Chancellor's Office is pleased to host "COVID Vaccinations: An Overview of the Various Vaccinations and their Benefits," on Tuesday, March 30 from 11 a.m. to noon.
Featuring Dr. John Rott, Regional Assistant Medical Director at Kaiser Permanente, this webinar will provide information about the benefits of getting a COVID-19 vaccine, as well as consulting with your physician or healthcare provider about the vaccine options as they pertain to your health.
Registration is not required, and you can access the live webinar broadcast online on March 30 at 11 a.m. Closed captioning will be provided and the webinar will be recorded and available for viewing through April 15, 2021. If you would like to submit questions in advance, you can email them to hradmin@calstate.edu.
As a reminder, weekly vaccine appointments are made available every Monday and can be scheduled by visiting your county of residence website listed below:
Ventura County COVID-19 Vaccination
Santa Barbara County COVID-19 Vaccination
Los Angeles County COVID-19 Vaccination
California ALL Vaccine Information
For more information contact CSUCI News at csuci.news@csuci.edu.