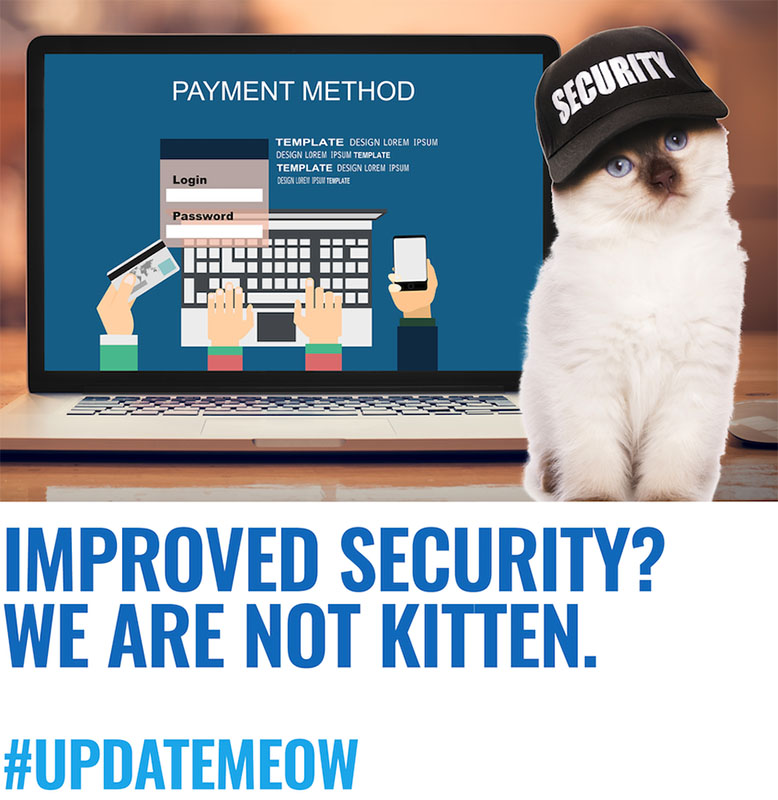 Dec. 6, 2018 - Cyber Monday 2018 had record sales and millions of shoppers took advantage of one-day only sales. Unfortunately, these one-day promotions often result in cybercriminals targeting popular websites and shoppers' personal data.
Be sure to take steps to protect yourself this holiday season and if you are going to shop online, do so safely. Follow these tips to ensure you are keeping your digital data and personal information as secure as possible.
System updates are crucial: keep your devices up to date; it's an easy way to secure your data.
Intel, Microsoft and the National Cyber Security Alliance have all partnered with the #UpdateMeow project (www.intel.com/updatemeow).  Before searching for the perfect gift, be sure all web-connected devices - PCs, smartphones, tablets - are free from malware by running the most current versions of software and apps.
Secure your login: one of the most critical steps you can take in preparation for the online shopping  season is to fortify your online accounts by enabling the strongest authentication tools.
Conduct research: When using a new website for holiday purchases, read reviews and see if other customers have had positive or negative experiences. 
Visit the Stay Safe Online (PDF, 213KB) website to learn more about staying safe online.
For more information contact the Information Security Team at infosec@csuci.edu or visit https://www.csuci.edu/its/security/.