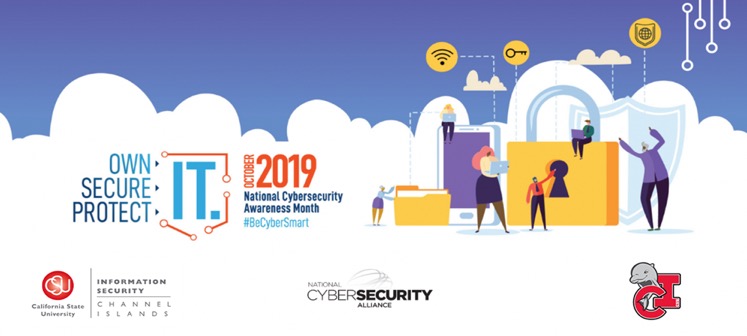 Oct. 2, 2019 - October is National Cybersecurity Awareness Month and CSUCI is a proud participant! We must work together and do our part to help build a more secure cyber world.
We hope you will join our efforts to promote this important issue. Online safety and security are shared responsibilities; together we can positively impact our online community. 
Please take these simple actions to help keep you, your identity, and your information safer online:
Set strong passwords. Make them long and complex, change them regularly, and  don't share them with anyone.
Keep your operating system, browser, and other critical software optimized by installing updates.
Maintain an open dialogue with your family, friends, and community about Internet safety.
Don't believe everything you read.
Be cautious about what you receive or read online—if it sounds too good to be true, then it probably is.

For more information contact the Information Security Team at infosec@csuci.edu or visit the Information Security website.
Sources: https://staysafeonline.org/ncsam