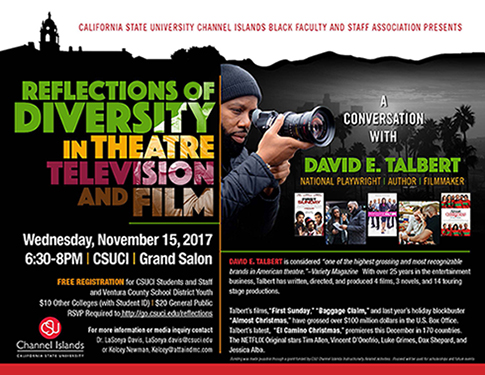 Nov. 6, 2017 - Critically-acclaimed author, playwright, director, and film and television producer David E. Talbert will visit CSUCI on Wednesday, Nov. 15 to discuss his bodies of work, successful career and the challenges he faced related to diversity and inclusion in the entertainment industry. Join the campus community at 6:30 p.m. in the Grand Salon to hear about Mr. Talbert's achievements and how the entertainment industry impacts people of color.
With over 25 years of experience in the entertainment industry, David E. Talbert is considered one of the "highest grossing and most recognizable brands in the American theatre." (Variety magazine) Talbert has written, directed and produced 4 films, 3 novels and 14 touring stage productions. His films, "First Sunday," "Baggage Claim" and last year's holiday blockbuster "Almost Christmas" have grossed over $100 million at the U.S. box office. His latest film, "El Camino Christmas" will premier in December in 170 countries and stars Tim Allen, Vincent D'Onofrio, Luke Grimes, Dax Shepard, and Jessica Alba.
To RSVP for the event, click here. Admission is free for CSUCI students, faculty and staff; $10 for non-CSUCI students with valid I.D.; and $20 for the general public.
Click here for full event details. (PDF, 479KB)
For more information contact LaSonya Davis at 559-289-1477 or lasonya.davis@csuci.edu.