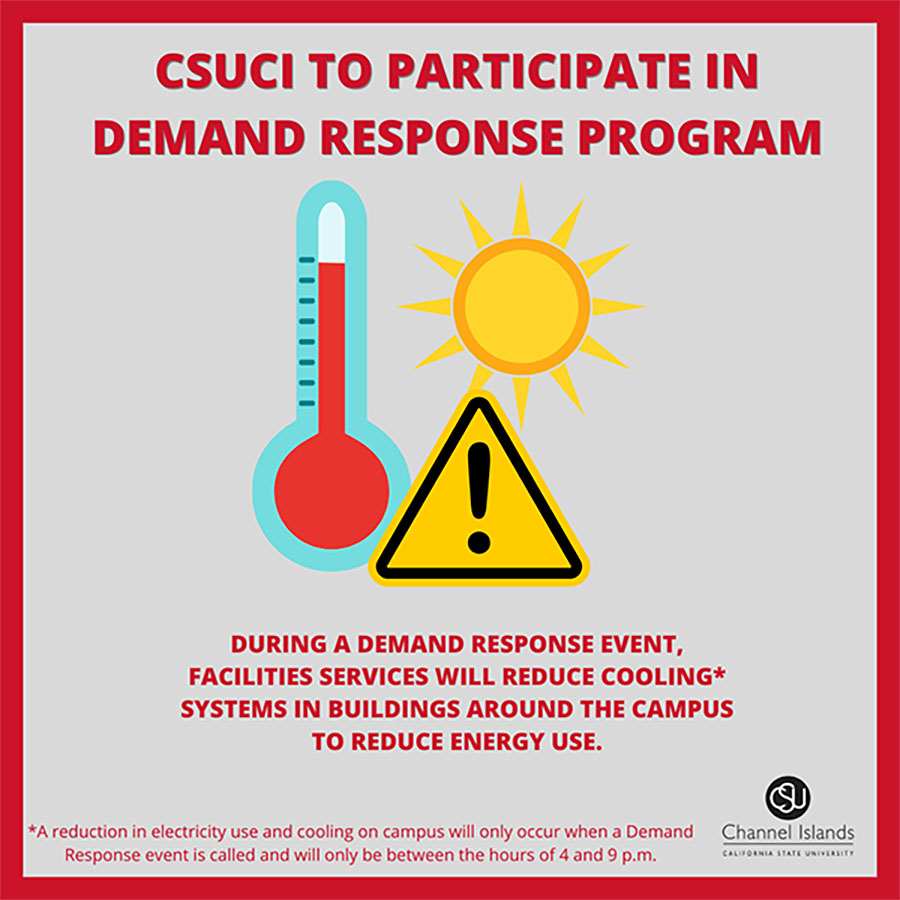 June 9, 2022 - Beginning this summer, CSU Channel Islands will be participating in Southern California Edison's (SCE) Demand Response Program. Demand Response events will only be called from 4 p.m. to 9 p.m. on days when the demand for electricity is higher than the available supply, and a notification will be shared if and when a Demand Response event is called.  As a participant in this program, the University will voluntarily reduce power use on campus during a Demand Response event by reducing air conditioning to most campus buildings, resulting in slightly warmer temperatures during the response event. Additional energy-saving tips are available on Facilities Services Energy Conservation webpage.
The Demand Response Program operates in real-time and the reduction response is required when demand is at its peak. It is important to note that we may not receive much notice from the time SCE signals us to reduce our energy use to the time we begin adjusting resources on campus. Facilities Services will work with divisions across campus to ensure there is no disruption in services.
Our participation in this program helps to prevent power outages throughout southern California and will result in CSU Channel Islands receiving reduced electricity rates and bill credits. Additional details are available on the CSUCI Demand Response Program webpage.
You can contribute to CSUCI's efforts by:
Turning off your computer when you leave for the day
Unplug any chargers that are not in use
Ensure windows are closed when you leave for the day or when outdoor temperatures are high
We appreciate your support and commitment to helping CSUCI be as sustainable a campus as possible.